Aviation went through something of a 'golden decade' in the ten years up to 2020. 
Growth in passenger traffic averaged more than 6% per year. The passenger load factor - the proportion of seats occupied on the aircraft - hit an all time high in 2019, even though planes were getting bigger and had more seats to fill.
As 2020 rolled around, the sector was looking back at a bumper era for air travel, but the future was less certain with cracks already starting to show. 
Boeing was forced to ground its MAX 737 aircraft in 2019 following two fatal crashes, and the era of 'flygskam' - or 'flight shaming' - on environmental grounds had arrived.
All forecasts indicated that there would be turbulence ahead but nothing could have prepared the industry for what was coming around the corner.
By the end of March, as Covid-19 spread globally, entire fleets were grounded. Aviation was brought to a standstill with an estimated 18,000 aircraft parked up the world over.
While much of the focus in the following months turned to the commercial airlines and whether they could survive this period, another branch of the aviation sector has also been feeling the strain - that of aircraft leasing.
Ireland accounts for a share of around 60% of the global leasing market, according to a recent report, with more than 50 aircraft leasing companies, including 14 of the world's top 15 lessors based here. 
Over €100 billion of assets are managed by Irish-based lessors although few of the planes are stored or operated from here.
How did Ireland become an aviation leasing hub?
The sector here was born from the ashes of GPA - Guinness Peat Aviation - one of the early adopters of the leasing models globally which went on to become one of the biggest aircraft-leasing groups in the world. 
It was upended in the 1990s by a combination of the first Gulf War, recession and an expansion programme that ultimately proved to be overly-ambitious.
"Tony Ryan (founder of GPA) didn't invent aircraft leasing. He might have been influenced by the trends in America at the time," Eoghan Corry, editor of Air and Travel explains.
"What he had was good access to politicians here. In the 1970s, any idea that helped business was pursued with vigour. Ireland set up a structure that suited the aviation industry and put the treaties in place with other countries."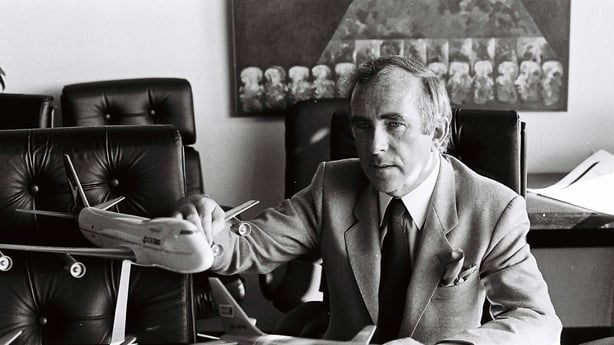 The structure that was put in place then helped those who followed. Many of the big trading names in the aviation sector now were established by those who had previously worked in GPA.
So successful has the industry been that over a third of the aircraft in the skies today are leased out of Ireland. 
And it's not just business magnates or private charters that drive activity in the sector. The bulk of it is accounted for by commercial airlines leasing aircraft to service their flight schedules.
"Twenty years ago, about a quarter of the world's aircraft were leased. Today, it's close to half," Joe O'Mara, Head of Aviation Finance & Leasing, KPMG in Ireland explained.
"It's a key source of flexibility for airlines."
And that flexibility has become all the more apparent in recent years, particularly in the crowded aviation scene in Europe, as airlines felt the strain of increased competition from the bigger rivals who had the financial firepower to launch price wars in an attempt to squeeze the smaller players out of the market.
The question now is will the lessors come under pressure from a wave of potential airline bankruptcies and the move towards bailouts for many, including some of the bigger international carriers?
"About 25% of airlines are expected to go and we'll see a downsizing of the industry," Eoghan Corry says.
"The lessors are faced with a situation now where many of their clients are looking for rent holidays. And it's not just the smaller airlines. Some of the big names that are looking for state aid are being told by governments that their creditors need to take a haircut too," he added.
It's understood a wave of deferrals has already been sanctioned by the leasing industry with publicly listed aircraft leasing companies like Aer Cap and Air Lease Corporation reporting that they had received deferral requests from 70 to 80% of their customers.
David Swan, Chairman of the Ibec industry group Aircraft Leasing Ireland (ALI) said many of the group's members had been 'supporting their customers with short-term rental deferrals' as well as other measures.
Leasing sector is not immune
"There's carnage in the airline industry," Joe O'Mara said.
"There's effectively been a shutting off of cash flow from not operating for several months and that has to feed into the lessors."
However, he said the problem for the leasing companies wasn't as pronounced as it was for the airlines and that they have more reserves and flexibility. 
That's particularly the case for the bigger names in the industry that have access to big shareholders and they generally have good liquidity positions.
In recent weeks, shareholders in Limerick-headquartered Nordic Aviation Capital agreed to inject $60 million of new equity into the company.
CEO Søren Overgaard said lessors were 'not immune' from the crisis hitting the wider industry and the 'expectation of a prolonged recovery' necessitated the arrangement.
Analysts at Cowen Equity Research in New York, in a research note published in April, predicted that an increase in airline bankruptcies would affect the rates at which lessors lease planes to airlines as they come up for review, while sales of aircraft and margins were likely to fall.
Eoghan Corry says it's inevitable that with less demand for planes from fewer airlines, which are on course to run at reduced capacity in the coming years, there will be a knock-on impact on the leasing sector and that will mean some names will go.
Joe O'Mara believes it's likely there will be enhanced merger and acquisition activity in the sector in the medium term.
"Ten years ago, the top three lessors had 70% of the market. By 2019, that had dropped to below a quarter. You've seen more players enter the market. What you'd expect is some consolidation. Some of the smaller players that don't have scale or strong liquidity and with a challenged customer base will come under stress."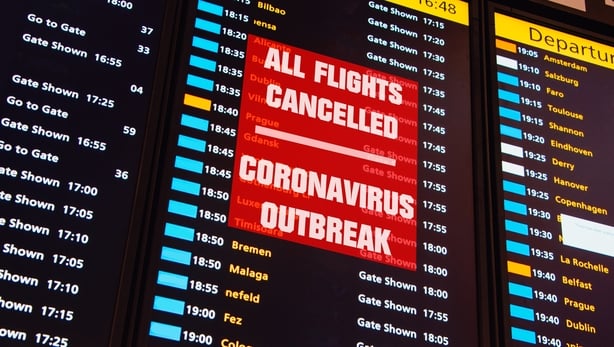 Opportunity amid the crisis?
Yet, for those that do last the course, there could be opportunity in the making.
With a challenged airline sector, the trend towards leasing could in fact grow in popularity in the years ahead as more carriers seek flexibility and money saving opportunities.
Not spending $60 to $80 million on an aircraft is an obvious first step.
Already a significant deal has been announced between low cost carrier EasyJet and Dublin-based lessor SMBC Aviation Capital.
The so-called 'sale and leaseback deal' will see SMBC buy six A320neo jets from EasyJet and lease them back to the airline to run and operate as before.
On Wednesday, SMBC announced a similar deal with Turkish Airlines which would see it buying two A321neo aircraft to be operated by the carrier.
"Airlines are going to be cash-constrained. If you've already bought a portion of your assets and you're looking to monetise them, you will sell them to a lessor who will lease them back to you, just as EasyJet has been doing," Joe O'Mara said.
"That leasing channel is probably going to increase in importance as airlines won't be able to raise debt and fund acquisitions of aircraft, albeit in a market where demand for aircraft will decline, but it's not bad for the model of leasing."
Stephen Furlong, Senior Industry Analyst with Davy, pointed out that with much of the world's fleet aging, coupled with a demand for more efficient and less polluting aircraft, the leasing sector was well placed to meet future demand from the commercial carriers.
"You're getting accelerated retirement of older aircraft and you're going to get replacement as well as growth, coupled with the demand to meet environmental standards."
"That will certainly help the sector. I don't think the situation is as unhealthy as it might at first be perceived."
David Swan said he believed the sector would be buffeted by experience from previous crises, including SARS, September 11th and the Global Financial crisis, adding that the industry was going into this period in a strong financial position.
"While the impact of Covid-19 will be significant and will lead to many challenges for the leasing sector, we believe that airlines will increasingly look to leasing over the coming years to support their businesses in terms of innovative ways to finance their fleets, but this is contingent on restoring global aviation."
The wider economy
With aircraft leasing accounting for a significant proportion of economic activity here, could there be wider implications from a consolidation or a shrinking of the sector?
According to ALI's figures, aircraft leasing contributes over €500 million euro to the economy annually and supports close to 5,000 direct and indirect jobs with earnings on the higher end of the scale.
CSO figures in recent years show salaries in the sector averaging in excess of €150,000 per annum.
It's a significant contributor to the national coffers, not just through tax on individual earnings, but also via corporate tax.
"I don't foresee a material impact on the corporate tax side and you'd hope there wouldn't be redundancies in the sector, but it's too early to call," Joe O'Mara said.
"There is a lag on seeing the impact feeding through to the leasing groups. Demand will be down in the short term, but in the medium term, the need for leasing will likely increase," he concluded.
Only time will tell.