There's plenty of competition in the mid-range tablet market and big variations on quality too.
Samsung's latest offering, the Galaxy Tab S6 Lite, is a solid contender.
It certainly lacks some of the features and finesse of the Tab S6, but offers much to those looking for a reasonably priced reasonably specced tablet.
DESIGN
The frame and back of the device is made from metal and that gives it a really solid feel, without being too heavy.
Overall its a big enough device though, and can be a bit of a handful to hold single-handed.
But the bezels on the screen are thin, which means that the tablet offers decent viewing real estate.
There is a single button for turning the device on and launching the Bixby smart assistant on the right side, with a volume rocker below that.
A 3.5mm audio jack is a useful addition on the top, while the inclusion of USB-C for charging and data connection is another welcome feature.
Here in Ireland it comes in two colours - Oxford Gray and Angola Blue.
Simple but effective, the design gives off a premium look and feel, above its price point.
SCREEN
The display on the Tab S6 Lite is one of the more so-so features.
Its a 10.4" LCD screen, with a 2000x1200 resolution.
It isn't AMOLED, but that's ok because it does as good a job as you could expect at this segment of the market.
Its punchy and sharp, with good contrasts.
One thing though that perhaps everyone won't like is the 5:3 aspect ratio.
It is good for watching movies and playing games, but it can feel a little awkward otherwise and takes some getting used to.
In terms of its response to the touch, both from a finger and stylus, it can at times be a little tardy and this can be an impediment, particularly when using the on-screen keyboard.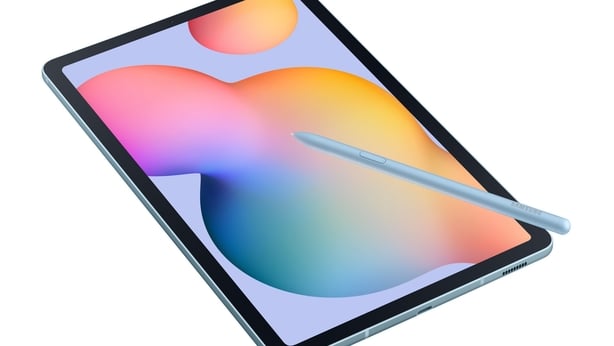 PERFORMANCE
The tablet is powered by Samsung's own 2.3GHz Exynos 9611 octa-core chip.
Its a mid-range engine for a mid-range device, but does a decent enough job at keeping things moving, as it is paired with a respectable 4GB of RAM.
As just mentioned though it can be a little sluggish when swiping or moving from app to app.
Gaming too can be a little tricky where reasonable levels of processing power is required.
It comes with 64GB of storage built in and that can be expanded to up to 1TB using MicroSD.
The 7040mAh battery does a reasonable job at powering the device through all sorts of uses.
Officially it promises up to 13 hours of video playback and 12 hours of internet usage, but obviously much will depend on how it is used.
STYLUS
The Tab S6 Lite comes with a stylus in the box.
The S-Pen is a welcome addition, although the fact there is nowhere to store it in the device is a drawback.
It does however hang on the side magnetically, until it gets knocked off in your bag.
The S-Pen is handy for doodling or annotating and we liked the way a special menu offering functions appeared when the stylus was detected.
But it lacks some of the features that more expensive alternatives like Apple's Pencil offer.
That said, we'd prefer to have it than not.
OTHER FEATURES
The tablet has an 8MP rear camera with autofocus that performs adequately, but there is no flash.
The front facing version is a 5MP sensor and there is also a face recognition camera there too, which is quick and accurate when it comes to unlocking the device.
Both snappers record 1080p video.
The device runs on Android 10 with a One UI skin.
It's pleasant enough to use, with a range of widgets available, but doesn't come preloaded with all sorts of bloatware which is good.
If you have a Samsung Galaxy smartphone you can seamlessly sync it so that you can pick up a call to your phone on your tablet and reply to messages from there too.
In terms of connectivity it offers both Wifi and 4G.
Two AKG speakers with Dolby Atmos pump out as reasonable quality sound as you could expect from a tablet.
CONCLUSION
For a mid-tier offering, starting at €399 the Samsung Tab S6 Lite boasts quite a few decent features.
The stylus is one positive, and it looks good too, with decent battery life on offer.
But the performance, particularly around the screen, isn't always fantastic.
As always if you are considering buying a mid-range tablet, shop around.
But once you've done that, you might just find yourself coming back to the Tab S6 Lite again.