The Consumer Association of Ireland (CAI) has said the Government needs to intervene and offer guidance to airlines and ensure that a fund is in place to refund holidaymakers who cancel their bookings during the Covid-19 outbreak.
Speaking on RTÉ's Today with Sarah McInerney, CAI Chief Executive Dermot Jewell said that advice about international travel needs to be issued from the Department of Foreign Affairs as "consumers are the weak link" in the priorities looked at to date.
He said that Chief Medical Officer Dr Tony Holohan's plea to consumers not to travel "has been heard and has put individuals who have paid in advance out of pocket".
Mr Jewell said there is a dilemma that people who cancel based on that must lose their money.
In the absence of an offer of guidance, direction and support, he said, they are left it a very bad position.
"It needs to happen now to help consumers decide what to do."
He said cancelling or banning flights would prevent many who need to travel from doing so.
The chair of the Oireachtas Covid-19 Committee echoed calls for a compensation fund, saying this could come in the form of a voucher to spend in Ireland for the value of money lost.
Speaking on the same programme, Independent TD Michael McNamara said this could provide a boost for the struggling tourism and hospitality sector.
Because people are not prevented by law from travelling, he said, it will be very difficult to stop them.
He also said that because quarantine measures are not a legal requirement, it leaves a "grey area".
Meanwhile, a professor of medicine at the Mater Hospital said he believes it is safe for people to go on holidays, provided they take appropriate precautions, such as wearing face masks and practicing social distancing and good hand hygiene.
Dr Jack Lambert said that while there is currently no end point with Covid-19, there is an end point with the economy and how long people can live in lockdown.
His comments come as Ryanair resumes operating 40% of its schedule, as the airline attempts to get passengers moving around Europe again in higher numbers.
The company will have more than 1,000 daily flights operating across its network, restoring services on 90% of its routes.
However, the development comes amid an intense debate in Ireland about whether people should or should not take summer holidays abroad, as fears rise that it could lead to additional cases of Covid-19 being imported into the country.
Speaking on RTÉ's Morning Ireland, Dr Lambert said we need to come up with "practical solutions" and not just "broad strokes", such as banning all travel.
He said he would not recommend travelling to Florida at the moment because of the surge in cases there.
"Would I go to Iceland, Slovenia, Greece? Absolutely. I'd probably think it's safer to go there than to a city centre in Ireland at this time, because Covid is still circulating in the community in small numbers," he said.
Dr Lambert said he is not suggesting that we open up our borders and do nothing, but that Ireland has a plan that is in line with the rest of the world.
The Government has said it is considering whether to introduce so-called "air bridges"
He said we need to make quicker decisions about the way we react to the ongoing problem of Covid-19 and that the consequences of waiting are economic losses to everyone.
Senior public health officials, including Dr Holohan, have been strongly urging those considering undertaking non-essential overseas travel not to do so.
The Department of Foreign Affairs is also advising against all non-essential overseas travel.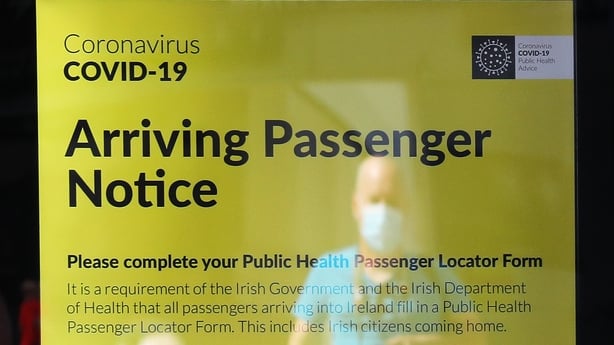 There is a legal requirement for passengers arriving into the country to fill in a form saying where they intend to self-isolate for two weeks remains in place.
But the Government has said it is considering whether to introduce so-called "air bridges" between Ireland and other countries where the incidence of Covid-19 is low.
The move would mean those arriving into Ireland from those countries would no longer be expected to self-isolate.
Ryanair increasing flight schedule
Ryanair has been pushing the Government to drop these quarantine procedures, describing them as useless.
It has argued strongly that protocols developed by aviation regulators and public health experts at European level that are designed to make air travel safer are sufficient.
The company said its schedule increase will allow thousands of Ryanair crew members in Ireland and across Europe, as well as airport support teams, to resume working after more than three months of inactivity.
Passengers and crew will have to wear face masks/coverings in the airport and on board aircraft though.
Passengers are also being encouraged to use fewer check bags. In-flight services will be cashless and hygiene procedures have been improved.
The airline has been operating around 250 flights each day for the last ten days of June to bring aircraft, crews and maintenance teams back into service.
It hopes to carry more than 4.5m customers this month.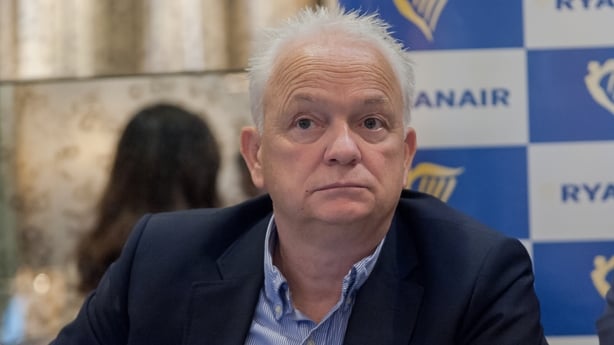 Ryanair previously warned that the Covid-19 crisis could force it to reduce its workforce by up to 3,000 and that it would take two years before capacity returned to normal levels.
CEO Eddie Wilson said people will not "lose their heads" just because they are going on holidays, and the notion that Covid-19 "just comes from somewhere else other than Ireland" is not the case.
Also speaking on Morning Ireland, Mr Wilson said he believes that people who travel will act responsibly, whether travelling abroad or in Ireland.
The airline is not returning to the skies simply for tourism, he said, but for jobs and business, and for people to visit family and friends.
"We've got to get the balance of public health and restoring business as normal", he said. "And we're following the European Centre for Disease Control rules on compliance and getting confidence back in travel."
Every other European country is open, Mr Wilson said, and the UK is due to announce air corridors today.
"The only country that's out of step is Ireland."
He said that this means we are taking "huge risks" with potential job losses, and losing the summer season, because around 100,000 people here depend on tourism.
No reflection on the interviewer or the questions but rather the answers and assertions

— Simon Harris TD (@SimonHarrisTD) July 1, 2020
Mr Wilson said those who choose not to travel will not get a refund, but he added that there have not been many cancellations for July.
He said Ryanair has worked its way through over 50% of the refunds that are due as a result of cancellations over the last number of months, and he hopes that a large proportion of the backlog will be reduced further over the coming weeks.
"It is frustrating for customers", Mr Wilson said. "But those who have opted for a refund will get their cash back. We've worked our way through March and we're a good way through those April cancellations, which was the largest part of the cancellations. People who have opted for a refund – I just ask them to be patient with us as we work our way through it."
Everybody at the airline, he said, is taking a pay cut.
O'Leary planning 3,500 job losses if no agreement on pay cuts
Group chief executive Michael O'Leary said again this morning that Ryanair was planning around 3,500 job losses if it cannot agree pay cuts with its staff.
The airline had previously said that it had cut more than 250 staff from its office around Europe and was looking at up 3,000 cuts among pilot and cabin crew.
"We've already announced about 3,500 job losses but we're engaged in extensive negotiations with our pilots, our cabin crew and we're asking them to all take pay cuts as an alternative to job losses," Mr O'Leary told BBC.
"We're looking from 20% from the best paid captains, 5% from the lowest paid flight attendants and we think if we can negotiate those pay cuts by agreement, we can avoid most but not all job losses," he added.
Mr O'Leary also said he was taking a 50% pay cut.
Additional reporting Will Goodbody, Reuters
---
Read more:
Covid-19: Public warned 'complacency our biggest enemy'
EU reopens to outside visitors in bid to save tourism
Latest coronavirus stories