While home-workouts and online training sessions have grown in popularity during lockdown, many will be keen to get back to the treadmills and squat racks when gyms reopen from tomorrow.
Last week, the Government confirmed that the sector, which employs over 10,000 people, will be allowed to reopen on 29 June, three weeks earlier than had been set out in the roadmap.
For the leisure centres and gyms that are in a position to reopen tomorrow, measures will need to be taken to ensure the safety of staff and clients.
As restrictions begin to ease around the world, fitness facilities are adopting different approaches, some more extreme than others.
When doors reopened at South Bay Fitness in Redondo Beach, California last week, gym-goers were stationed in individual workout pods behind plastic sheets.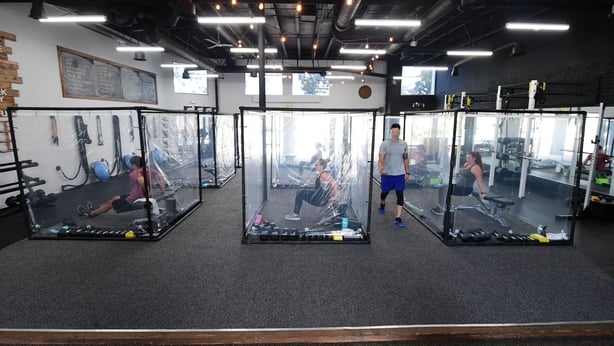 Things won't quite look like this at the Nikafit Studios in County Wicklow, when they reopen their two premises tomorrow.
The fitness studios located in Greystones and Kilcoole closed on the 13th of March and the team is now ready to welcome back clients.
Safety measures will be in place, but according to Managing Director Niall Mullen, there will be no Perspex screens.
"While some gyms are cordoning off sections and setting up Perspex boxes and confined zones, we think that is going to send people running back out of gyms. I know I wouldn't want to train in an environment like that," he said.
Before Covid-19 hit, Nikafit Studios had 320 clients; that number has since dropped to around 200 but Niall said he is confident they can build back up their client base by reopening their studios safely.
How will Nikafit Studios operate?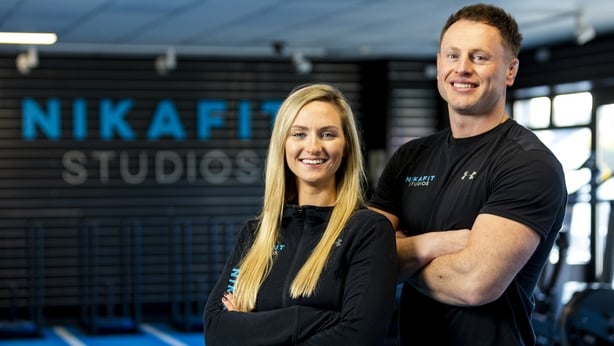 The team at Nikafit Studios is following the guidelines issued by Active Ireland, the group representing businesses in the sector.
Niall outlined how their fitness facilities will operate when doors reopen tomorrow.
"Our overall aim is make our clients feel as safe as possible, while still being able to enjoy the group training experience," he said.
Appointment only
Small group training sessions will take place at the two Nikafit locations, with a maximum of four people in each group.
Members will need to book a time slot in advance and they will not be allowed to visit the gym outside of these allotted time slots.
This will allow staff to keep a detailed log of those who have visited the studios, as Niall explained.
"There will be a set number of people allowed in any one room and one given time. Our sessions last for 50 minutes, then there will be a gap of 10 minutes between sessions to allow staff to wipe down the equipment before welcoming in the next group."
Workout pods
Clients will be assigned their own dedicated space in the gym for the duration of their workout and will be given access to their own equipment.
Niall said they will be operating what they call a "pod system", which will allow for social distancing.
"It is basically a mini gym inside a gym. Clients will have their own space and their own equipment, so there will be no sharing of equipment at all."
The team has restructured the layout of both studios to ensure the pods are positioned at least two-metres apart.
Niall explained that the stations will be equipped with both cardio equipment and weights.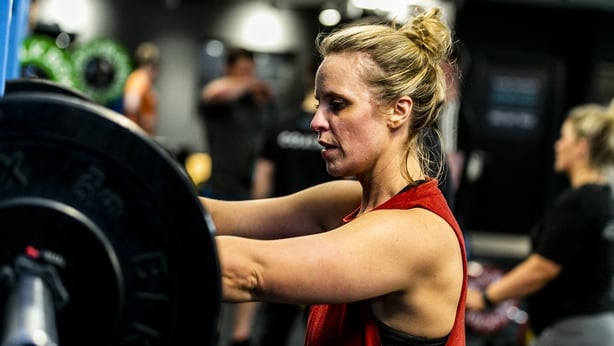 "You will have your own squat rack that you can perform upper and lower body exercises on. You will also have your own cardio machine, which could be a rower, skier, treadmill or bike. Then you will have your own set of dumbbells or kettlebells."
Hygiene protocols
Hand sanitisation stations will be set up at the entrance to the studios and also at each workout pod, and clients will be asked to use these on a regular basis during their session.
All equipment will be wiped down between sessions and a deep clean of the studios will be carried out at the end of the day as Niall explained.
"We have purchased a vector fogger, which sprays disinfectant that kills any type of virus. So before Monday we will be spraying the facilities fully and then we will be spraying down the studios every evening after all the clients and staff have left. Between sessions we will be wiping down every single piece of equipment that has been used before the next group comes in."
Face masks
Trainers and staff will not be wearing face masks, Niall explained why.
"The wearing of face masks in this setting has not been made compulsory by the Government. Wearing a face mask in a training environment would not be the most comfortable thing. If a customer wants to wear a face mask they are more than welcome to do so, but we don't feel like it is absolutely necessary."
Lockers and showers
There are no shower facilities on site at the Nikafit studios, so no additional measures were needed here, however Niall said they will be discouraging people from using their lockers.
"Luckily we don't have the problem of managing shower facilities. We have cubbyholes where people would usually leave their phones or handbags. Now we will be encouraging members to leave all their belongings at home or in their car before they come into the gym."
Top tips from Nikafit Studios for returning to the gym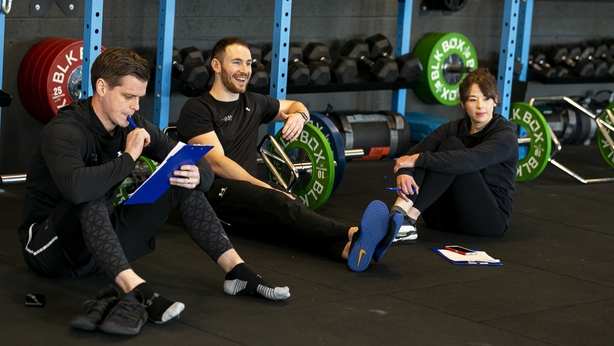 1. Stay home if feeling unwell
"If people feel unwell at all they should stay away from the gym. The most important thing is that we keep our members and staff safe, so don't take any risks with your health or the health of others," Niall said.
2. Be mindful of others
"Be very mindful of those around you and respect their personal space. Keep at least two-metres from others at all times. If you follow the guidelines, then we will all get along just fine and we will be able to start enjoying the group training experience again."
3. Arrive on time
To keep the gym schedule running smoothly, Niall urged all members to arrive on time for their training session.
"Show up bang on time, don't arrive early or late because we will be trying to run the system as efficiently as possible and monitor the number of people in the buildings. A lot of other gyms like ours will be making clients book a time slot, whether it is an open gym setting or appointment based setting, so being punctual will make things a lot easier for everyone."