Microsoft has been gradually and convincingly improving its hardware offerings over recent years, to a point where it is now a really credible player in the premium end of the tablet, convertible and laptop segments.
The Surface Book 3 is the latest iteration of its 2-in-1 laptop series and in keeping with the trajectory, it proves to be an impressive piece of kit.
DESIGN
The second you unbox the Surface Book 3, it is very clear that this is high quality product.
The magnesium casing is robust and solid, but not in a rugged sort of a way.
It looks and feels a little like a Macbook, which is a good thing, with an all over platinum colour finish and well laid out and very responsive comfortable to use keyboard.
There are two different sizes – a 13.5" and a 15". Our demo model was a 15" and although it wasn't light it wasn't overly burdensome either, even though it weighs in a little under 2kgs including the keyboard.
The track pad is fine, albeit somewhat undersized for the device, presumable to free up more real estate for the keyboard.
The two physical buttons on the outside are for the power on/off and the volume.
It comes with 2 USB-A ports, 1 USB-C port, as well as a 3.5mm headphone jack and 2 Surface Connect ports (one on the base of the keyboard unit, the other on the detachable tablet screen).
It also has a full-size SDXC card reader which is handy.
SCREEN
If the design is good, the display on the Surface Book 3 is great.
The device uses a high quality PixelSense touchscreen display which when detached acts as a very responsive and pleasant to use tablet.
Detaching takes a little bit of getting used and requires pressing a button on the keyboard followed by a disconcerting tug to release the tablet, although the computer must be turned on for this to work.
The 15" model we tried had a 3240x2160 resolution, an aspect ratio of 3:2 and a contrast ratio of 1600:1.
Overall the screen is excellent - comfortable on the eyes and with bright colours and great contrast, it is sharp as a pin.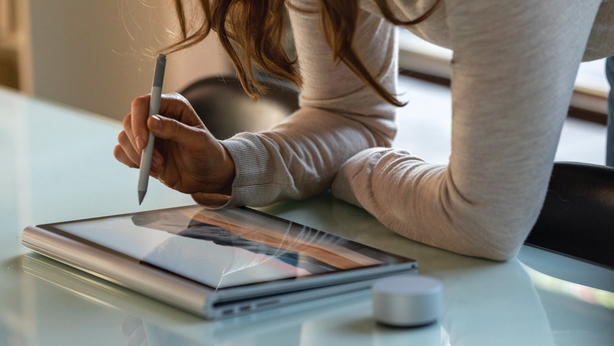 PERFORMANCE
On paper at least, the Surface Book 3 packs a decent punch, as you'd expect for a laptop in this category and at this price level.
The 15" model is powered by a quad-core 10th generation Intel Core i7 processor.
This is coupled with either 16GB or 32GB of memory.
And in practice the experience lives up to the paper based spec.
The device handles all sorts of processes with apparent ease, from basic tasks like web browsing and document writing, through to heavier duty jobs such as gaming and video editing.
Those sorts of tasks are helped along by the NVIDIA GeForce GTX 1660 Ti graphics chip and 6GB of dedicated graphics memory.
As you would expect at this price point, storage is solid state, with 256GB, 512GB and 1TB options.
It all adds up to a solid, reliable and impressive performance.
OTHER FEATURES
The battery life is claimed to be up to 17.5 hours for typical usage when the two batteries – one in the tablet and the other in the base – are taken together.
We found it didn't stretch that far on the whole, but it did put up a good show, enough to last a day mostly.
Obviously though much depends on what you are using it for.
The front facing camera has 5MP sensor and records 1080p HD video. It is perfectly adequate, although for a device this premium, perhaps a little more could have been expected.
There is also a rear-facing camera on the tablet. It has an 8MP sensor, along with autofocus and 1080p HD video recording also.
The device also has a Windows Hello face authentication camera for biometric based login, which is remarkably quick and accurate.
The front-facing stereo speakers with Dolby Atmos pump out reasonable sound, but you won't be fueling from them.
On the software front, the Surface Book 3 comes as you'd expect preloaded with Window 10 Home and includes a one month trial of Microsoft 365 Family.
The Surface Pen, which is a handy addition to the setup, is not included.
CONCLUSION
There is an awful lot to like about the Surface Book 3 – a great screen, attractive design and powerful performance.
If we were to criticise anything it would be that it's a little weighty and the trackpad is a bit undersized.
Oh, and then there is the price.
Starting at €1,849 for the lowest spec 13.5" model and rising to €3,449 for the 15" 32GB 1TB model we tried, this is a very expensive piece of kit.
And you'd want to be pretty sure that you needed all it offers, or have very deep pockets, to justify buying one.
But if you can tick either or both of those boxes, you are unlikely to be disappointed by the Surface Book 3.