A new Ulster Bank survey shows that 85% of respondents claim that their priorities have changed since Covid-19 restrictions were introduced. 
A new emphasis on the importance of connection with family (93%) and physical/ mental health (90%/ 88%) far outweighed the importance of time spent working, at just 40%.
The survey, conducted by Empathy at the end of May, asked 1,050 adults in Ireland, how their attitudes, priorities and value-driven behaviour had changed over the course of the Covid-19 pandemic as well as looking into their post-pandemic future.
Respondents are most looking forward to seeing family (53%), having a meal out (50%), a trip to the hairdresser/ barber/ beautician (42%), an overseas holiday (40%), going shopping for non-grocery items (36%) and going to the pub (31%).  
They also said they are least looking forward to taking public transport (28%), trying to cope financially (22%), going back to work (17%), having to be social again (16%) and having to fly (16%).
Today's survey also revealed that 70% of respondents are worried about the future as a result of Covid-19 with more people worried about their health and the health of people in their family (50%) than a recession (24%).
---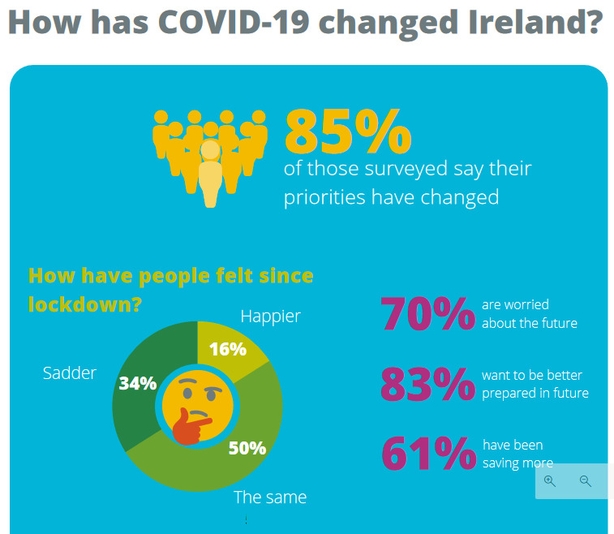 ---
On working from home, just over nine out of ten respondents said they believed that others will work from home more frequently than they did before and 55% of people who can do so, think they themselves will work from home more frequently.
However almost four in 10 people who can work from home do not believe they will be allowed to work from home more frequently. 
Only 11% of people would consider moving to another part of the country as a result of remote working, with most people worried about broadband (72%), the survey showed.
The survey also shows that 45% of respondents who were employed pre-restrictions are working more hours, 35% are working less hours and 19% are working the same hours.
---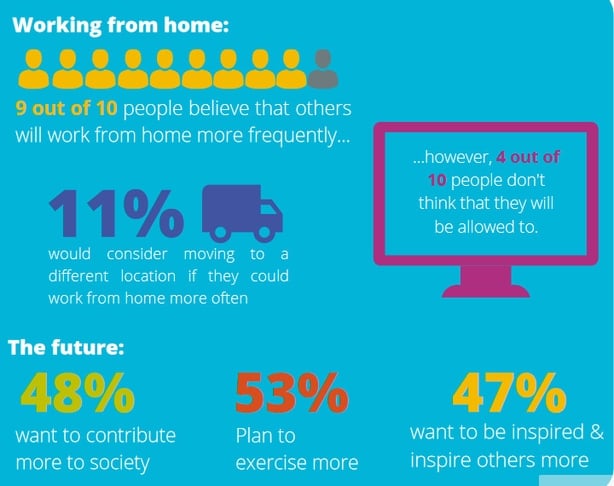 ---
Ulster Bank said that 61% of respondents claimed that they have managed to save more since the introduction of restrictions, with those aged 18-24 (82%) most likely to be saving more and those aged 35-44 (49%) least likely to be doing so. 
54% of those who have managed to save more during the pandemic claim that they are keeping their savings for a rainy day.
36% said they are planning on going on a holiday and 23% are planning on going out for a "nice dinner".
Post-pandemic, the survey reveals that 53% of respondents plan to spend more time with their family, 53% plan to exercise more, 51% plan to spend less money on things they do not need, 45% plan to spend more time in the outdoors and 31% plan to be more mindful of how others are feeling. 
Ulster Bank's chief executive Jane Howard said the survey says that while people are worried about health and the prospect of economic recession, they are also feeling somewhat hopeful about their future while almost half of respondents want to be inspired or inspire others.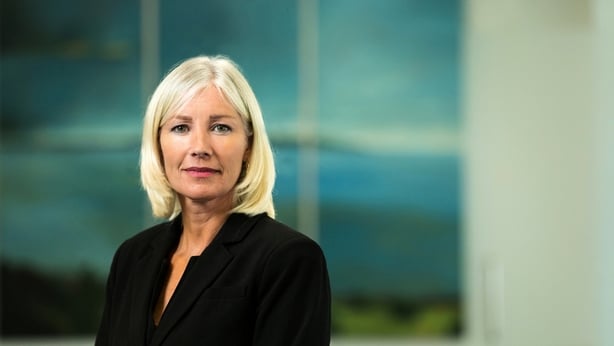 "Although, we know that not everybody is feeling optimistic, it is heartening to see that  people have tried to be more sustainable and focus more on their families, all while adjusting to huge changes in their lives," Jane Howard said. 
"This pandemic has changed us all - we want to be tuned into that change - how we move forward as a society, is a conversation that everyone, including banks, has a stake in," the CEO added.