He's about to open an enormous €13m flagship superstore - his company's first in the Republic of Ireland. But Bastien Grandgeorge has an odd message for Decathlon's potential customers. 
"Don't rush to the store this weekend," he says. 
French sports retail giant Decathlon has been planning this grand entry into the Irish bricks and mortar retail market for years. 
On two previous occasions it had almost taken the decision to expand into the Republic of Ireland (it already has a presence in the north), including just before the financial crisis hit in 2008, only to axe those plans due to external reasons. 
But this time a site was bought, an enormous eco-friendly store was built and stocked, staff had been hired and preparations put in place for a grand opening three months ago, right before the Covid-19 pandemic swept across the country and retailers were shut down. 
So even though the sector is going through perhaps its most challenging period in decades and many large retailers are struggling to survive, on this occasion for Decathlon there is no going back. 
Mr Grandgeorge is not concerned though, as he says Decathlon is here for the long-haul. 
And although he knows there will be many people keen to see inside the shiny new expanse of a store, the Frenchman is keen to underline that people should not rush to be among the first through the door and he does not care about turnover over the first few days of trade. 
"We are here for life," he says. "There is no rush to come this weekend. Come back in one week, come back in two weeks," he said.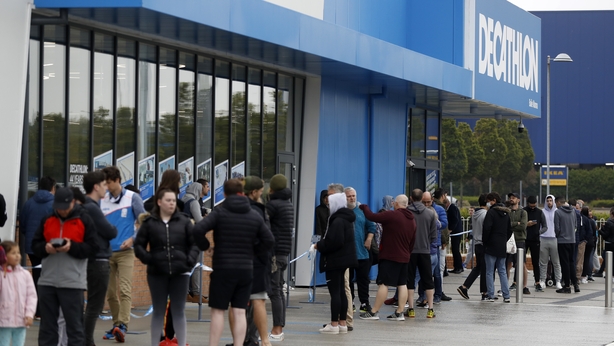 "For us a success, we will see it in one year, in two years, in three years time," he added. "We are not short-term oriented, we are a family company." 
The retailer did not consider waiting a few more weeks or even months before opening in more favourable retail conditions, he says. 
Staff who had been hired months ago were temporarily laid off during the period of the "lockdown" and so Decathlon was keen to get them working again. 
The 95-strong Dublin team also believes they are completely ready to welcome customers through their doors, despite the nervous economic and societal situation.
The store will therefore officially open at 10.30am today, with strict hygiene, social distancing and other protocols in place to keep staff and customers safe. 
A queuing system has been set up outside and a maximum of 150 people will be allowed in store at any one time, including staff (or team mates as Decathlon insist on referring to their employees). 
Inside, the cavernous warehouse style building naturally lends itself well to physical distancing and all items for sale are tagged with RFID technology, allowing a more or less contactless check out experience to take place.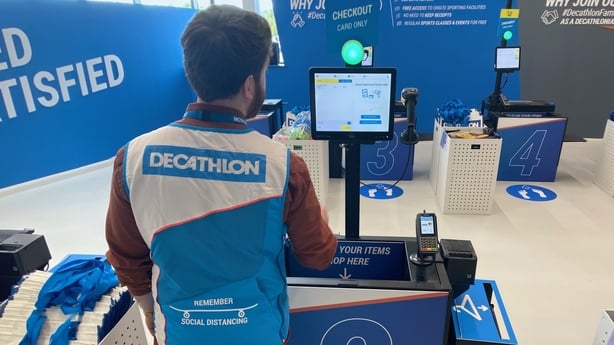 "We can manage very safely in such a big store," Mr Grandgeorge claims. 
"It will be much more safe than a lot of other retailers," he added. 
Decathlon is known as the Ikea of sport and it is therefore mildly ironic that its new Dublin base is located right next-door to the Swedish household goods retailer's outlet in Ballymun. 
The company was founded in 1976 by Michel Leclerq, who had the vision of making the benefit of sport accessible to many - a credo that is still the cornerstone of the enterprise today. 
That ideal is realised, the company claims, by providing clothing and equipment for sports across the alphabet, from archery and American football, to windsurfing and yoga, all under one roof and at competitive prices. 
Today Decathlon is still a family-owned and run enterprise, but it has grown into something that Michel Leclerq must only have dreamed of when he opened the first store over four decades ago. 
Ireland will be the 58th country where it has opened a retail presence on the ground, it employs 92,000 people across 1,600 outlets and last year had a turnover of €12.8 billion. 
Its stated strategy is to play on volume, not price and it achieves this by selling 1.2 billion units each year of products that are in the main researched, developed, designed, manufactured and distributed in-house by the company itself and sold under 84 different brands. 
In 2017, the firm decided to have another crack at Ireland and opened an Irish website. 
"We started as a pure player online, just to study the feasibility, the desirability of our company for Irish sports enthusiasts," Mr Grandgeorge said. 
He added: "From day one we had a wonderful response from the Irish public", - many of whom were no doubt already familiar with the brand and its products from visits to France and other parts of continental Europe. 
Given the pressure on the commercial real estate market in Dublin it decided to buy 17,000 sqm of land in Ballymun from Dublin City Council. 
It then constructed the largest sports shop in the country - a 4,000 sqm green-certified flagship store complete with free to use (but must be booked) outdoor basketball court, 5G soccer pitch, outdoor gym, cycle track and an indoor interactive "Deca Studio" for a variety of sports like yoga for example.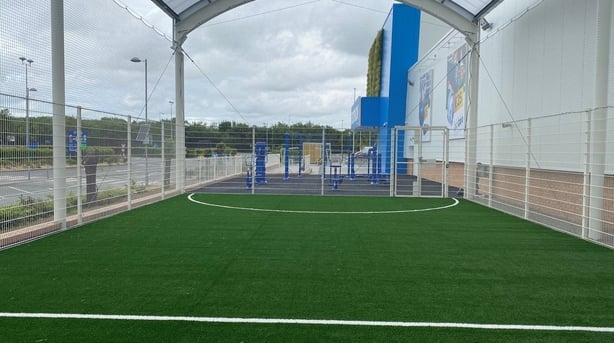 This innovative shop proposition is what Decathlon believes will stand it in good-stead in the hugely challenging post-Covid retail environment. 
"Of course we believe that after Covid will be different than before Covid," Mr Grandgeorge states. 
"And unfortunately we can see everywhere in the world that the impact on retail is just an acceleration of what would have happened before," he added. 
"We knew that the retail evolution would be different, with ecommerce…we think that Covid-19 will accelerate this trend," he said.
However, despite its new found grá for Ireland, GAA enthusiasts may be disappointed with Decathlon's initial offering. 
The company said it recognised early on that it needed to provide for those involved in playing GAA sports. 
But not early enough clearly, as the retailers will initially only be offering a single foreign-made Gaelic football and some GAA training clothing like tops, shorts, socks and gloves, and not before the end of the summer. 
And although it talks up its global innovative R&D expertise and abilities (it is the fifth largest spender on R&D in France), it says hurling is too specific a sport for it to develop products by itself and it is therefore exploring working with an external Irish supplier. 
"It is something we looked to do before we opened, but what happened over the last few months meant it wasn't the main priority," explains Kieran O'Shea, Retail Leader at Decathlon Ireland. 
The company pledges that basic product prices in Ireland will not be higher than in other parts of the world, but local tax differences mean some prices may appear to be out of kilter to other territories.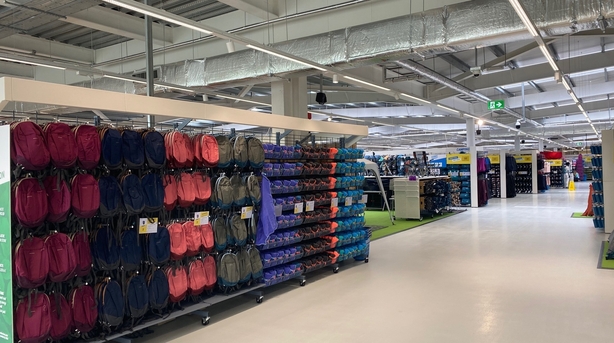 Naturally, it would like to see the VAT rate on sporting goods here reduced from the current 23%. 
Although it claims to want to work with other local businesses, there is little doubt that Decathlon's entry into the Irish market will pose a competitive challenge for established Irish sports retailers like Lifestyle, Elverys and smaller local sports shops. 
The extent of that impact will depend though on Decathlon's Irish expansion plans, which focus on opening up to eight other smaller stores in total here over the coming years. 
South Dublin, Cork, Galway and Waterford are among the locations on the immediate roadmap, but are all dependent on the initial success of the north Dublin flagship, Mr Grandgeorge says. 
Because its other stores will be smaller than the Ballymun one and based in rental units, its ability to open additional outlets also depends on the willingness of landlords in other cities to strike deals, he claims. 
Mr Grandgeorge says there needs to be a "better balance" found between landlords and tenants and that property owners need to understand that they can win in the long-term by striking rental deals at lower prices. 
Its timing in that regard may be fortunate though, with many commercial landlords likely to be looking for anchor tenants to fill empty units vacated by the likes of Mothercare, Debenhams and Oasis over the coming months. 
In the meantime, the focus is on getting Decathlon Baile Munna up and running.
Building and opening a €13 million superstore is not a simple proposition. 
But curiously it was not the rainwater harvesting system under the car park, or the 400 solar panels on the roof that posed the biggest difficulty over the last few weeks.
Nor was it delaying the opening after months of planning due to the pandemic.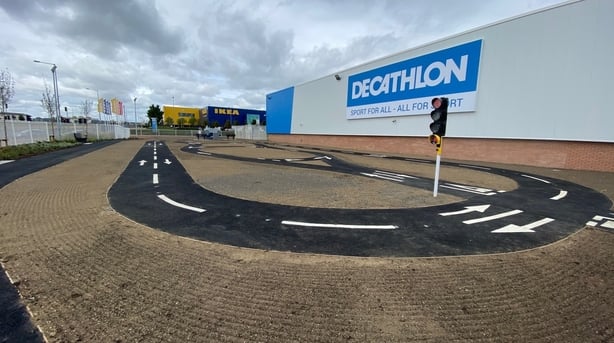 In fact, according to Mr O'Shea, the biggest challenge Decathlon faced was getting its hands on a single functioning traffic light for use on the cycle track.