What do IBM, Disney and Microsoft have in common? Apart from being reputable business names with strong brand recognition, they were all started during times of recession.
While establishing a business is tough at any time, starting one when lenders, investors and consumers are retrenching in unison might seem counter-intuitive - or to be put less charitably - downright foolish.
However, with a host of successful brands having started life when things were going south economically - even if by accident more than design - there is an argument that there's no better time to start out on the entrepreneurial path.
And given that we're in the throes of a period of economic turbulence, which some warn could be of an unprecedented nature, that time of opportunity may have come around again.
Why do tough times awaken the inner entrepreneur?
"Severe recessions bring forced entrepreneurship," Michael Culligan, CEO of the Dublin Business Innovation Centre explains.
"People lose their jobs and out of necessity, because jobs are harder to come by, they think about starting their own business."
Larger corporates also tend to retrench when times are tough, he went on to explain, and they engage in cost cutting, which often sees innovation spending taking a hit in the short term.
That creates opportunities for individuals to engage in their own innovation and when economies bounce back, the bigger companies tend to seek partnerships with the new younger companies in order to benefit from their innovative endeavors.
Michael Culligan said the wave of entrepreneurship from the current crisis had yet to manifest itself, but he wasn't hugely surprised at that.
"We're right in the midst of the uncertainty at the moment. People are only really starting to think about the alternatives."
The Local Enterprise Offices (LEOs) deal with fledgling companies at an earlier stage in their development.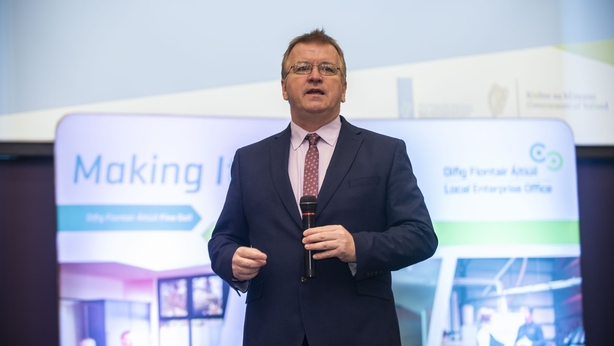 Oisín Geoghegan, Chairman of the network of LEOs, also believes that tough times can bring the inner entrepreneur to the fore.
He's beginning to see that idea of forced entrepreneurship coming through already in the form inquiries from potential start-ups.
"There's definitely been an acceleration in interest in recent weeks. That's not unexpected. When a business closes down, and people aren't able to work, they start to think creatively and they start thinking about that idea they've had but never acted upon."
Mr Geoghegan says the changed commercial and living environment will create opportunities, as well as hastening the pace of change in some sectors.
He points to online sales as an example. Irish companies were generally behind the curve in this area, he said, but the near shutdown of the economy in response to the Covid crisis had forced many companies to finally move in this direction.
"Inevitably, we'll have some really nice success stories coming out of this in the manner in which businesses have pivoted."
He referred to businesses 'thinking beyond the roadmap' and this was something that was evident in the aftermath of the last recession in the late 2000s, he said.
What do you do with excess spuds?
Keogh's crisps is a hugely popular brand in Ireland. The company's genesis was an exemplar of the adage 'out of difficulty comes opportunity.'
As Tom Keogh, one of the founders of Keogh's Crisps explains, there was a marked fall in fresh potato consumption in Ireland between 2002 and 2012 and that presented one of the country's biggest potato farms with an obvious conundrum.
In 2007, they came up with the idea of making potato crisps and so began a four year long quest to establish that company.
As anyone who lived here through that period knows, the years between 2007 and 2011 were fallow economically.
Starting a business in those years was challenging to say the least.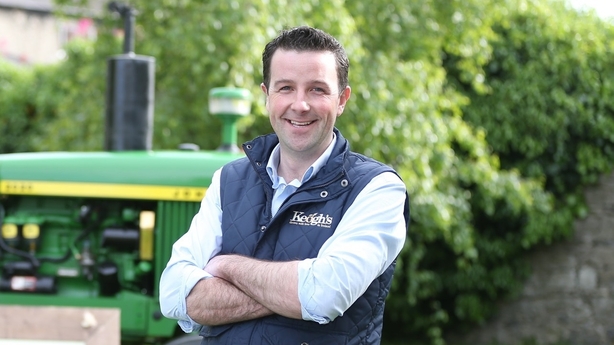 "It was a huge learning curve. I literally stepped off a tractor and onto a plane," Tom Keogh said of his early days in business.
"We saw an emerging trend in the 'premiumisation' of potato crisps and that was something that could sit with our family business and something we could work at."
However, the market they were entering was generally considered to be one of the most competitive in the food industry globally.
He points to a Bord Bia focus group in the summer of 2011 as a seminal moment that helped Keogh's Crisps stand out from the crowd.
"We were expecting feedback around branding and product - and we got that - but by far and away, the overriding consumer sentiment was 'you're young guys starting a business in the middle of a deep recession in Ireland, and we as consumers understand that we can buy our way out of recession if we buy Irish and we will support you.' That changed the communication from the business from day one."
Success at home translated into success elsewhere. After only a few months in business, Keoghs were selling their product overseas.
As well as the achievement of developing a successful family business, the company was able to contribute to the local economy through employment opportunities.
"At that time in rural North County Dublin, you either worked in farming or the building trade. In 2011, we all know what the building trade was like. There was huge unemployment here. We started to employ locally. My first employee was a carpenter who became a factory manager. We just went from there."
The company now employs more than 70 people in North Dublin and has expanded operations in the US as well as winning a contract in recent years to supply Emirates airlines with one million bags of crisps a year.
A challenge for a new generation of businesses
Aoife McNamara now finds herself roughly where the Keoghs were in 2011.
Having started her fashion business in Limerick just last September, Covid was an unexpected headwind, but she's taking a philosophical approach to the developing challenges.
AOIFE Ireland was born organically, as the Limerick School of Art and Design graduate sees it.
Having completed a five month stint working in various fashion houses in Paris, she came home to take up a temporary contract designing uniforms.
A raft of ensuing queries from potential customers about whether she was selling her designs planted the kernel of an idea that eventually led to AOIFE Ireland.
"It's about creating beautiful garments that don't cost the earth," she explained.
"Sustainability is a huge part of my brand. I'm always looking for innovative ways to use all of my materials in a sustainable way to ensure that I don't have any waste."
Supported by the Local Enterprise Office in Limerick, Aoife McNamara got her business off the ground in the final quarter of last year.
It was plain sailing, with a trip to Paris Fashion Week in February to showcase some of her designs in the bag, when out of the blue, Covid hit.
Like all businesses, she's had to contend with slower sales and a challenging outlook, but Ms McNamara has taken advantage of the recent down time to take stock of what she's achieved and where she can take the company next.
"I focused on revamping the website, on my new collection and making new contacts to source sustainable materials. Of course, everyone has had a different experience but it was good to be able to slow down and re-evaluate what I want the fashion brand to be and where I want it to go," she explained.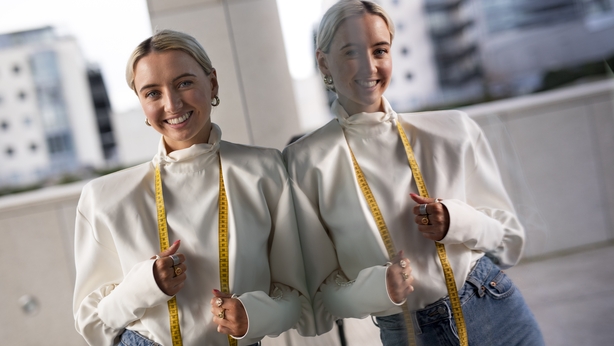 Start-up supports
For anyone considering taking action on their business idea, supports for entrepreneurship in Ireland are generally considered to be quite good, according to Michael Culligan.
He says entrepreneurs he has spoken to in other countries tend to be complimentary about the offering for business start-ups here.
There are a range of programmes and schemes available from Enterprise Ireland, the Local Enterprise Offices and Microfinance Ireland, among others.
The LEOs offer everything from idea generation workshops to business start-up programmes as well as business mentoring and one to one advisory services, Oisín Geoghegan explains.
All the programmes are available online at the moment.
"They're not academic qualifications but people get really practical knowledge and skills covering all the bases of how to set up a business, putting a plan together, raising finance, marketing and managing budgets."
When it comes to accessing finance, there are a range of supports available from the LEOs and loans from Microfinance Ireland and, at a later stage, the so-called angel investment options.
"If businesses qualify for financial support, we encourage them to apply," Oisín Geoghegan says.
"We work with clients to help improve their prospects of being approved. Whether it's presenting your case to a potential investor or applying for a loan, you need to put your best foot forward and present your plan in a manner that is compelling."
Michael Culligan agrees that there are good early stage supports available, but if there's one area that was ripe for improvement, he said, it was seed funding - or capital supports for developing enterprises.
"A little more could be done to support very young companies," he said. "There is room for improvement and that is generally acknowledged."
"During the last recession, when the banks were recapitalised, a lot of funding was put into seed venture capital funds.
"I think there are opportunities at a policy level for further supports to enable high risk investment into early stage companies once they get beyond the initial supports from Enterprise Ireland and the Local Enterprise Offices," he said.
He explained that younger companies tend to require equity rather than loans as they generally don't have the assets or security to pay back that debt.
"What you're looking for is ways to attract equity investment to help those that look like they can make it to get that leg up."
Advice for budding entrepreneurs
"Be passionate about what you do," is what Michael Culligan advises when thinking about starting a business.
"If you're passionate about your idea, you'll make it through the tough times," he explained.
"And don't be afraid to ask for help," he added. "Finally, surround yourself with good people, inside and outside the business."
"Planning, planning, planning," is Oisín Geoghegan's mantra for getting on the road to success.
"Probably the most important thing to do is to focus on your skill set and that of your team to ensure that you can make the business work."
He also recommends taking a longer term view and coming up with a realistic plan. And be aware that things may not go as you expect.
That advice is especially pertinent as the global economy faces into an uncertain period ahead.
However, the businesses that come through the other side will undoubtedly be emboldened by the experience.
Just think of IBM, Disney and Microsoft.