They have been deemed "essential workers" during the Covid-19 pandemic, but the people who work in the gig economy, delivering food to our doors, do not enjoy the same employment benefits as other workers.
It is an anxious time for all workers but more so for so-called 'gig workers' who do not have the security of a steady pay cheque at the best of times, and whose work brings them in contact with others, putting them at risk of transmission.
The restaurant sector has been decimated as a result of the crisis, with a lot of restaurants, which perhaps would not have traditionally offered a delivery service, joining platforms like Just Eat and Deliveroo. 
Just Eat said it has seen a 50% increase in couriers that have delivered an order in recent weeks and in the month of March, courier applications to the platform increased by 80%.
We do not know exactly how many people work in the gig economy in Ireland, mainly because we do not have an official definition for this type of work.
So there is no hard data on how these workers have been impacted by the coronavirus.The World Economic Forum reports that over half of gig workers have lost their job with another 25% seeing their income fall. 
SIPTU research economist Michael Taft believes there is no reason to think the situation would be fundamentally different in Ireland.
"We have as a society begun to appreciate the role of essential workers during this crisis - contract cleaners and contract caterers in hospitals, retail workers, security guards organising queues outside supermarkets, agency health care workers, as well as the young person delivering food to our door.
"However, many of these essential workers are on precarious or even gig contracts and so, suffer uncertain income."
Gig workers are engaged as self-employed contractors, rather than employees. Platform companies, like Deliveroo, Just Eat and Uber Eats, describe them as 'riders' or 'couriers', not employees.
They do not have a duty of care to their 'users' or 'riders' like traditional companies have towards their employees.
Joanne Hyde, partner and head of employment at Eversheds Sutherland, said the responsibility of employers to people other than their employees is limited by the Safety, Health & Welfare at Work Act to risks in relation to health and safety at the place of work.  
"Drivers in the gig economy who are self-employed would be in the latter category so have a lesser level of protection  than employees driving for their employer," she explained.
"There is a logic to this as one would expect self-employed drivers to be providing their own vehicles and ancillary equipment such as helmets whereas in an employment situation, the employer may be providing and/or insuring a company vehicle."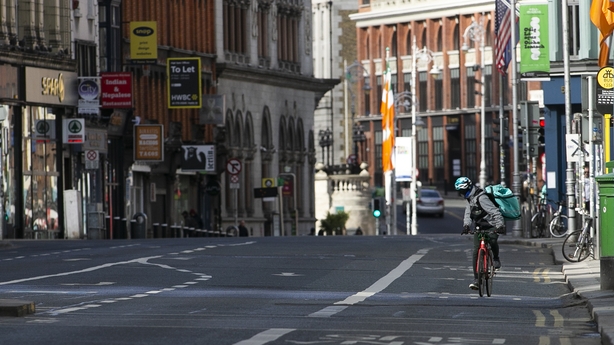 Some platform companies are providing health and safety advice and guidance, and equipment.
Deliveroo has provided hundreds of masks and hand sanitisers to 'riders' in recent weeks. It has also set up a system where riders can be reimbursed up to €20 for the purchase of PPE.
In a statement, Deliveroo said its priority is "the safety and wellbeing of the riders we work with, our customers and restaurant partners.  
"Deliveroo greatly appreciates the hard work of each and every rider in Ireland, who are all providing the essential service of delivering great food to people in their homes at this difficult time."
Similarly, Just Eat said its highest priority throughout this crisis has been "to protect the couriers it works with, its customers and restaurant partners, providing a financial support for the self-employed independent couriers the business directly engages during this time".
It has made available a '14-day Courier Relief Payment' to those who may become ill or need to self-isolate as a result of the virus and can be claimed weekly in addition to the Covid-19 illness benefit made available by the Government.
"By supporting couriers during a period of self-isolation Just Eat is helping them to manage their finances if they need to stop providing their services for a short period," it said.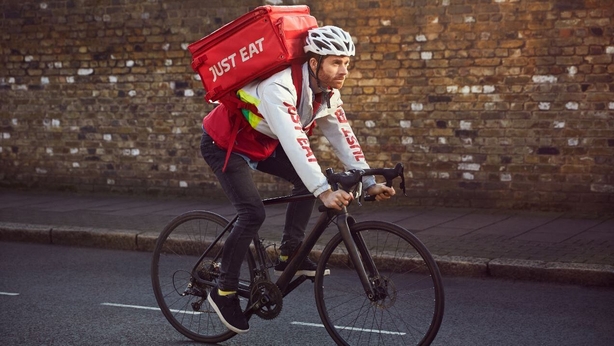 Gig workers are entitled to the Pandemic Unemployment payment so long as they were in self-employment immediately before 13 March, and trading income had ceased.
However, they choose their hours which are often erratic and intermittent, making it difficult to meet these conditions. If they were not working directly before 13 March, it would make it almost impossible to access this payment which is open to other self-employed people.
Gig workers may have access to Jobseekers' Allowance, but this is a means-test payment with a rate substantially lower than the Covid-19 related payments.
Eventually, the Pandemic Unemployment Payment will be phased out along with the elevated payments under the Covid-19 related Illness Benefit. 
But there will still be a situation where gig workers and precarious workers find it difficult to generate the contributions needed to access social insurance benefits - whether that is short-term unemployment, illness, injury, or maternity or paternity benefits. 
Mr Taft is hopeful that the acknowledgement of these workers as "essential" will heighten awareness of their employment status.
He would like to see legislative action, including these workers' rights to collective bargaining, to remove the uncertainty of income and working hours.
He said a good starting point would be an automatic presumption of employment with the onus on the employer having to prove otherwise.
"All workers should be subject to stable contracts and equal access to income supports," he said.