One of the questions frequently posed as the economic effects of the Covid-19 pandemic are considered is what impact it is likely to have on the property market.
Most of the indicators to date point to a fairly muted effect but will that continue and, if not, what kind of impact are we looking at?
No major price falls yet
While pandemic restrictions were phased in during March, estate agents were forced to pull viewings and activity stalled to a large degree. However, the impact on prices was fairly negligible. 
Official figures from the Central Statistics Office showed house prices grew by around a percent nationally in the year to March, with prices in Dublin up 0.6%.
On the day the CSO figures were released, Belgian lender KBC pinned its colours to the mast, saying it saw prices falling by 12% this year, which would mark the first annual decline in prices since 2012. 
In a more pessimistic scenario, it saw prices falling by as much as a fifth.
The Economic and Social Research Institute came to a similar conclusion from its modelling, forecasting that prices could fall by 12%.
The much-vaunted V-shaped recovery was 'distinctly unlikely,' Kieran McQuinn, Research Professor with the ESRI said, adding that a sluggish recovery in the wider economy, as well as in the property market, was the 'most realistic path.'
Ratings agency S&P's was not quite as downbeat but it did, nonetheless, foresee property prices falling by 3.5% in Ireland this year, with a small decline next year, before bouncing back with growth of 4% in 2022.
The outlook from the Irish Association of Mortgage Advisors is more aligned to that of S&P's. It says the feedback it's getting is that big price drops are not happening.
"Prior to COVID-19, there was a significant shortage of homes in Ireland. That hasn't changed, and as people begin to return to work, this demand is likely to re-emerge. So, we are currently not seeing very much downward pressure on house prices," Trevor Grant, Chair of The Association of Irish Mortgage Advisors said.
He acknowledged that there was some level of renegotiation on second-hand purchases, but he rejected suggestions that it was resulting in price reductions of up to 10%.
He said that situation was likely to persist in the months ahead.
"There may be some downward movement in prices over the coming months, but current observations and market-based evidence lead us to believe that this will probably only be in single digits. There is built up demand and it is still cheaper to buy than rent for most," he observed.
Fall in sales volumes
Notwithstanding the perceived ability of the market to stave off house price decreases - certainly in the data to date - analysis of the property price register for the first three months of the year by the property website, myhome.ie pointed to a significant fall off in sales volumes in the three month period.
Nationally, the number of sales was down almost 5% compared to the same period in 2019, according to the report.
It was a quarter that was showing some promise from a property market perspective in the opening months of this year.
"Brexit uncertainty had a significant effect on sales activity in late 2019," Angela Keegan, Managing Director of MyHome.ie pointed out. 
"This was compounded by Covid-19 at the start of March, just when we thought we would see an increase in sales."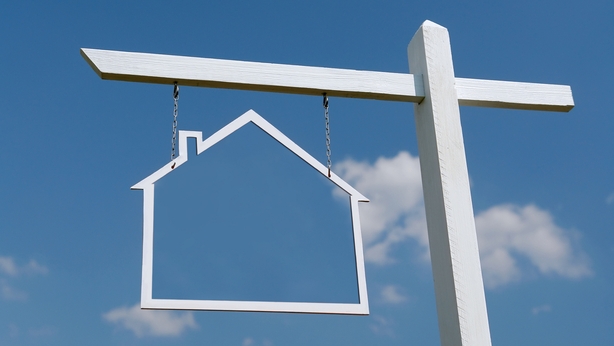 Marian Finnegan, Managing Director of estate agents Sherry Fitzgerald, said there was a definite slowdown in sales by the end of March into April and that it would likely be apparent in the figures for the second quarter of the year, which runs until the end of June.
"The severity of this will be dependent on the economic impact of the crisis. Some disruption is already evident in lead indicators. Second-hand home listings were down 40% nationally in March year-on-year. Further decreases are inevitable. This will impact the sales pipeline for the latter part of the year," she said.
Demand for mortgages
The Association of Irish Mortgage Advisors said it had seen a relatively strong volume of mortgage inquiries in April.
Goodbody chief economist Dermot O'Leary has a different view of the mortgage market, going on the figures from the Banking and Payments Federation for March.
He pointed to the number of mortgage approvals falling by 10% year-on-year, reflecting the initial effects of the lockdown restrictions.
Mr O'Leary said there would likely be ongoing effects on the mortgage market.
"There are already reports of banks holding off on offering any further exemptions to the Central Bank's LTI (loan to income) and LTV (loan to value) ratios. Over a million people now have a changed labour market status relative to the beginning of March.
"This will impact not only the new flow of mortgage approvals but also has implications for those who already have approval as they are obliged to update their status before drawing down the mortgage," he said.
With tighter credit standards, lower new supply and reduced incomes, a very large fall in new lending is in prospect, possibly of the order of 40%, he warned.
Supply of housing
There's been a broad welcome for the return to activity of the construction sector in recent days and the resumption of housing projects in light of the demand for housing - certainly in the pre-Covid economic landscape.
The question is whether that demand will persist if the economy slows down, unemployment increases and inward migration falters.
According to data compiled by Goodbody, there was a slowdown evident in house building activity before the Covid restrictions were phased in at the end of March.
It said growth in house building activity in the quarter slowed to its lowest rate since the end of 2013. 
And with the new social distancing measures in place as sites reopen, as well as the changed economic environment, a significant fall in output is expected for the full year.
Goodbody estimates that output for the year is likely to be below 2018 levels of 18,000 new builds.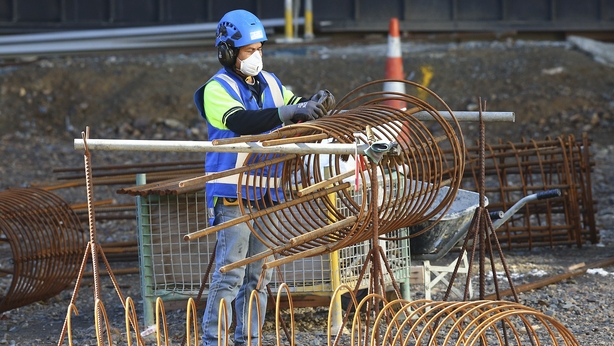 Ms Finnegan forecasts that output will come in below 15,000 units this year. 
She believes this could exacerbate supply problems as she argues that demand will likely bounce back as people get back to work and the economy comes back on track in the aftermath of the pandemic.
However, with property prices potentially falling and with warnings from the construction sector that the cost of building a house is going to increase, could we be looking at a pullback in construction activity?
"Although it sounds modest, a 12% drop in property prices could be half the value of the land," Orla Hegarty, Assistant Professor at the School of Architecture, Planning and Environmental Policy at UCD said.
"We're almost totally reliant on a speculative development sector, public and private, and that sector will stall," she predicted.
How will all of this impact on prices in the coming months?
"Projecting future price performance is incredibly challenging right now," Ms Finnegan said.
There was a likelihood that prices would soften in the short term, she said, but the precise level was uncertain given the many 'unknowns' in the market at the moment.
"If the economy reopens relatively quickly after this, and the structural damage to the economy is limited, the contraction in values could be short lived."
However, she pointed to the possibility of a second wave of the virus as well as a delay in the recovery of our key trading partners as potential downsides to recovery.
Conall Mac Coille, chief economist with Davy and author of the quarterly property reports for myhome.ie, agrees that it's particularly difficult to call the market or where it's heading at the moment.
He said there was definitely evidence of prospective buyers pulling out of transactions, with some using it as a means to negotiate a lower price, but he said the discounts were not substantial.
"Everyone is in wait and see mode at the moment," he said.
He added that it would likely be towards the end of the year before an accurate picture emerges as to where prices stand, but it was difficult to predict where that would be.
Mr Mac Coille said an optimistic scenario would see the economy recovering gradually as businesses reopen and with any subsequent waves of the virus being contained.
"You might not see the panic selling. Price inflation might be resilient. It could be a situation like the UK after the Brexit referendum where house price inflation slowed but, for the most part, transactions weakened and people reacted by just not selling their homes, which can support prices."
However, a more realistic scenario, he said, would see prices falling.
"The economy is only going south this year. I think you'd have to say that prices are going to fall too. It's only a questions of how much," he concluded.