Ireland takes the first steps Monday towards gradually emerging from an unprecedented shutdown of the economy.
Among the workers returning and services resuming will be garden centres, hardware stores and opticians.
Construction work is also scheduled to resume on a phased basis.
We've been speaking to some of the providers of these services about the plans they've been putting in place ahead of pulling up the shutters again for business - but not as usual.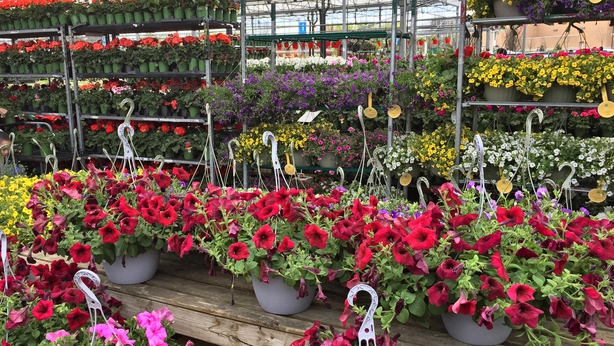 Garden Centres
Arthur O'Meara has been burning the midnight oil as he gets his business, O'Meara's Garden Pavillion near Mullingar, ready for reopening.
"I was doing the final bits between the tills at 12 o'clock last night," he said, having ordered his protective screens from nearby plastics factory Mergon International in Castlepollard a month ago.
"You have to be ahead of the posse in this game," he said.
Describing the shutdown period as a disaster economically, he said it simply had to be done. Preempting the government directives, he closed the store earlier than he had to.
"I found it was impossible to get people to social distance. I have staff with elderly parents and if they ended up bringing this disease home, I would be waking up in the middle of the night saying it was my fault, so I decided to close."
As to whether he feels confident about reopening, Mr O'Meara said his mantra for the last ten days has been to over-prepare.
"I don't know how it will pan out but we have to be ready for all eventualities. It only goes wrong if you haven't got a plan."
Among the measures they've implemented include streamlining the in-store benching, and removing some, to ensure they are at least three metres apart.
Signage has been erected throughout the store reminding people to maintain a respectable distance.
Sanitising facilities have been introduced on site and the coffee shop and playground will remain closed.
The car park has space for 120 cars so customers can safely distance from other drivers as they leave and return to their cars.
"A lot of it is about giving people confidence. Many of them will be going shopping for the first time in weeks, other than food shopping, and they will have to feel comfortable," Mr O'Meara said.
As far as stock is concerned, the garden centre is relatively self-sufficient in that they grow most of the items they sell.
Unlike other sectors, selling online was not an option for the plant and gardening sector during the shutdown.
"How do you send a 15 foot tree in the post? We've a lot of big stuff and couriers won't take anything over 2 metres," he said.
He will, however, be operating a click and collect service in an effort to cap the numbers physically in the centre at any time.
Mr O'Meara said he was looking forward to getting back to business.
When it comes to the bottom line, he says he's still at a loss for the year but he's philosophical about the outlook.
"We'd normally have a Black Friday event around the middle of May and I'd be out of the red at this stage. It didn't happen this year, but we've a good relationship with our bank and they were with us through 2008 and they're there for us again now.
"We'll just give it our best shot. As long as we keep the virus at the back door and we keep our staff and customers safe, that's the main thing," he concluded.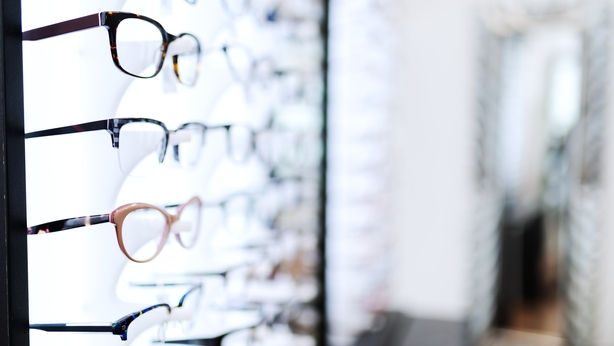 Opticians
Martin Crowe is looking forward to welcoming staff and customers back to his opticians on Esmonde Street in Gorey for the first time in eight weeks tomorrow.
He's been working alone with just his wife in the shop, conducting emergency tasks, like glasses repair, for the past two months.
The shop will be vastly different when it reopens for business tomorrow, with a locked door policy in place and customers seen by appointment as much as possible and a limited number of sight tests being conducted.
"For the first week or so, I only intend seeing two patients in the morning and two in the afternoon because we're also having to fix appointments for people to collect glasses or get repairs done or for people to get eye sight reports signed for driving."
In preparation for the return to business, Mr Crowe has been sourcing personal protective equipment for staff and modifying the shop to protect them and their customers, including perspex screens, sanitiser dispensers as well as visors and goggles for front of house staff.
"Everything is a bit of a scramble. Everyone is in the same boat, trying to get the equipment."
One item he's waiting on is an ultraviolet emitting device that opticians have been sourcing to disinfect frames.
Due to a surge in demand, delivery may take a while. For the time being, like many other opticians, he'll get by with washing frames in soap and water.
"There's no right or wrong way. It's a virus that's relatively easy to kill so soap and water will do it," he explained.
Staggered working arrangements will be implemented as staff navigate the new working environment.
"We'll have two teams in operation. An optician, a receptionist and a technician. We have a staff of eight in total. On any one day we'll have one team so if someone goes down with an illness or Covid symptoms, the other team can step in."
When it comes to stock and logistics, Martin Crowe says he's been very lucky.
"I've been amazed at the lack of supply chain issues. I've been able to contact all the main suppliers of frames and contact lenses and they've been able to keep me supplied. It's been working well."
Construction
After standing idle for many weeks, construction sites are scheduled to hum back to life from the morning.
Preparations have been in train ahead of the return to work and the industry spent much of the past week fine-tuning those plans, making sure that sites are 'Covid-ready.'
Tom Parlon, Director General of the Construction Industry Federation, said it would take time for the industry to get back on its feet after essentially being wiped out for almost two months.
Workers will be coming back to a professional environment that's radically changed.
"Social distancing will be challenging. It's going to mean fewer people on sites and that's going to impact productivity."
He said he was confident that sites would meet the new rigorous standards being set down and overseen by the Health and Safety Authority.
"There will be extra hygiene facilities on site as well as safety modifications and signage with regards to distancing. Over 75,000 workers have completed online training on this," he explained.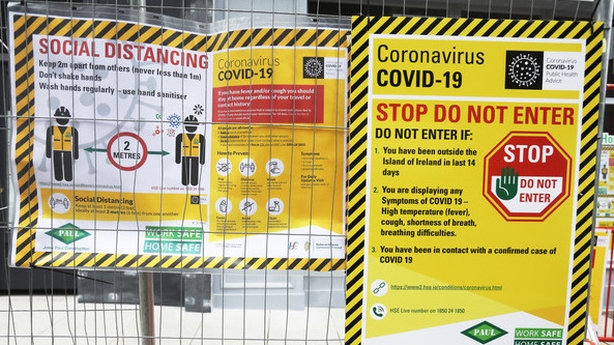 Among the construction firms gradually returning to business is Cairn Homes, which will be resuming work on 15 of its residential construction sites on a phased basis in the week ahead.
The health and safety of workers will be its primary objective, it says. The group has spent €500,000 on personal protective equipment ahead of the reopening to protect staff and sub-contractors.
Strict guidelines on social distancing will be implemented on site, as well as a ban on site visits and remote meetings for all design teams.
However, such measures will inevitably have a knock on effect on project delivery and costs.
"The safety measures will lead to new ways of working and this will have an impact on the efficiency of our home building operations," Michael Stanley, CEO of Cairn Homes, said.
"Project timelines will be extended and as a consequence, there will be an impact on costs."
For Cairn, the new measures will extend beyond the construction site. It has a number of customers who are awaiting the keys on properties that were approaching completion as the restrictions were phased in.
"This will be managed through new snagging, valuation and closing procedures and our sales consultants and customer care team will be overseen by a health and safety adviser throughout each step of the closing process, observing social distancing and hygiene protocols.
"After each visit by a customer, their surveyor or valuer, the new home will be deep cleaned and sanitised by professional cleaners," the company said in a statement ahead of the reopening.
Show homes would remain closed for the time being, it confirmed, and customer viewings would be facilitated through virtual online tours.
Cairn anticipates that the volume of new home sales will be impacted until such time as people can visit and inspect show homes once again.
Home and hardware
DIY chain B&Q will be reopening its eight stores around Ireland from tomorrow.
The hardware retailer will be limiting the number of customers in store at any time and has put physical distancing measures in place as well as sanitiser stations, safe queuing regulations and navigational markers on the floor.
Perspex screens will be in place at checkouts and payment will be by card. The contactless payment limit has been increased to €50.
Due to the bulky nature of some of the items, B&Q is allowing parties of two people so that they can safely handle those larger items.
"We are also giving priority access to frontline health service workers as well as older people and those needing special assistance at all times, and ask that they identify themselves to the B&Q colleague managing the queue when they arrive at the store," Graham Bell, B&Q CEO said.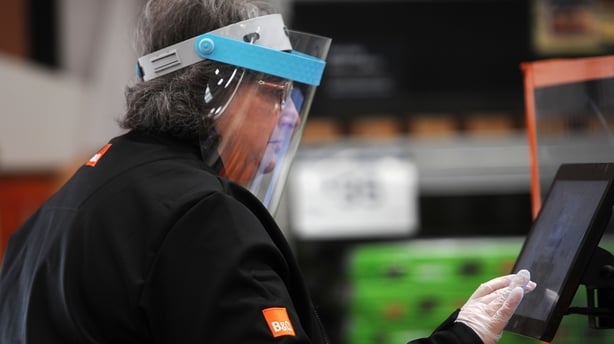 Ikea is among the retailers that had been preparing for Monday opening, but will now have to hold off until a later phase of the gradual return to economic activity.
The government decided against allowing home stores to reopen from tomorrow, despite having included them in the original list of businesses permitted to open in the first phase.
It's undoubtedly a blow to the Swedish retailer which had extensive plans in place for reopening its flagship Ballymun store in north Dublin as well as its order collection point in Carrickmines in south Dublin from tomorrow.
However, it will continue to sell its products online.
Car dealerships
There was some confusion about the extent of the reopening as it applies to the car industry.
Initially, it was anticipated that only the service and repair departments would be allowed to resume business, but that's now been extended to motor sales, a move that's been welcomed by the Society of the Irish Motor Industry (SIMI).
The sector had appealed to the government to allow showrooms to reopen from tomorrow.
Brian Cooke, Director General of SIMI, said the concern was that, with a later return to business, dealers would miss out on sales for the crucial July registration period, when the 202 plate comes into operation.
He said he was confident that the industry would meet the standards required to protect public health.
"Our members have used the downtime to implement measures that will protect both their employees and customers against the spread of Covid-19. The size of dealerships and the average footfall, for both sales and servicing, lends itself to social distancing," Mr Cooke said.