Menswear shop Connolly Man celebrates 50 years in business this year.
The spring/summer clothes are in stock for what is normally a busy trading period ahead of the wedding season, and family events like Communions and Confirmations.
Instead, the shutters came down on the family's four stores, which employ 40 people in Limerick and Clonmel.
"There was no business anyway," said Noelle Connolly, Director. "Connolly Man is not an essential place to be."
It was also next to impossible to maintain social distancing between staff and customers, who need to be measured for suits, and even though the family business has not been ordered by the Government to close, the owners had no other option but to close their doors a week ago.
Tony Connolly is a well-known businessman in Limerick. He has clothed the best dressed men in the city for decades. The 1980s was a difficult time to be in business; the financial crash in 2008 was "tricky" but he has never witnessed anything like this.
"Dad has never seen anything like this," said Noelle Connolly. "The handbrake has come up...and it's very surreal, but the safety of our staff and customers is paramount, and we're in it together."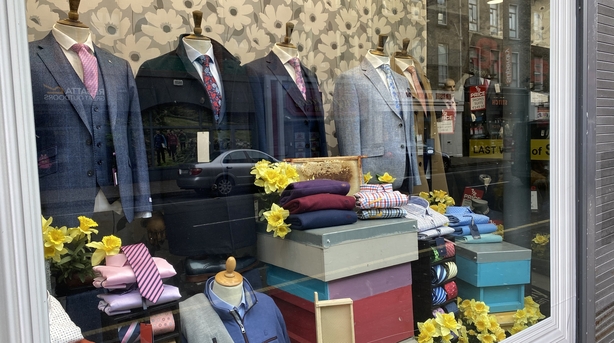 She said, like every business person in the country, her family is "peeled to the media". The menswear stores will reopen but when, she does not know.
The reasssurance from Government and financial institutions is welcome, and the Connolly family look forward to getting back to business in due course.
Limerick City and County Council has told local businesses, like Connolly Man, that it recognises the financial pressures being experienced by certain sectors and it is encouraging any ratepayers experiencing difficulties in paying their commercial rates to get in contact.
The council is dealing with difficulties experienced by ratepayers on a case by case basis. Businesses most impacted by the coronavirus outbreak will be able to defer the payment of their commercial rates for three months under a plan agreed by the Government with local authorities.
The deal will relate primarily to the retail, hospitality, leisure and childcare sectors and will last until the end of May.
Income from commercial rates makes up approximately one third of Limerick City and County Council's annual budget and funds the operations of services, such as Fire and Emergency Services, Flooding Emergency Responses, and street cleaning.
The local authority also offers supports to the Small and Medium Business Sector and the qualifying criteria have been amended as a result of the current situation.
The rebate will be paid as a financial support to occupiers of commercial properties with total annual commercial rates bills of up to and including €25,000 in 2020.
The support payment, aimed specifically at small and medium-sized enterprises, is set at 9% of the annual cost of commercial rates for the rated occupier up to a maximum of €1,000.
The council will be extending the date to qualify for this rebate.
Vincent Murray, Director of Economic Development with Limerick City and County Council said, "It is important that businesses are able to access government supports when required. LEO Limerick will be there to offer support and assistance to those eligible companies, and will work in conjunction with Enterprise Ireland and the Department to help businesses through the Covid-19 crisis."