2020 marks the 10th anniversary of Tourism Ireland's Global Greening initiative for St Patrick's Day.
Buildings and monuments around the world will go green on March 17 including Niagara Falls, the Sydney Opera House, and the Leaning Tower of Pisa.
 Niall Gibbons, CEO of Tourism Ireland.
The idea originated in Australia when the country commemorated the 200th anniversary of the first reception ever held for Irish ex-pats by Governor Lachlann Macquarie in New South Wales. 
Tourism Ireland approached the authorities to see would they light the Sydney Opera House green in its honour in 2010, and they obliged.
"It was a time when digital media was coming on the scene," Niall Gibbons, CEO of Tourism Ireland explained. "It really meant that as you built this over the years and got significant monuments, Ireland trends on social media all around the globe at that time of the year.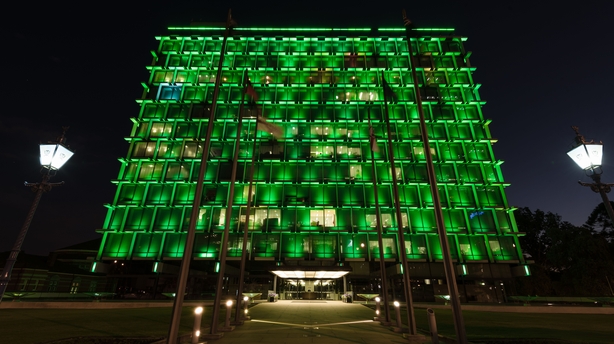 "It gives us a great spotlight on Ireland and from a tourism perspective it is coming at a great time of the year because this is the time when people are thinking about where they are going to go on their holidays. You can't get a better platform and no other country has that opportunity," he said.
The Tourism Ireland network in 23 countries around the world plays a leading role in encouraging countries to light up their monuments in 40 shades of green. The tourism body works very closely with colleagues in the Department of Foreign Affairs who have a network of embassies and consulates in over 80 countries. It is a collaborative effort.
"We're helped by the diaspora as well," Mr Gibbons said. "There are many countries where we don't have a reach. This year we've seen countries come on stream like Qatar, Thailand, and countries like Albania where we never thought we'd have any Irish presence but the diaspora are everywhere."
There are 70 million people around the world that claim Irish connectivity. The Global Greening makes people around the world think of Ireland.
The cost of the Global Greening Initiative last year was €49,000 to light 475 icons in over 45 countries. "It's probably one of the most cost effective marketing platforms that anyone has around the globe," Mr Gibbons said.
"This year so far we have over 300 signed up in over 40 countries. France is in the lead with over 50 icons going green including the Moulin Rouge, and so far the cost is €20,000."
Two new additions have been added to the event - Madison Square Gardens in New York will light up green for St Patrick's Day, and the Dubai Frame which is the largest picture frame in the world.