The Minister for Finance has moved to reassure financial services companies that they will remain important to Ireland, despite the political uncertainty that has followed the General Election.
Closing the European Financial Forum in Dublin, Paschal Donohoe said he is confident that the sector will continue to develop in the coming years under future governments.
Mr Donohoe said he wished to emphasise that financial services and the businesses represented by those in attendance "will continue to be an essential element of the Irish economic model and of the Irish economy under next and future governments."
"I am very confident that as I look at the number of people employed in our economy in financial services and beyond ... I am certain that how this sector will develop across the coming years will continue under this and the next government."
He said that as we look at the kind of change under way elsewhere and the kind of debates taking place about economic models and the regulatory environment in financial services, he is confident that the model we have had in Ireland, the investment attracted, and the growth that has taken place will be supported in the years to come.
Mr Donohoe also told the audience that despite the change under way in the European Union, Ireland will continue to be a voice within it for an open and competitive Europe and one that sees financial services as a very important aspect of the European single market.
He said it would be even more important in the years to come that Ireland and other European countries continue to make that case as there is so much work to be done.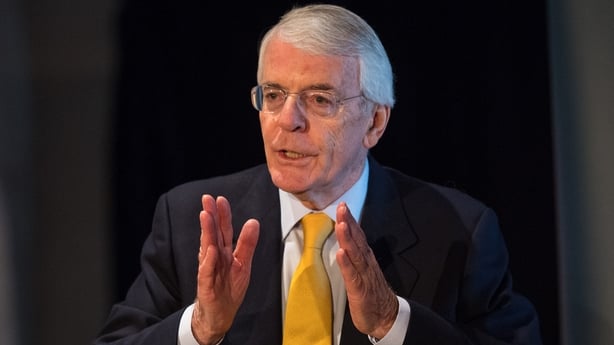 Meanwhile, a former British prime minister has said negotiations on a future trade agreement between the EU and UK will be extremely difficult.
Speaking at the same event, John Major also said that while he does think a deal will be struck by the end of year deadline, it will be a flimsy one.
Mr Major said there would be implications for Ireland in a number of different ways from Brexit, including around trade, especially if there is no agreement between the EU and UK on alignment of regulations.
He said his other and principle concern about Ireland would have been if a hard border had been imposed on the island of Ireland.
"Although I'm not a great fan of what has subsequently happened with the border down the Irish Sea, I do think it is a good deal less provocative and a good less inflammatory than a land border would have been."
Mr Major added that there will still be difficulties with the Irish Sea border as this has put Northern Ireland in a different relationship with the EU Customs Union than the rest of the UK.
"Quite how that will settle down is as yet unclear," he said.
Mr Major predicted it would undoubtedly cause considerably difficulties for businesses in Northern Ireland.
On financial services, the former prime minister said he would have preferred the UK to remain aligned to the EU.
He said he is sure the UK government will seek equivalence, but the EU is likely to say to London that if it wants equivalence it will have to accept alignment.
Many people are still underestimating the difficulties there are going to be after 40 years of alignment and ease of trade when suddenly there are physical and operational impediments to that trade, he told the audience.
It will be expensive, have unforeseen effects, certainly be costly to business and to trade and is an entirely self inflicted wound, he claimed.
Mr Major said he is concerned that the UK government has restricted the time for negotiating the trade deal to the end of the year.
He said that by the time both sides have their negotiating remit ready it will be March and in order for a new deal to be ratified in time it needs to be done by September.
"That means one of two things - either we won't get a deal or we will get a bare bones deal, a flimsy deal," he said. "I think we will get a deal - but I do think it will be a flimsy deal."
Mr Major added that the prospect of getting a comprehensive agreement in the timeline concerned would need a miracle.
British Prime Minister Boris Johnson's decision to put a deadline on getting a withdrawal agreement did not result in a great deal, he stated.
"It was quick, it was flimsy and in many ways I think one could argue it was less satisfactory for the long-term than the one Mrs May had reached before," he said.
The former Conservative Party leader said in his view, leaving the EU was the worst foreign policy in his lifetime and the worst foreign policy decision by his country that he expects to see.