It is the ultimate wardrobe, filled with designer gowns for formal occasions, and cocktail dresses for weddings and parties.
Customers step into The Ivory Closet to step out in style. Except these dresses are not for sale, they are for hire.
Sheila Cahill and her sister Niamh opened the doors of The Ivory Closet in Limerick City at the height of the recession. A busy social calendar the previous year, led them to wonder if there was a market for dress hire.
Sustainability the new buzzword in fashion pic.twitter.com/4vwdkAoJhK

— RTÉ Business (@RTEbusiness) November 29, 2019
"We had 7 weddings in one year," Sheila said. "We always wanted to wear something different, high quality, high end, and we said, 'Imagine if you could hire a designer dress. Wouldn't that be fantastic?'"
The dresses retail at around €1200, and can be hired at The Ivory Closet for a fraction of the price, which includes dry cleaning and alterations by a dressmaker on site.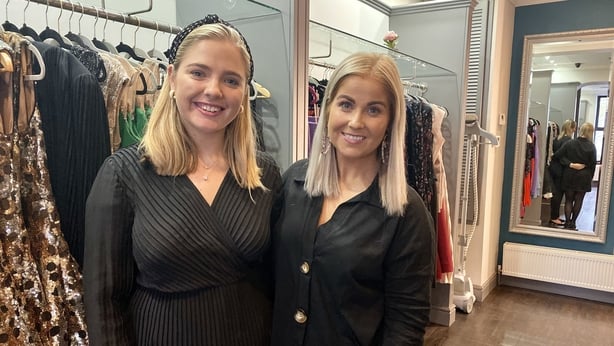 Clientele are both fashion and finance conscious. "They might be in a position to buy the dress but they know they're only going to wear it once. It makes more sense to hire the dress than having it sitting in their wardrobe," Ms Cahill said. "I think in this day and age, people don't fill their wardrobes with expensive dresses."

Social media has played a crucial role in the success of the business. People are less keen on wearing the same dress to another event, especially having posted a picture of a dress for everyone to see on the likes of Facebook and Instagram.
Social media has also been a platform to advertise the designer gowns available to hire. "Tess Daly wore a dress from The Ivory Closet recently on Strictly Come Dancing," said Ciara Hegarty, a sales assistant at the store. "That was fab exposure for the shop. The minute she popped it up and tagged us on Instagram, loads of people messaged us about it."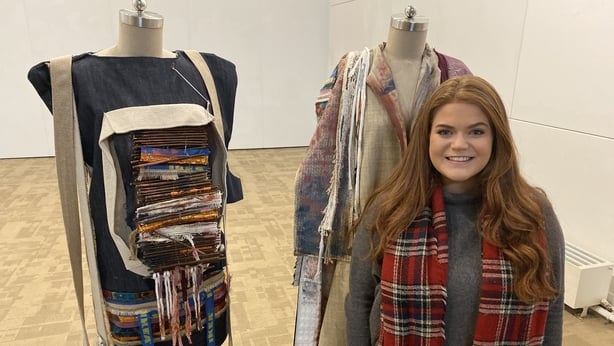 Sustainability is the buzz word in fashion as the industry pledges to reduce its impact on the environment.
Across the city, at the Limerick School of Art and Design, LIT, sustainability is sewn into the fabric of students work - literally.
Fashion Design student, Aisling McGinn, designed a mini collection of clothes using unlikely materials including carpet, curtains and an Ikea bag.
She described how students at LSAD draw up patterns on paper and carefully place them on material so as not to waste any of it. "We have boxes for scraps of fabric that students can take and use."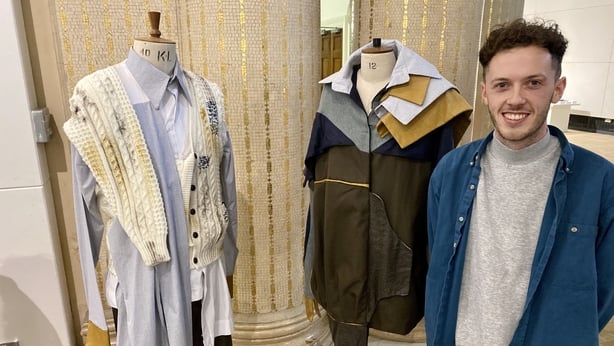 Students were given a project to upcycle an old garment. Paddy Bartley took inspiration from his family's farm in Carrick on Suir, Tipperary, by repurposing a cardigan that he found at home. "Back in the day, if you had a hole in your jumper, you would darn it, and not throw it out for something new," he said.
A fan of vintage shops and charity shops, Paddy also likes to upcycle his father's old shirts to wear to festivals.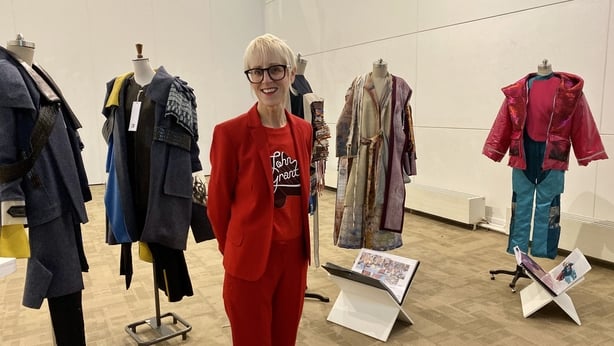 Anne Melinn is programme leader, for the Fashion Design course at LSAD. "I think giving a second, third, fourth life to a garment, and the owner obviously changes the character of the garment, I think that's an essential part of the fashion world that we are living in, so that it has a long life as opposed to a seasonal life," she said.
Not everybody has the sewing skills to redesign a favourite item of clothing, but Ms Melinn points to alteration shops like The Zipyard dotted around the country "which are doing a wonderful job of transforming clothes".
Some enterprising students, like Jessica Moynihan, extend the life of their clothes by selling them online using the app Depop. "I looked at what I had in my wardrobe and thought, can I sell it?" she said. "It's a really good platform to make some money."
People post pictures of their clothes and sell them on Depop at a reduced price. "Sometimes we have too much in our wardrobe so we want to clear it out. You're giving your clothes a new lease of life by selling them on Depop."