The Central Bank's deputy governor has said the bank has had to push too many retail banks too hard over too long to put their customers first.
Ed Sibley said the main banks here have expressed admirable sentiments in their marketing materials which indicate that there is a desire in retail banking to develop and maintain long-lasting and trusting relationships between banks and their customers.
But the test of a relationship is not when things are new or going well, he said, but when problems are experienced over the long-term.
"And if trust is low and one party has repeatedly resisted doing the right thing, indeed requiring a third party to come in and make them do the right thing, then one has to question the future of that relationship.
"On too many serious issues, be it tracker mortgages or to a limited extent in terms of Brexit preparations, the Central Bank has had to push retail banks and other financial institutions too hard over too long on too many of these issues in order for you to really put your customers first and make sure you continue to deliver."
The deputy governor referred to the example of mortgage rates, where he said there is a high reliance across the banks on customer inertia to differentiate between new and existing customers.
Mr Sibley posed the question about whether this is really sustainable in the long-term and whether it is really good for customers.
Mr Sibley was speaking at the Banking and Payment's Federation Annual Retail Banking Conference in Dublin.
"The Central Bank is continuing to have to push hard, all these years on, to make sure that mortgage arrears are continuing to be dealt with in a consumer-centric way by banks," he told the audience.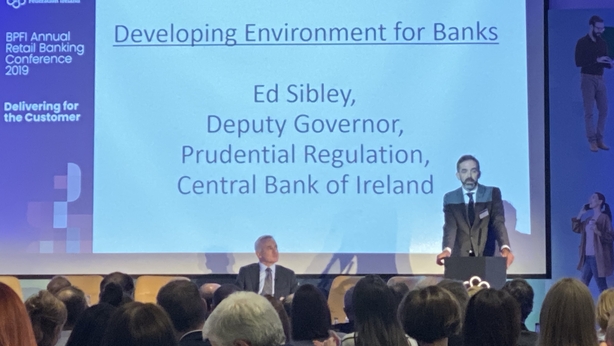 The regulator said a lot of work has been done to restructure mortgages. But he added that there is still more effort needed.
"We don't have a preference for loan sales, we have a preference for continuing to work these things out," he added.
He pointed to the range of other options that are open to banks and customers, including restructuring and use of the Insolvency Service.
The issue raises questions he said, including about banking culture, whether banks really value long term relationships with customers and their commitment to customers.
"What is clear is that further change is needed to rebuilt trust, between retail banks and customers," he said.
The Central Bank will continue to play its part, he claimed, in terms of governance, culture and accountability and on specific issues.
But for change to happen it has to be genuinely wanted, he added, and has to look beyond complying with the letter of the law.
Also addressing the conference, the chief executive of the European Banking Federation, Wim Mijs, said the banking sector has changed a lot since 2008 and the financial crisis.
He also said that Central Banks and supervision has also changed in that period, and has become better and stronger.
It may feel sometimes that they are interfering, but they are also becoming a partner, he told the audience.
Mr Mijs said banks are still dealing with the consequences of the crisis.
"Any incident, any misbehavior, is immediately seen as misbehavior of the whole sector and that is something we will have to deal with," he stated.
He said banks need to relentlessly work to regain trust of society.
Fianna Fáil's Michael McGrath told the conference that banks have a job of work to do to explain why mortgage rates are so much higher here than elsewhere in Europe.
He agreed with the Central Bank deputy governor that there is inertia and added that banks have benefitted from that.
Some customers are paying 4-4.5% on their mortgages he said, when they should be paying 3%.
He added that more work had to be done on educating customers of the value of switching.
Brian Hayes, chief executive of the BPFI, said the banking sector has a huge journey to travel and it is being travelled step by step.
However, he posed the question that if Irish bank profits are so high, then why are more international banks not clamoring to enter the market here to mop them up.