Hibernia REIT said its portfolio value increased by 0.6% in the six months to the end of September to stand at €1.423 billion.
In its half year results published today, the company said its net asset value per share - a key measure of performance - rose by 1.4% to 175.7 cent. 
Hibernia REIT said its annual contracted rent rose by 7.6% to €62m since March of this year on the back of new lettings and rent reviews.
It also reported net rental income of €28.6m, up 7.3% on the same time last year. 
The company has proposed an interim dividend of 1.75 cent per share, an increase of 16.7% on the previous year. 
During the six month period, Hibernia REIT invested a total of €17.6m in new investments, three of which were bolt-on in nature. These included the Malahide Road Industrial Park purchase.
It also invested €9.3m in capital expenditure on developments. 
Kevin Nowlan, chief executive of Hibernia, said the company had made good progress in the first half of the financial year.
He said that net new lettings and rent reviews enabled it to increase its contracted rent roll by 8% to €62m. 
"With €11m of potential incremental rent to come from leasing the remaining available space in the existing portfolio and our 2 Cumberland Place development, there is a significant opportunity for us to grow our income further in the near term and this remains a high priority for us," Mr Nowlan said.
The CEO also said the company is "working hard" to unlock the value within its development pipeline, with the key achievements in the period being the grant of planning to expand its 2 Cumberland Place scheme and the preliminary planning permission received for the redevelopment of Clanwilliam Court, which is subject to appeal.
Kevin Nowlan noted that while Ireland continues to have one of the fastest growing economies in the EU, business and consumer sentiment have softened in recent months, consistent with global trends.  
"We have also seen some evidence of smaller occupiers deferring decisions on leasing space given the current geopolitical uncertainty," he said. 
"Nonetheless, overall tenant demand for offices and apartments in Dublin remains high and job creation from foreign direct investment is near record levels," he added.
Speaking to Reuters, Mr Nowlan said that Brexit definitely "spooked some domestic companies".
"But it seems like we've got a two-track market now, the FDI (foreign direct investment) guys, particularly in tech, have been continuing to take more space," he said.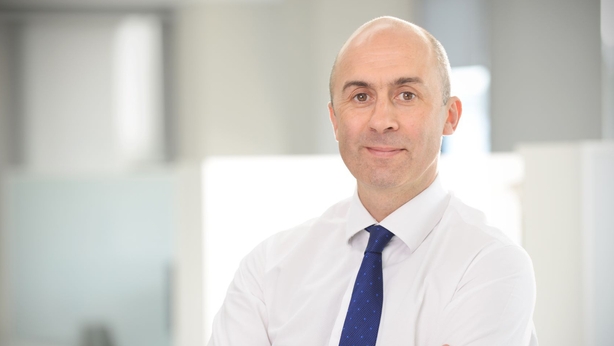 "Those companies are getting a bit more relaxed about what's going to happen and I think there is going to be a solution to Brexit. Post October 31, there has definitely been an uptick," the Hibernia CEO said.
He also said that Hibernia's vacancy rate of 12% would likely have been lower without the 8 to 10 week hiatus that led to a change of strategy at one of its prime Dublin buildings, 2 Windmill Lane, where it is focusing on attracting one or two larger tenants rather than letting floor by floor.
Mr Nowlan added that proposals for how big multinationals are taxed around the globe will have an impact on Ireland, whose low corporate tax rate has proved a magnet for such firms, but the new rules are unlikely to fundamentally change Ireland's appeal.
"I don't think they are massive game changers," he said.
Hibernia REIT had agreed a deal to lease its Central Quay offices in Dublin's South Docks to office-sharing company WeWork but it is believed that deal has fallen through. 
In today's results statement, Hibernia REIT said that "substantially all 27,500 square feet of vacant space in the building is under offer from potential occupiers".
Hibernia's other key assets include 1SJRQ, 2WML, 50 City Quay, The Observatory and South Dock House in the South Docks, Cannon Place in Dublin 4, The Forum at Dublin's IFSC, Hardwicke House & Montague House in Dublin 2 as well as Marine House - also in Dublin 2.