Google's best known as an internet company.
But in recent years it has been making major strides on the hardware front, particularly with phones.
The Google Pixel 4 is its latest offering in this regard.
It is an excellent piece of kit in lots of ways, driven by the best of Android, excellent imaging and clever AI, although a few niggles like battery life slightly spoil the overall experience.
DESIGN
The Pixel 4 has a very Googley look to it.
A premium phone with a matching price tag, it doesn't have the same flashy appearance of the iPhone or Samsung Galaxy ranges.
Don't get me wrong - that's not necessarily a bad thing.
The Pixel 4 is smart, modern and has a hint of fun in its styling.
First of all it is smaller than many of its competitors.
But this compactness is arguably a positive as many smartphones have become unwieldy, they are so large.
It is also thin, light and easy to hold, thanks to the rubber non-slip edges on either side.
That's definitely a clever idea, as so many drops and screen breaks are caused by the shiny aluminium or steel bands around the edge of phones.
Some potential buyers, however, may not like the look, as arguably it does look a little cheap.
The back is glass covered with the device coming in a range of colours and finishes, including Clearly White, Oh So Orange and Just Black.
Inset in the top left hand corner is a square box housing the camera system.
There was a splash of orange on the power button of the one we tried, which again gives it a modern feel, but perhaps not one everyone will appreciate.
Overall, the Pixel 4 has a different but likable look, because of that difference.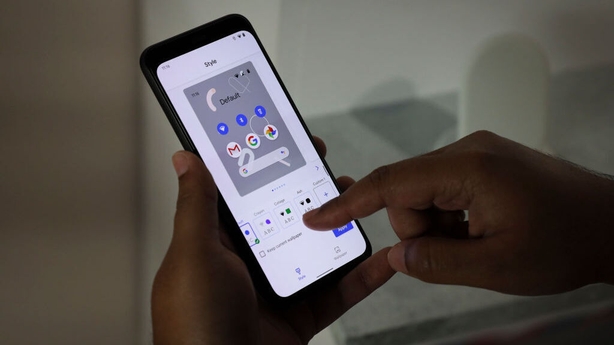 DISPLAY
The 5.7 inch display is one of the standout aspects of the Pixel 4.
It doesn't cover the entire front of the phone - there is a bezel on top where the front facing camera sits, and at the bottom there is another bezel for the mic.
That is a bit of a drawback, when other manufacturers are maximising the screen real estate as much as they can.
And those that watch a lot of video may find it a problem.
But what it lacks in coverage the display offers in quality.
The Full HD+ OLED unit is exceptionally clear and bright, with seemingly perfect colours thanks to the Adaptive Colour mode and the Ambient EQ that adjusts the display colour temperature to the surrounding environment.
It's really responsive too - very sensitive to touch and the high 90Hz refresh rate makes it very smooth when scrolling.
What's clever though is that the screen automatically changes back to a lower 60Hz refresh rate for functions where its not needed, in order to preserve battery.
There is also support for High Dynamic Range to get the best out of HDR content.
It also has the increasingly common always-on feature, although that may also come at a price for battery life (see next section).
CAMERA
The camera set up on the Pixel 4 sees some improvements on its predecessor.
The biggest boost is the addition of a second camera - something that Google is a little late to the party with when you consider many top-end phones now have three or even four.
The main camera has a 12MP sensor and then there is a second, 16MP telephoto lens which is handy for getting closer to the action without moving and performs pretty well.
This coupled with some new software features driven by the neural engine, makes it a solid albeit unremarkable camera system.
There is, for example, a new Dual Exposure mode, which makes it possible to adjust shadows in the foreground and brightness in the background independently to improve what might otherwise be an over or under exposed image.
Night Sight, like similar functions on other devices from Huawei and Apple for example, helps boost light levels in low light scenarios, with reasonably solid results.
And stargazers can now take nifty shots of the night's sky with a new astrophotography mode, provided they keep the phone very still using a tripod or solid surface.
Portrait mode has also had a boost, although it is now a staple of most dual or multi camera smartphone systems.
While a Frequent Faces gizmo learns faces you regularly take images of and then captures the shots of those people when the faces are in focus.
On the front is now a decent 8MP sensor for selfies.
HARDWARE
The Pixel 4 packs plenty of punch in the hardware department.
It's driven by the almost top of the range Qualcomm Snapdragon 855 Octa-Core processor and Pixel's own Neural Core engine, coupled with 6GB of RAM.
The combo makes the device flow seamlessly, even under heavy graphics pressure.
However, whether it is the powerful architecture or the software that runs on it (more later), Google has got its power management off.
The 2,800 mAh battery is the single biggest pitfall when it comes to the Pixel 4.
The device will just about make it through an average day of use without requiring a top up.
But up that to a higher level of use, or throw in some power hungry apps, and you will be reaching for the charger by the end of the day.
This really isn't something that is excusable in a phone of this size or price, which should be able to pack a decent sized battery capable of doing a full days work and more.
And its odd that Google would choose to let it go to market like this.
Yes, you can choose to turn off some of the features that might compromise battery life. But why should you when these are part of the phone's unique user experience?
Nevertheless, the phone does have fast charging through the USB-C charging connection and also supports wireless charging.
As well as the standard nano-SIM card, the Pixel 4 also has a built in eSIM.
But don't get too excited. It will only work in a select list of countries, that doesn't include Ireland.
It's stereo front and bottom speakers are fine. But don't plan to base your party around them.
In the storage department, the mobile comes in two options - 64GB and 128GB.
OTHER FEATURES
Although the Pixel 4's hardware is decent to look at, powerful and stable, there isn't really a ground breaking new feature there.
But in the software department, there are some nice new additions that do set the handset apart.
Many of these are based around Google's growing prowess in the field of artificial intelligence.
Like live caption for example, which will automatically caption speech in audio or video on your phone, including videos, podcasts, audio messages and even your own recordings.
What's nice about it too is that the work is done on board the phone - there is no need for an internet connection and the content doesn't leave your device.
An extension of this can be found on the Recorder app, which not only records voice, but transcribes it too - really useful for note taking.
It also makes the inbuilt search function more powerful.
The phone also has Motion Sense which detects when you are near and turns on your display automatically.
You still have to unlock it, but when you reach for the device the facial recognition unlocking function is triggered making it a really quick and seamless experience.
Motion Senses can also be used for limited controls too, like skipping songs when your hands are dirty or in use for example.
This Quick Gesture feature also works for snoozing alarms, dismissing timers and silencing incoming calls.
More uses for these are likely to follow as Google adds them.
Other interface improvements include a sleeker copy and paste function and new gesture navigation features introduced with Android 10 that make navigating with swipes more straightforward.
While Google's virtual assistant, Assistant, has also been enhanced.
CONCLUSION
There is much to like about the Pixel 4.
The design is a little different, the display really solid, the camera top notch and the AI based software features while perhaps not all that useful for everyone, show Google is heading in an exciting direction.
But there are a few drawbacks. The looks of the Pixel 4 won't be to everyone's taste.
The battery life is sub-par.
And some may feel it is a little small for them, in a world of ever growing handsets, although there is a larger 6.3 inch version at a higher price.
Is it the best premium handset on the market right now?
Depends on your needs really. But starting at €759, its not bad value when compared to the iPhone 11 range, Samsung Galaxy S10 and Huawei's rivals.
Comments welcome via Twitter to @willgoodbody