New figures from the Central Statistics Office show that the seasonally adjusted unemployment rate for October fell to 4.8% from a revised rate of 4.9% in September.
This compares to a revised jobless rate of 5.7% the same month last year and marks the lowest rate since January 2007.
Ireland's jobless rate is also almost nearly three percentage points below the current euro zone average of 7.5%.
The CSO said that the seasonally adjusted number of people who were unemployed stood at 117,300 in October, down from the figure of 118,100 in September 2019.
When compared to the same month last year, the CSO noted an an annual decrease of 19,400 in the seasonally adjusted number of people without a job.
Today's figures show that the seasonally adjusted unemployment rate for men fell to 5.2% last month from 5.3% in September, while the rate for women was unchanged at 4.4% in October.
Meanwhile, the seasonally adjusted youth unemployment rate moved up to 12.3% in October from 12.2% in September.
The jobless figures have been subject to sharp revisions in both directions in recent quarters.
An original CSO estimate that the rate had fallen to a near 14-year low of 4.5% in June was marked sharply up following the release of more detailed data.
While provisional data last month put the rate for September at 5.3%, unchanged from the previous three months, each of those periods were marked lower today by the CSO.
Commenting on today's figures, economist Alan McQuaid said that employment increased in 11 of the 14 economic sectors over the year in the second quarter of 2019.
The largest rates of increase were recorded in the transportation and storage (up 8.6%) and the education (up 7.8%) sectors.
He also noted that youth unemploument remained elevated and said that government initiatives in terms of training, education and upskilling must focus on this age group in particular.
Pawel Adrjan, economist at global job site Indeed, said the decline in the rate of unemployment in October is a welcome sign of the continuing strength of the labour market in Ireland.
He said that with the risk of a hard Brexit appearing to dissipate, companies who had put hiring decisions on hold may look to ramp up activity in the new year.
He also said that October is the time of year where recruitment ramps up for Christmas jobs, with Indeed's analysis showing that hiring for seasonal roles peaks in October.
Indeed noted higher numbers of seasonal roles compared to previous years, with 3% more Christmas jobs listed in October 2019 compared to 2018, and 20% more than 2017.
"The seasonal roles are predominantly customer-facing sales jobs in the retail sector. Other big seasonal roles help ensure that retailers do not run out of stock, with hiring focused on stocking, merchandising, driving and warehouse work," Pawell Adrjan said.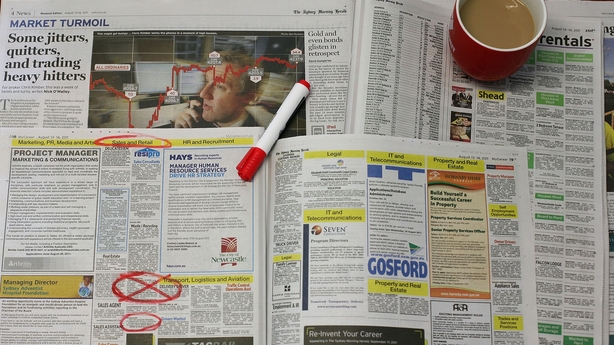 Commenting on today's CSO figures, Chambers Ireland's chief executive Ian Talbot said that as the country approaches full employment we must be mindful of the challenges of such a tight labour market.
Mr Talbot said it is increasingly challenging for many businesses to find and retain talent leading to increased skills gaps and higher labour costs.
He said these concerns are emphasised in the European Chamber (Eurochambres) Economic Survey published today, where more than 50,000 businesses were surveyed on their main concerns in doing business for 2020.
"Low domestic demand, lack of skilled workers and rising labour costs were the top three concerns for businesses across Europe," he said.
Along with Brexit, these issues are also the top concerns of Irish business going into 2020, he added.