The Central Statistics Office has published its Statistical Yearbook for 2018 which collects a wide variety of facts and figures about Ireland's economy and society. 
It has also published snapshots of each county with details on births, deaths, marriages, commuting and more. 
There were 18,016 new dwellings built across the country in 2018, up 25.3% on the previous year. 
The houses that we are building are also more energy efficient -  97% of the dwellings built between 2015-2019 were given an "A" energy rating compared to just 1% of dwellings built between 2005-2009. 
The CSO has also published interactive snapshots of each county which highlight differences across the country. 
---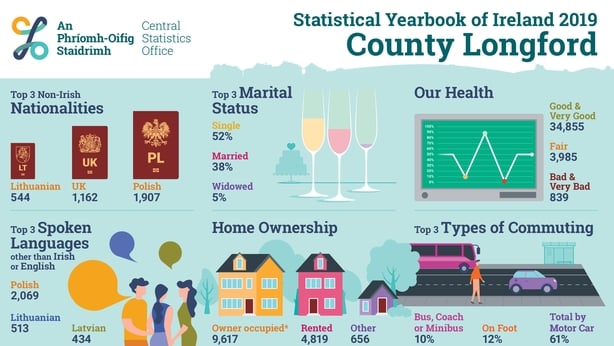 ---
For example, in Dublin City 60% of people are single and 26% get to work on foot while in Mayo 50% of people are single and just 10% walk to work. 
---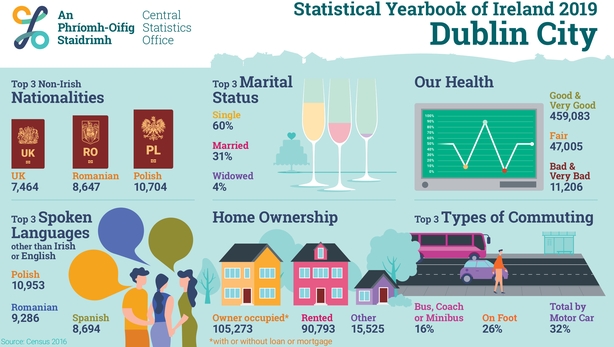 ---
The most common name for baby boys and girls in Donegal is Conor and Grace. In Wexford, it is James and Amelia. 
Cork has the biggest number of dairy cows at 378,200 while Leitrim has just 2,000. 
The UK is still the destination for €14 billion worth of exports, but as a percentage of total exports, it has fallen from 12% to 10%. 
The UK remains the biggest source of imports, accounting for €18.4 billion or 20% of all goods brought into the country. 
The CSO yearbook also finds that there is a huge disparity between the numbers of men and women at the top in the country's big companies. 
Almost 93% of company chairpersons were men compared with just 7% women, while amongst senior executives, women occupy on average 28% of roles compared to almost 72% occupied by men.