A new organisation has been set up to represent entrepreneurs involved in start-ups here.
Scale Ireland says its aim is to engage constructively with the Government by offering a coherent voice on policy matters impacting early stage businesses.
In particular it wants to see a more strategic enterprise policy that prioritises home-grown entrepreneurial businesses alongside foreign direct investment (FDI).
The new independent not-for-profit organisation is chaired by veteran venture capitalist and entrepreneur, Brian Caulfield, and is being driven by a range of business people with experience of starting and scaling successful firms.
"While Ireland's economy is currently performing strongly, we face significant disruption to our economic model," he said.
"Brexit and global economic changes are exposing our over-reliance on FDI. We need the Irish economy to be firing on two cylinders. Let's emulate our success in FDI with an ambitious strategy to drive the growth of home-grown IDEs of scale throughout the country."
The project was born out of the Dogpatch Labs startup hub in Dublin, where a group of leaders identified policy issues impacting on entrepreneurs' ability to grow and scale.
However, it has since been spun out as an independent body funded by seed funding from Google as well as a number of entrepreneurs who have successfully built and sold businesses and want to give something back.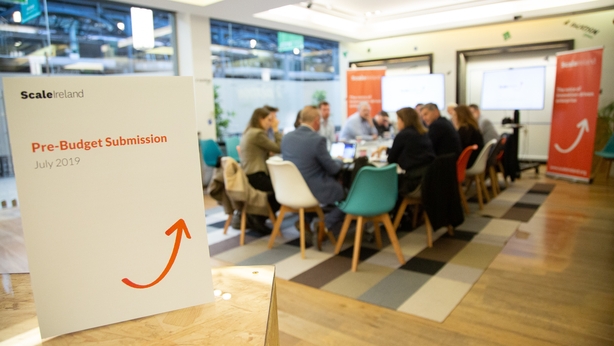 It is being driven by a steering group which includes well-known names in the startup scene here, such as Elaine Coughlan, Managing Partner with Atlantic Bridge, Conor Hanley, CEO and President of FIRE1, Grainne Dwyer, former CEO of Ludgate Hub in Skibbereen and Patrick Walsh, founder of Dogpatch Labs Dublin.
The group says it has had very good engagement with organisations like Ibec, ISME and the Small Firms Association and sees great alignment with them on the issues of concern for indigenous innovation driven enterprises (IDEs).
"Our emphasis will be on articulating the specific needs of this cohort," says Liz McCarthy, Head of Scale Ireland.
Originally defined by the Massachusetts Institute of Technology, innovation driven IDEs are described as startups and scaleups that are on different growth curves to traditional small and medium sized enterprises and are therefore loss-making for longer at the start.
They can be in any sector, from ICT to biotech and medical devices, but have innovation at their core.
Scale Ireland will not formally launch until early next year, but in the meantime it is focused on the upcoming budget.
It says its main priority area for change is a revamp of the Government's Key Employee Engagement Programme share option scheme, because talent is the biggest challenge for startups.
"So if we had a share option scheme that worked it would have a huge impact," Ms McCarthy said.
Another priority is to secure better incentives for early stage capital as startups are finding it very hard to access the money they need to get their ventures off the ground.
Those who invest early on take the biggest risk, according to Ms McCarthy, so getting incentive schemes in place that properly reward people for taking that risk is important.
The Government's current Employment and Investment Incentive Scheme is not working, she adds.
Simplification of the R&D tax credit would also be welcome, Ms McCarthy says, as right now the majority of the credit is going to very large companies because it is very difficult for small businesses to use.