The Governor's office in the Central Bank building on Dublin's north quays looks out over the Liffey. On one side, you can see the city centre with its scattering of cranes on the horizon. Look the other way, and you can see out to sea.
There are two small oil paintings on the wall. One is Paul Henry's The Lake in the Bog. The other is The Tipster by Jack B Yeats.
There's a framed cheque made out to Padraig Pearse for £15 dating from January 1915. In short, there's a lot of history, despite it being a very modern building.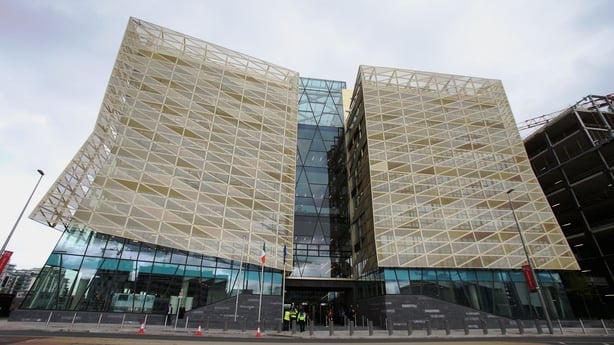 The man who has taken up the reins here seems to be aware of the history, both recent and more distant.
Gabriel Makhlouf had a well-thumbed copy of former Governor Patrick Honohan's recent book 'Curreny, Credit and Crisis' on his desk. He spent the summer reading J.J. Lee's seminal 'Ireland 1912-1985'.
He hopes his acceptance of the findings of an official investigation into his handling of an IT scandal when he was boss of New Zealand's finance ministry will draw a line under a controversy which has surrounded his appointment.
Even if it doesn't, other pressing issues are about to demand his attention.
At home, the fallout from the tracker controversy levelled another swing at the battered reputation of our banks.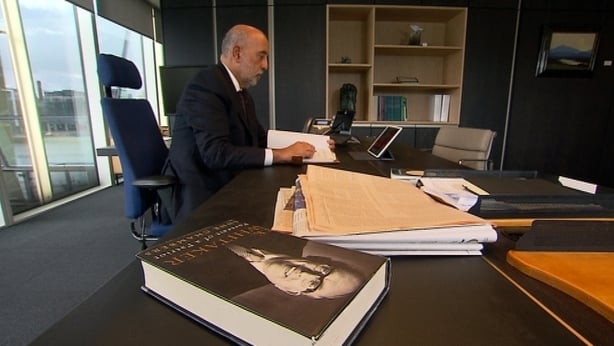 The Governor himself said he was "worried" about how some banks had conducted themselves. He said some banks were "in denial" about what it meant for banking culture.
Abroad, the Governor will face big challenges too.
He'll attend his first ECB Governing Council Meeting in Frankfurt next week. There's some speculation the ECB may tweak its already record low interest rates or take some other action to stimulate economic activity in the eurozone.
But there's a lot of soul-searching going on.
At a hearing before MEPs in Brussels last week, the nominee to be the next ECB President, Christine Lagarde fielded a number of questions about negative deposit rates.
At the moment the ECB charges banks -0.4% to hold deposits at the bank.
We've seen the downstream impact of this policy here with many credit unions restricting the amounts customers can hold on deposit.
The theory goes that this should encourage banks to loan out money rather than hoarding it. And for people to spend their money, rather than save it.
But there's a growing body of research which has questioned whether a tipping point has been reached. Whether the levels of low interest rates and negative deposit rates really work as well as had been previously thought.
There's never really been a situation like this before. Interest rates are at record lows but economic activity in big economies like Germany is slowing down.
During the financial crisis, Mario Draghi just had to utter the now famous phrase "...whatever it takes to save the euro..." to move markets.
Today, the Central Bank's magic wand isn't having as much luck.