"Language is a beast," Parsa Ghaffari, CEO of Aylien, said in his company's Dublin offices. "A challenging subject, very close to human cognition." 
He launched his start-up, now in its sixth year of existence, to tame the beast. 
"I've been coding since I was young," Mr Ghaffari recalled, "but I always had a passion for news media as well." 
He found that Natural Language Processing (NLP) – the use of computer algorithms to mimic a human's ability to comprehend language – could combine his passions for coding and the news in a potentially lucrative way. 
Mr Ghaffari's started using NLP to develop software for publishers.
His early NLP-driven programmes were designed to enrich "block posts, articles, etc." by analysing a writer's message and suggesting additional content, i.e. related photos, relevant links. 
While developing this software, Mr Ghaffari discovered a market niche.
 "In order to [create the software]," Mr Ghaffari said, "I needed to understand what the journalist or the blogger was writing about – what topics, which entities, etc ... It became kind of the initiation point for Aylien." 
"The problem of finding out what companies were mentioned in the article itself," Mr Ghaffari and his team realised, "was largely unsolved." 
It was a problem of context. 
"If the world 'apple' appears, you need to be able to understand if its 'apple' the fruit or 'Apple' the company based on the context," Mr Ghaffari explained. 
Aylien's first product, with the help of machine learning, made these kinds of ambiguous distinctions and, in doing so, could precisely "extract mention of entities, extract sentiments and also categorise any piece of text." 
With Aylien, computers learned to read. 
---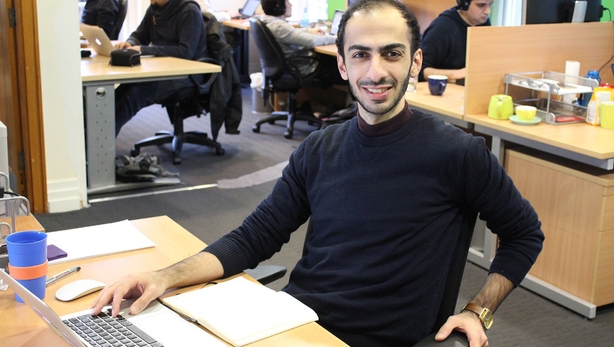 Parsa Ghaffari, CEO, Aylien Inc.
---
Between 2013 and 2016, Aylien marketed text analysis software as their flagship product. It gained traction among customers, most of whom used it for a very specific purpose.
"We realised most of our customers were still applying this technology to news content," Mr Ghaffari said. "So they might have been gathering content from various sources and using our analysis technology to extract sentiment, entities."
This observation gave rise to Aylien's second phase.
"Why don't we go and source the news content as well," Mr Ghaffari mused, "run it through our analysis technology and provide data to the customer." 
His musings quickly materialised into a new product – the news content software for which they are known. 
"Right now we aggregate content from about 40,000 different news sources around the globe ranging from top tier outlets, the likes of The New York Times, The Financial Times, WSJ, etc, all the way down to long tail sources," Mr Ghaffari said. "And we go beyond just digital content, we have print media as well, we have TV and radio transcripts." 
Automating news aggregation and analysis has its drawbacks, though.
"Subjectivity is a key issue," Mr Ghaffari pointed out.
"We know that certain outlets and certain journalists have biases," he said, "but we can address this through data." 
For blatant and malicious forms of subjectivity, Aylien has developed models to detect click bait, distinguish factual reporting form sensationalism and classify writer sentiment. For less obvious, subtle forms of bias, Aylien leaves major decisions up to the customer.
"We try to make these models as subjective as possible," Mr Ghaffari said. "We don't try to make the final judgement on behalf of the user. We can't say who's right and who's wrong. We can only try and create a complete A-to-B objective picture of what each of these outlets has said."
Ethics of data usage in the context of his company are also a consideration for Mr Ghaffari and his team.
Referencing high profile cases involving Facebook and Cambridge Analytica, Mr Ghaffari said his company is "quite conscious of the implications [surrounding data misuse]."
Since Aylien deals mainly in public information and on such a small scale, Mr Ghaffari doesn't feel his company has anything to worry about though he admits "it might become an issue down the line."
Despite challenges with subjectivity and data ethics as well as competition from multinationals like Google, Facebook and Amazon, start-ups like Aylien are leading the charge.
---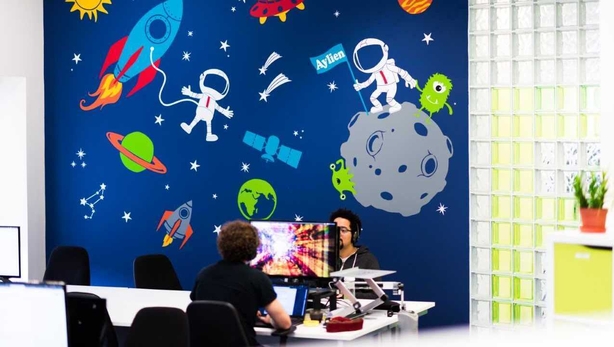 ---
Aylien, which now has a staff of 22 people in Dublin, plans to expand both in Ireland and abroad.
"We're opening a sales office in the US, Mr Ghaffari said. "It's the first time we'll have Aylien staff who aren't sitting nearby." 
A rapid rate of change, Mr Ghaffari noted, is typical. "Companies at our stage move fast" 
It generates competition as well.
"Every year we're had a major breakthrough in deep learning," Mr Ghaffari said. "There are many other companies in this space from the big corporates – Google, Facebook, Amazon, etc – all the way down to start-ups like us leveraging these technologies to create more efficiency in these types of applications." 
In the face of competition, Mr Ghaffari keeps his eyes on a singular question – "How do we build the right tools and provide them in the right ways to allow our customers to leverage NLP at scale?" - the answer to which pulls everything else into place.
- By Michael Donovan