The first half of the year has been a positive one for Irish tourism with overseas visitors up 3.7%.
However, Tourism Ireland has had mixed success in getting a more balanced distribution of visitors across the country, but chief executive Niall Gibbons, said "it won't happen overnight".
Around 80% of all traffic arrives into Dublin Airport, and part of Tourism Ireland's approach this year has been to try and shift the balance in terms of seasonality and regionality to drive business in the off season and into the regions. 
Dublin Airport has seen record growth in passenger numbers this year. Last month was the busiest June in its history.
Growth at Shannon Airport is down, and while passenger numbers at Cork and Ireland West Airport in Knock increased so far this year, there are concerns about Dublin's dominant position in the market.
"It is a concern, because we want to drive a more balanced distribution of visitors across the country, and that's not something that can happen overnight," Niall Gibbons said.
Tourism Ireland launched a new TV ad campaign in the US last week called 'Fill Your Heart with Ireland'. It features parts of Ireland, called 'Hidden Gems' by the tourism body, which have the capacity to absorb additional visitors.
It chooses the locations that feature in the ad based on analysis of hotspots and places that are in need of more business.
"It's part of a long term drive as well. Just because someone sees something on a TV ad, it doesn't generate business overnight, but it is focusing on the northern half of the island of Ireland," Mr Gibbons said.
It aired across channels in the United States which has been "the star performer" of Irish tourism.
"It's the one that's driving most growth in Ireland and US numbers are up over 9% at the moment. We are actually outperforming the outbound US market to Europe, which is very encouraging. What's happening now is that three of our top four markets, Great Britain, France and Germany have headed into much more choppy waters and are unlikely to grow in the next half of 2019."
Brexit is going to be a challenge for tourism. The shift in the sterling euro exchange rates has made Britain more affordable for visitors from many of Ireland's top markets. 
Tourism Ireland had its Great Britain-based Brexit Task Force last week, with senior members of the UK and Irish travel industries. "It's quite clear that the number of British people travelling abroad has gone flat. The number of people even travelling to Britain fell by 3% last year, and spend in that country fell. As we head towards October, we're going to face into a very uncertain period again."
The tourism body's research in Britain since the UK voted to leave the European Union shows consumers are much more cautious. "The biggest risks that Irish tourism faces from Britain, is people postponing their decision to take a trip here."
Britain is Ireland's number one visitor by volume. We welcome 4.5 million people from Britain to the island of Ireland. "They are important from a seasonal distribution perspective because over 40% of British visitors come to Ireland in quarter one and quarter 4, outside of the main holiday season," the tourism boss said.,
However, in terms of spend, the profile has shifted to mainland Europe and Northern America which accounts for over 60% of all tourism spend into Ireland.
Tourism Ireland has also been looking to markets further afield, and has turned its sights on the Far East. It has doubled its platform in China, consistent with the global Ireland 2025 platform, and hopes to double the number of visitors from China to 200,000. 
There are now flights from Hong Kong, Shenzen and Beijing direct to Ireland.
Mr Gibbons acknowledged that it will be difficult to sustain over the winter period, but it has a very strong marketing campaign in place, and the Department of Justice has liberalised the visa regime over the last number of years, which is important for that market. 
"It's very different from all the other markets because the awareness of Ireland is at a low level. We can take for granted that in places like the United States and Great Britain, there is a very high level of awareness," MR Gibbons said.
"It's about encouraging people to come right now, whereas in China, we have a bigger job to do, along with other agencies, to raise the awareness of Ireland in China," he added.
Slowdown in UK tourism numbers probably linked to currency issues - Ross
The Tourism Minister has said he thinks it is unlikely that an apparent slowdown in visitors from Britain is a consequence of the increase in VAT in the tourism and hospitality sector in the last budget.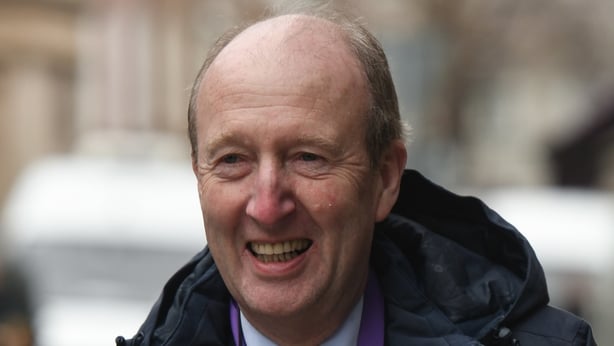 Speaking at Tourism Ireland's mid-year review of overseas tourism, Shane Ross said a 4.4% drop in visitors from Britain in May is more likely a consequence of currency fluctuations, although it was difficult to say for sure. 
"I would have thought that the sterling situation, obviously there was a dip in sterling which made it much more expensive for people from Britain to come here, means there is less spending," the Minister for Transport, Tourism and Sport said. 
"There are more visitors from Britain coming still, but the uncertainties of Brexit would make it more likely that this would happen anyway. I wouldn't put it down to that," the Minister said. 
Asked whether the modest growth in overseas visitors since the start of the year might lead him to advocate for a reversal of the decision to increase VAT for the sector from 9% back to 13.5%, Mr Ross made no commitment.
"Obviously that is a budgetary matter that will come up in October, and obviously the VAT situation is being kept under very very close review since the changes in the last budget," he said.
He added that the overseas tourism figures are still very good, despite the opposition expressed to the VAT changes from many people, including the Minister himself.
He said the decision was not one taken for the short term though and it was a fundamental decision, and that the "ship has probably sailed".
On the question of whether rising prices here were likely to put visitors off coming to Ireland, Mr Ross said prices vary a lot.
"The situation we are looking at here is that we are very very competitive in certain areas," he said.
He said it was important as we head towards the autumn and the uncertainties that Brexit might bring, that Ireland continues to promote itself across the world and deliver a "business as usual" message to Britain and European markets.