The European Central Bank pushed back the timing of its first post-crisis interest rate hike again today.
The ECB also said it would continue paying banks for lending in its latest effort to revive a slowing euro zone economy.
The moves, which are bolder than analysts had expected until only a few weeks ago, come as a trade war between the US and China overshadows the global economy and especially export-oriented euro zone countries such as Germany.
Responding to rapidly deteriorating inflation expectations, the ECB pledged to keep its interest rates at their current, record-low level at least until the first half of 2020, instead of the end of this year as it had said only in March.
It will also let banks borrow from the ECB at rate just 10 basis points above its -0.4% deposit rate provided they beat the ECB's lending benchmarks in a new targeted longer-term refinancing operation, or TLTRO.
"For banks whose eligible net lending exceeds a benchmark, the rate applied in TLTRO III will be lower and can be as low as the average interest rate on the deposit facility prevailing over the life of the operation plus 10 basis points," the ECB said in a statement.
With pervasive uncertainty already denting trade, big central banks like the ECB and the US Federal Reserve appear to have given up on plans to tighten policy and markets are now positioned for easing.
While ECB policymakers say they have plenty of tools left, they have already pushed their main interest rate below zero and bought some €2.6 trillion worth of bonds.
This means the scope for more stimulus has shrunk, especially in the case of imported economic weakness.
Economists polled by Reuters expect rates to stay unchanged and expect a first rate hike only in 2021. They also expect the bank's next move to entail policy easing rather than tightening.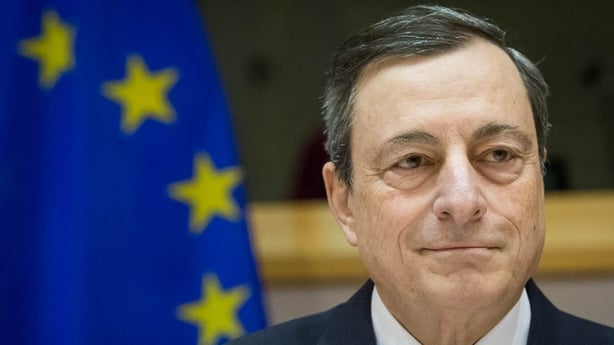 Mario Draghi's problem is that the global trade war shows no sign of de-escalating.
Italy is once again in conflict with the European Commission, German industry continues to post dismal figures, stock markets are tumbling, and the threat of a hard Brexit looms.
And on top of it all, inflation expectations, the ECB's top worry, are steadily declining, raising the risk that they become dislodged, thereby perpetuating weak price growth.
Ireland's Philip Lane's first policy meeting as ECB chief economist is likely to see the bank's staff cut some of their inflation projections, reinforcing already widespread concerns that price growth is too weak.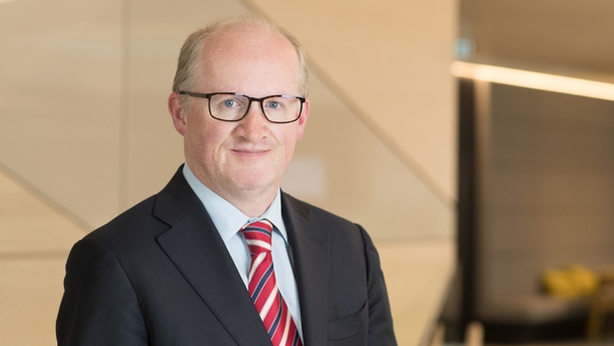 The ECB targets an inflation rate of just below 2%, but it has undershot this since 2013 and projections suggest it will continue to miss it for years to come.
The ECB's favoured gauge of market inflation expectations fell to its lowest since 2016 earlier today while money market pricing showed investors see almost a 70% chance of a 10 basis point cut in ECB rates by the end of the year.
ECB President Mario Draghi said that the ECB sees slightly higher growth and inflation in 2019 than previously.
But he marginally cut the bank's forecasts for the next two years, acknowledging the risk that Europe's slowdown will be longer and deeper than expected.
ECB President Mario Draghi told a news conference that risks to the euro area economy remain tilted to the downside, citing geopolitical uncertainty, the rising threat of protectionism and vulnerabilities in emerging markets.
With a global trade war weighing on confidence, industrial production and exports have taken a dip, exacerbated by a string of domestic difficulties, from German industry's struggles to Italy's looming budget fight with the European Commission.
But solid wage growth, record-high employment and healthy first quarter growth figures suggest the economy is still resilient, reinforcing the ECB's expectations that the recovery is delayed, not derailed, he added.
Ronan Costello, Head of Euro Money Markets at Bank of Ireland said the meeting was pretty downbeat.
"Despite the overall pessimism and numerous references to 'prolonged uncertainty' and the potential economic damage of protectionism, Mario Draghi refused to give any indication that the ECB have moved closer to cutting rates further or re-opening their Asset Purchase Programme," he said.
"While the options were discussed at today's meeting, they didn't garner enough support and have been held back as contingency."
"Financial markets had probably been expecting the ECB to show more openness to these policy easing steps and therefore the subsequent market reaction (equities lower, interest rates slightly higher) came as no surprise."