It is the largest administrative sanction ever handed down by the Central Bank to an institution.The eye-catching €21 million fine (€30 million before a settlement discount scheme was applied) made plenty of headlines during the week. But what led to it? And should we expect more?
What is the tracker controversy all about?
Tracker mortgages are loans given to buyers where the interest rate tracks a fixed level or margin above that charged by the European Central Bank. In the boom years, they were given out like snuff at a wake.
Borrowers loved them, because if interest rates remain pretty low, which they typically have been in the euro zone, then they can represent great value. Lenders loved them too, because when cash was plentiful, they were an effective way of selling loans and reeling in huge numbers of customers, while also making a decent return.
That was, of course, until the economy started to go belly up. Then trackers suddenly became a costly liability for the banks as they no longer were able to make a commercial return on many of the loans.
It was around this time that the banks stopped offering new trackers (Permanent TSB stopped in 2008), and as we now know even denied existing borrowers their contractual rights to receive one.
How did the wrongdoing come to light?
The Central Bank said it identified specific issues with PTSB's treatment of customers with trackers and tried to engage with the bank. But according to the regulator, PTSB initially failed to engage back properly.
So the Central Bank began an investigation in 2014. PTSB then conducted a full review of its mortgage accounts, the scope and focus of which, as well as the proposed redress and compensation, was challenged by the Central Bank.
Eventually though, as it emerged the problem extended well beyond PTSB, the review was subsumed into the wider Tracker Mortgage Examination launched by the Central Bank.
What did Permanent TSB do wrong then?
According to the Central Bank, Permanent TSB mistreated a total of 2,007 of its tracker mortgage customers between 2004 and 2018, breaching in the process some 42 regulations.
In each case the bank did this in one of four ways. In some cases, it failed to warn certain customers of the consequences of decisions they might make relating to their mortgage.
In other words, it didn't tell the borrowers they would lose their tracker entitlement for breaking early from a fixed or discounted rate. It also denied certain customers their correct lower tracker rate between 2009 and 2010 unless the customer requested it, queried it or complained.
The bank also incorrectly interpreted legal or contractual terms and conditions, denying some customers their right to a tracker.
And then there were also so-called "operational and systems failings" - in other words screw ups as a result of inadequate systems or operational controls.
That's all pretty bad. What were the consequences for those caught up in it all?
They were pretty devastating for a large number of people. The immediate consequence for those who lost or were denied a tracker was higher mortgage repayments - in effect overcharging.
And for many, this happened at a time when people were already put to the pin of their collar because the economy was already in deep trouble and the Government was, ironically, bailing out the banks.
The overcharging by the bank put serious pressure on many households who were forced to make major sacrifices to keep up repayments, causing significant stress and distress. Indeed, 12 customers even lost their family homes because of what happened. 19 people lost their buy-to-let properties.
What does PTSB say about all this?
PTSB's leadership is different now to when the problems first occurred. But nevertheless, the bank has apologised unreservedly for what happened. It has also admitted that what it did was wrong and accepted the Central Bank's findings.
It has said for context, however, that the overall number of tracker mortgages it had in the period in question was 110,000 and the 2,007 impacted accounts represent 5% of the industry total identified by the Central Bank's enforcement investigation.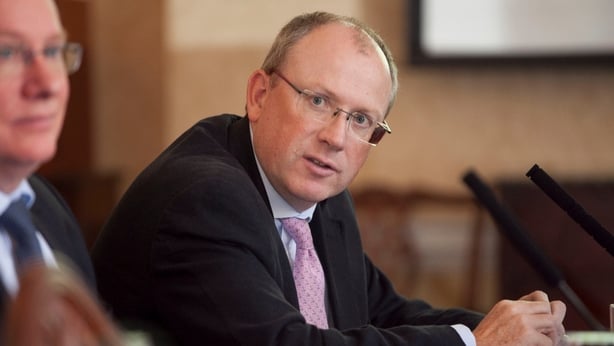 The bank also says it has paid around €54 million in redress and compensation to those who were caught up in the scandal. PTSB CEO, Jeremy Masding also says the bank is confident it has fully addressed the operational and procedural weaknesses that led to the problems and has committed to improving its policies and procedures for all customers.
Is that it then?
Not necessarily. Some PTSB tracker customers who weren't happy with their compensation and redress continue to go through the appeals process and the courts to seek satisfaction.
There is also an ongoing dispute about whether the margins that some tracker customers were put back on when they got their trackers back were the right ones.
Customer advocates, like financial advisor, Padraic Kissane, argue they aren't correct. The bank, though, maintains they are. And then there are some people who never got any redress or compensation because their cases fell into a grey area. They may never get satisfaction.
What about other banks?
All six of the big retail banks here - AIB (including EBS), Bank of Ireland, Ulster Bank, Permanent TSB and KBC Ireland - have all identified significant numbers of tracker customers who have been mistreated.
In total, there are around 40,000 such impacted customer accounts and already €664 million has been paid out to them in redress and compensation.
The Central Bank continues to investigate the others and the expectation is that further fines will follow. They could all be larger than the PTSB sanction, as it had the smallest number of impacted customers and it also has a more modest turnover than most (each bank can be fined the greater of €10 million or up to 10% of its revenue).
As a result, it has been estimated that overall the sector could be facing total fines of up to €350 million if the trend is followed - although it may not be a direct connection as some of the banks get a lot of their revenue from abroad.
And have individuals been held to account over this?
The short answer is no. Permanent TSB says it has now concluded its internal investigation and no one individual or individuals has or have been held accountable.
However, the Central Bank continues to investigate whether individuals working in PTSB and other banks at the time can be held culpable. One issue, though, is that in many cases staff have moved on and therefore it may be hard to sanction them.
Won't customers ultimately end up picking up the tab for the fines though?
That is certainly a worry. And interestingly, Permanent TSB recently announced an increase in certain current account fees.
Is this likely to happen again?
Certainly the PTSB fine sends out a strong message. Is the fine enough though? It's difficult to say. Banks love making money, and anything that causes them not to certainly catches their attention.
Also, all the banks maintain they are undergoing profound and meaningful cultural change, introducing an environment where customers always come first, and staff are encouraged to confess early when mistakes are made.
We've also recently seen the setting up of a banking culture board, with the promise of driving change. However, it is clear that in this country when it comes to the economy and banking, we often learn from our mistakes and then very quickly forget what we've learned. So time will tell whether the change is really meaningful or just lip service.
Comments welcome via Twitter to @willgoodbody