Sterling fell broadly today and was on track for its biggest ever losing streak against the euro as Prime Minister Theresa May's last-ditch Brexit plan failed to win over either opposition lawmakers or many in her own party.
With the plan appearing dead in the water, some traders said they saw a rising chance of Britain leaving the European Union without a transition deal.
The pound fell 0.3% to $1.2663, its lowest since mid-January, and weakened a similar amount against the euro to 88.135 pence.
It is set for the 13th day of losses in a row against the euro, the longest losing streak since the euro began trading in 1999, according to Refinitiv data.
Analysts said that the action from Labour and eurosceptic Tory members were quite negative and an updated deal passing parliament looks quite distant now.
In mid-March, banks informally canvassed by Reuters saw a diminishing chance of a "no-deal" Brexit.
This week though there were signs some were changing their mind, with JPMorgan upping its probability of a no-deal Brexit to 25% from 15%.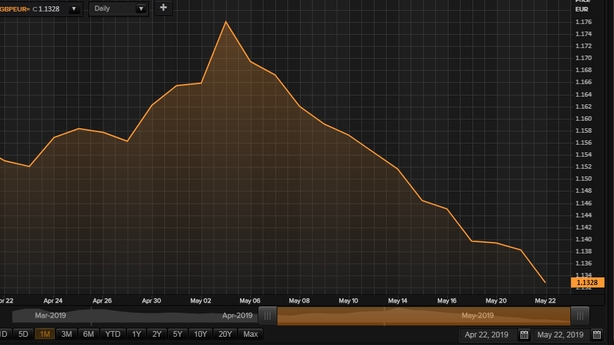 Another bank, Nordea, raised the chance of no-deal Brexit to 15%, compared to 10% in March while Mizuho strategists now see no-deal chances rising towards 50%.
Meanwhile, data today showed British inflation rose last month by less than investors and the Bank of England had expected.
But it still hit its highest level this year, pushed up by higher energy bills.
But with politics dominating currency trading so heavily, there was barely any reaction from sterling.
Money markets now do not expect a Bank of England rate rise this year and are starting to price out 2020 hikes as well.