A new report on lending to small and medium sized businesses (SMEs) shows that credit demand remains low, while over 90% of new lending comes from the main three lenders here - AIB, Bank of Ireland and Ulster Bank.
The Central Bank's SME Market Report for 2019 also shows that working capital remains the most common reason for credit applications among micro and small firms.
It also noted that credit for growth and expansion is more common among medium firms.
Today's SME Market Report also found that rejection rates on bank finance applications have stabilised.
Today's report found that gross new lending to SMEs declined 1.7% on the back of lower lending to the manufacturing, wholesale, retail, trade and repairs and primary industries sectors.
It said that credit demand remains low compared to previous years with just 20% of SMEs applying for credit in the months from April to September 2018.
Irish SMEs are also more reliant on leasing and hire purchase for investment activities than the EU average but are less reliant on bank loans, the Central Bank said.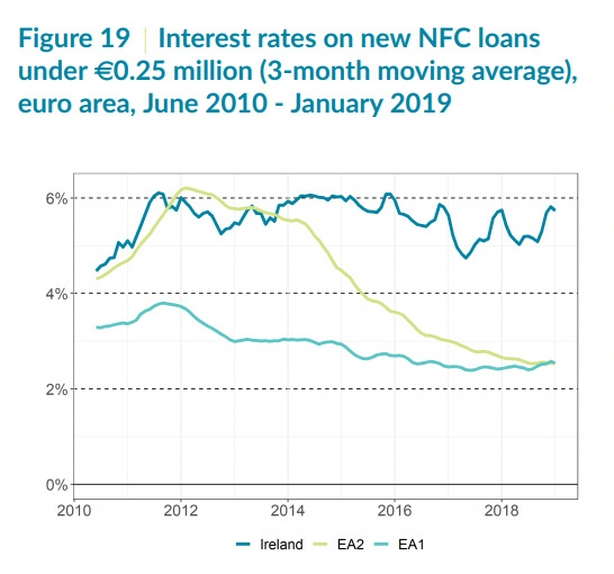 It also found that interest rates on small loans in Ireland average about 5.7% - much higher than similar size loans in Europe where interest rates average 2.5%.
The Central Bank said that SME default rates have declined from 19.8% in December 2017 to 17.5% in June of last year.