A laptop and a good internet connection are necessary. A dedicated work space is preferable. Discipline, self-motivation and a strict routine are absolutely essential if you want to work from home.
It does not suit everybody, but working remotely is slowly becoming a growing trend in Ireland. Over 200,000 people work from home or from a remote work hub.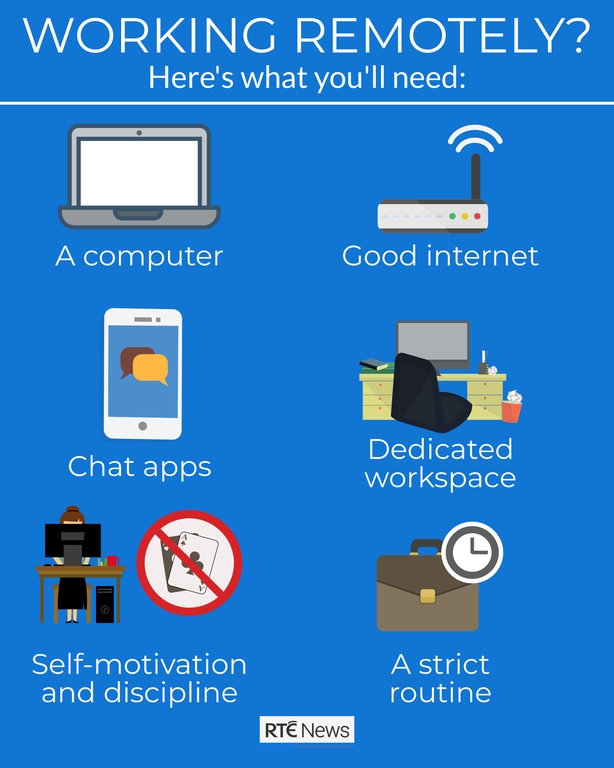 What attracted Coca Pitzer to work from home, was the flexibility it offered. A long commute followed by a 12 hour working day was not going to be feasible when she became a mother to a baby girl. Her employer, IBM, gave her the opportunity to work from home, and she became the first ever 'virtual worker' with the tech giant in Brazil.
The family moved to Dublin where Coca now works with another tech company, Retail inMotion, and she continues to work remotely. One of her core focuses is working with teams on the adoption of remote working practices.
She advises people who are considering working from home, to structure their day. "You have to be very self driven, and you have to be disciplined. Sometimes we have to create rigid routines which may not suit everybody."
She maps out her week to include time for cleaning and cooking. She schedules meetings via teleconference when her children are at school. She looks after her three children when they come home from school, and then she goes straight back to work. Her children know that she is at work and should not be interrupted when she puts a head set on. It is a routine to which the whole family has become accustomed.
Working remotely is an attractive option, especially for parents, but it does have its downsides. People feel out of the loop or out of sight, when they work remotely. A commute is time between the work place and home, and it allows people to disconnect from work. There is no need to dress professionally when you work from home, and self care is important for self esteem.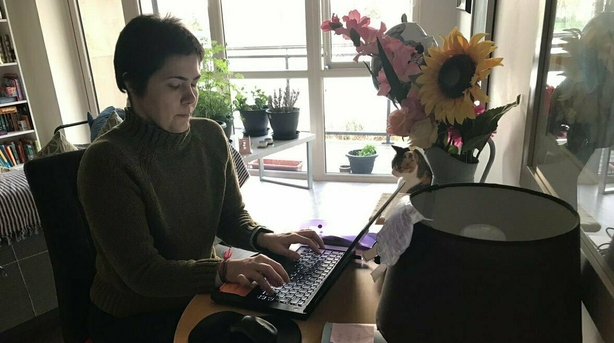 The main disadvantage for Coca is switching off from work. "You can burn out really easily," she said. "When you are working from home, you are dealing with everything at once."
A recent survey of Irish project managers by the company behind the PM Summit, found that remote working is a double-edged sword. Almost 80% of project managers surveyed said remote access makes it harder to switch off from work. This statistic is not surprising given that 42% said they are expected to respond to email outside of work hours by their boss.
Remote working has also led to longer working hours for project managers, with 32% working between five and 15 hours extra every week.
Raymond Poole is the CEO of the PM Summit. "If you think about it now, when we work on projects, even construction projects, there will be design teams working in different territories around the globe so you could be tied into someone in the US, and you have to factor in a time difference," he said.
"In the world we live in now, you could actually have a 24 hour working team."
He agreed that employers should be cognisant of that, but the benefits for employers is that they too have remote access to staff, and remote access can extend into the weekends and way past normal working hours.
"They should but the fact is that they don't realise that they are doing it themselves as well. If you are an employer, you are also working remotely, and you are also working late.You don't even realise it any more, unless someone points it out to you," he said.
Mr Poole has worked remotely most of his life, running his own businesses. He believes that individuals may feel that working from home works well for them, but to get an accurate picture, ask the spouse or partner.
"Your partner may not think it is working because they don't want the light on in the bedroom when you are sitting up with the laptop open answering emails all night long, or you are not listening to them when they are talking to you after dinner because you are busy on your phone texting someone."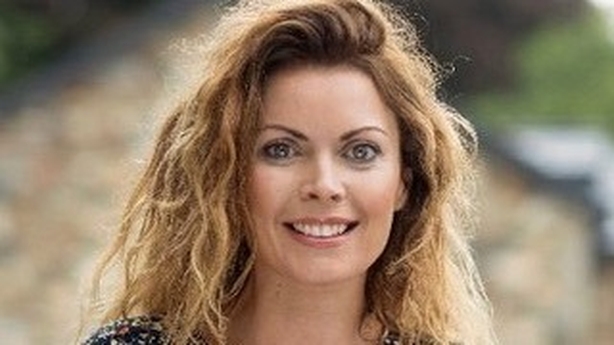 Abodoo is an Irish tech company with ambitions to be the largest global platform for smart workers. Like a dating site, it links companies with people who work remotely from home, hub or all of the time.
It was co-founded by Vanessa Tierney, who practices what she preaches by running the business from home. She believes working remotely is the future.
Here in Ireland, she said it offers employers access to talent. "We have an aging population who are highly skilled that don't necessarily want to retire. We have returning parents, or parents that aren't returning because childcare costs do not make financial sense. We have commuters that are leaving roles because financially the days are too long, and it's expensive. We have half a million people that have left the country in the last ten years that would return home."
All of this talent is available to employers if they embrace what Ms Tierney describes as 'smart working'.
It sends a message to the market place and to staff, that you trust them to work outside of the office, she said.
"Companies understand that this is important. There is a large percentage that are looking at rolling out smart working policy, but I'd ask this question: Do any of your employees today send emails on their mobile phone when they leave the office? Do any of your employees write documents on their Macs or laptops? If they do, congratulations, they are smart workers, but you need policy to protect yourself."
The work place, however, is not just a place of work. It is where you interact with colleagues and friends.
Do people who work remotely miss out on the social aspect of work?
"Not really because you can do that remotely as well," said Ms Pitzer. "In the very beginning I would feel that that was missing, and then after I started learning more about what it was to be a virtual worker. I found messaging apps, like Slack, which allows you to have multiple channels. It's a room for you to talk about the weather, or if you saw something funny, or what you did at the weekend."
She has also worked with teams that would have a beer every Friday through video conferencing. "We would just chat. It was not a meeting."
"I have come across teams that would party. They would turn on music, and they would all be in party mode wherever they were by connecting remotely," she said, point to how everyone is connecting remotely anyway through social media already.
Vanessa Tierney from Abodoo agrees. "You can establish a really strong rapport with someone through video, because you meet the people that are in their lives in the background. Naturally you will have those opportunities to have a virtual coffee and say, 'Tell me about your life, and what you do'."
One of the goals of Abodoo is to connect people on a local level, who have similar skills and who want to co-work, "so if you really miss people you can get together".
Ms Tierney thinks remote working will be an upward trend for companies in the next two years. It is inevitable, she said.
"Millenials want this, and by 2025, they will be 75% of the total workforce so the writing is on the wall, it's just a case of when will you embrace it," she added.