The insurance industry in Ireland has expressed concern about what it calls a lack of urgency in delivering key reforms in the sector that are aimed at reducing claims costs.
Insurance Ireland says promised reform is incomplete and inaction is costing policy-holders.
The call for progress comes exactly two years on from the publication of the first Cost of Insurance Working Group Report.
"Two years ago we cautioned that the publication of the Cost of Insurance Working Group Report in itself would not reduce costs in the market, but the swift implementation of the right policies would," said Kevin Thompson, CEO of Insurance Ireland in a statement.
"While much important work has been undertaken since, including the findings of the Personal Injuries Commission which established that the average Irish soft-tissue award is now 4.4 times the UK level, the reform of our cost of claims is incomplete."
Mr Thompson also criticised the absence of a firm timeline for legislation to set-up a Judicial Council and the development of guidelines for the awarding of compensation.
He also said the Personal Injuries Assessment Board Bill, which aims to improve the claims settlement process, has still not passed through the Dáil.
We need your consent to load this rte-player contentWe use rte-player to manage extra content that can set cookies on your device and collect data about your activity. Please review their details and accept them to load the content.Manage Preferences
Published in January 2017, the first Cost of Insurance Working Group Report aimed to lead to faster resolution of claims and bring predictability and consistency to the level of compensation awards.
However, the Government has said progress has been made in the area.
It says the average cost of motor insurance has been consistently falling since the middle of 2016, and is down 7.6% in the last 12 months and is 22.7% lower than July 2016.
It says legislation has also recently been passed in the area to give effect to reforms.
Insurance Ireland has said progress is too slow and has suggested that in the absence of a Judicial Council, a contingency mechanism to allow for the judiciary to complete new compensation guidelines should be put in place to help bring down costs.
It has said all those involved in the process of delivering insurance reform have a responsibility to policyholders to maintain a sense of urgency around delivery on the report recommendations.
The calls for action have been supported by members of the insurance industry, including Liberty Insurance.
It said implementation of the reforms are fundamental to ensuring greater stability in the pricing of premiums and to curb insurance fraud.
In particular it called for the immediate establishment of a Garda Insurance Fraud Unit funded by the insurance industry, but independent of it.
It also said ongoing and enhanced education for judges presiding over personal injuries cases is necessary, to ensure greater consistency in the level of compensation awards.
Liberty said an amendment to existing law is also needed to require applicants in personal injuries cases to swear a verifying affidavit that their claims are valid.
It said there should also be civil and criminal penalties in circumstances where it is subsequently found that such claims are false or exaggerated.
The demands came as Allianz Ireland revealed it had challenged over 1,500 claimants in the courts last year.
It estimates that nearly half of all cases it contests are potentially fraudulent and it estimates that an average saving of €20,000 per claimant is made in cases it has won.
The insurer said it now has over 500 suspicious cases awaiting trial dates.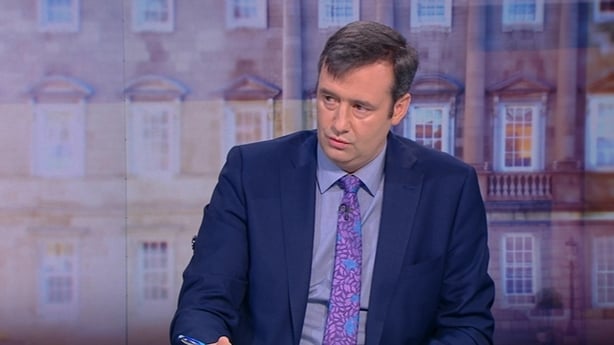 The Minister of State with special responsibility for Financial Services and Insurance says he does not agree with statements made by Insurance Ireland and that there has not been any "foot dragging on the half of the government."
Michael D'Arcy said it is just four months since the Judicial Council Bill was recommended.
He said he had hoped the bill would have passed through the Dáil by the end of 2018, but as that has not happened he has decided to pursue other options that would enable the implementation of CIWG recommendations.
Mr D'Arcy said he hopes an interim judicial board can be established.
This board, he said, would be able to carry out the work of the council and re-balance the level of awards being paid out.
He added that he believed the current pay outs were too high.
He said he did not accept that a fall in the cost of motor insurance was as a result of an EU investigation, adding that the government has been working on the issues for over two years.