New figures from the Central Statistics Office show that numbers signing on the Live Register in October fell to the lowest level since May 2008.
The CSO said that on a seasonally adjusted basis the Live Register total recorded a monthly decrease of 1,700 (0.8%) to bring the total to 210,700.
In unadjusted terms, a total of 199,247 people were signing on the Live Register in October, down 15.7% on the same time last year.
Figures earlier this week from the CSO showed that the seasonally adjusted unemployment rate fell marginally to 5.3% in October from 5.4% in September - the lowest rate since February 2008.
---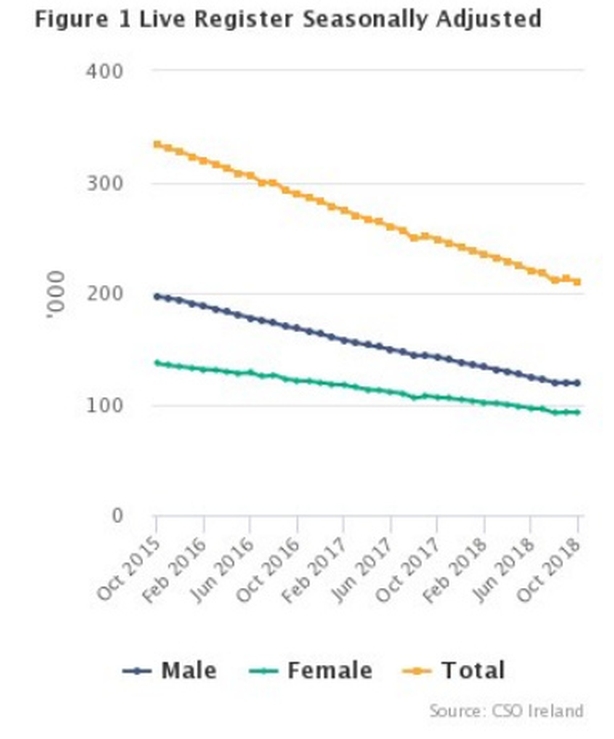 ---
The Live Register is not designed to measure unemployment as it includes part-time workers (those who work up to three days a week), seasonal and casual workers entitled to Jobseeker's Benefit (JB) or Jobseeker's Allowance (JA).
Today's figures also show that both the number of men and women signing on in October fell by 0.8% from September.
The number of male claimants decreased by 17.3% in the year to October 2018, while female claimants fell by 13.6% to 86,850.
Meanwhile, the number of people aged under 25 on the Live Register stood at 10.6% in October of this year, down from 11.2% in October 2017 and 11.6% in October 2016.