The European Commission has again revised upwards its economic growth forecasts for Ireland for both this year and next.
In its Spring 2018 European Economic Forecast, the Commission has pencilled in GDP growth of 5.7% for this year, compared to a growth rate of 4.4% predicted in its winter outlook. 
This is the second fastest growth rate in the EU for 2018, just behind Malta at 5.8%.
The Commission has also upgraded the country's expected GDP growth for 2019, with the economy now expected to grow by 4.1% compared to 3.1% forecast in February.
Ireland's growth figure for 2017 has also been increased as the Commission estimated that the economy grew by 7.8% last year, compared to its February forecast of 7.3%.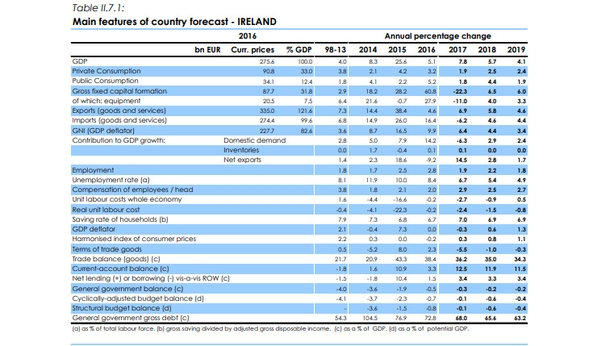 "While volatility in the headline national accounts figures is likely to continue in the near term because of the role of multinational companies, the domestic economy is expected to remain robust, supported by positive labour market trends and investment in construction," the Commission said today.
Unemployment is now forecast to reach 5.4% this year and 4.9% in 2019 compared to the Autumn Forecast of 5.5% for this year and 5.3% for 2019.
The Commission noted that household incomes are growing, driven by a modest increase in hourly wages and robust job creation.
---
Read more
Euro zone economy to slow next year, downside risks increase - Commission
---
"The tightening of the labour market is expected to put upward pressure on wages and thus support household consumption in the short term," it stated.
The country's gross public debt is also expected to fall further than previously forecast - to 65.6% this year and to 63.2% next year compared to the Autumn figures of 69.1% and 67.2%.
But the European Commission said the uncertainty around the country's economic outlook remains "elevated" and relates primarily to the outcome of the Brexit negotiations between the UK and the EU as well as changes to the international taxation and trade environment. 
"A high degree of unpredictability remains linked to the activities of multinationals, which could drive headline GDP growth in either direction," it added.