Royal Bank of Scotland showed signs of competition squeezing returns and business customers being unhappy with its services, which combined with a looming Department of Justice fine to overshadow a forecast-beating first quarter profit. 
The UK state-backed bank has spent the best part of the last decade trying to recover from a near collapse during the financial crisis.
Today RBS, which owns Ulster Bank here, posted first quarter pre-tax profits of £792m, more than double analysts' forecasts. 
"This is a good set of results showing the progress we are making despite a more competitive marketplace," chief executive Ross McEwan told reporters after the results. 
Ross McEwan would not comment on when an expected multibillion dollar settlement with the US Department of Justice would finally be reached. 
"I got the timing wrong last year, I've given up commenting on when it will come," he said.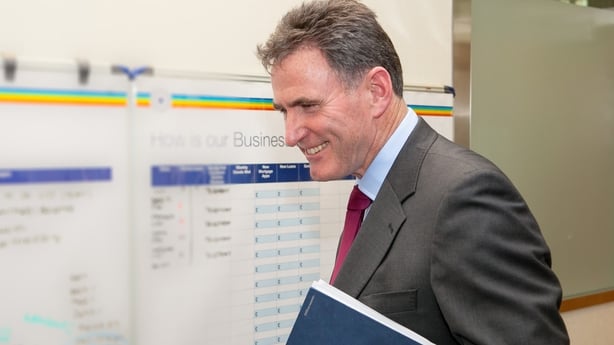 RBS had hoped to settle the case, which relates to its mis-sale of toxic residential mortgage-backed securities, as it is a prerequisite for the bank to resume paying dividends and for the British government, to start to selling its 71% stake. 
While the headline profit figure showed a healthy business emerging from years of restructuring and legal costs, the RBS results also showed signs that an increasing competitive British banking market is squeezing its returns.
Net interest margin, a measure of the gap between what it pays savers and charges borrowers, fell by 0.2 percentage points from the same time a year ago amid pressure on loan margins. 
And although RBS reported a common equity tier one capital ratio of 16.4%, up from 15.9% in February, that did not include the impact of the payment into the bank's group pension fund that will be booked in the second quarter. 
The bank also showed signs that cost-cutting is beginning to upset customers. 
The bank's 'net promoter score', a measure of how likely customers are to recommend a brand, fell sharply as small business customers reacted badly to having their personal account managers replaced by call centres.
Analysts had expected that RBS, which returned to annual profit for the first time in a decade last year after shedding trillions in assets and spending billions on restructuring, to deliver £319m in pre-tax profit. 
RBS's restructuring costs for the first quarter fell to £209m from £509m the same time a year ago, while conduct and litigation charges were just £19m, down from £764m a year ago. 
A long period of low interest rates in Britain and competition from upstart new lenders have combined to squeeze rates on mortgages and business loans in recent years, eroding bank profit margins.