With historically low interest rates persisting, it's been a struggle for some time now for savers to get any sort of decent return on deposits with banks.
That has left people looking around for other potentially lucrative places to put their cash and since the financial crisis one of the more popular places has been the State-run Prize Bond operation.
Prize Bonds are part of the State savings scheme and are operated by the National Treasury Management Agency (NTMA).
Should you be putting your money into Prize Bonds? @AengusCox takes a look: https://t.co/IxDN4N81Ju pic.twitter.com/PKbjrk0LIK

— RTÉ Business (@RTEbusiness) April 28, 2018
They can be bought in units of €6.25, but at least four bonds must be purchased in any one transaction - so there's a minimum spend of €25.
Prize Bonds are available to buy online, over the phone, via post, and also at any of the country's 1,122 post offices.
Once you've bought bonds, they are entered into a weekly draw, with prizes ranging in value from €50 to €50,000 (with two draws annually carrying a top prize of €1m).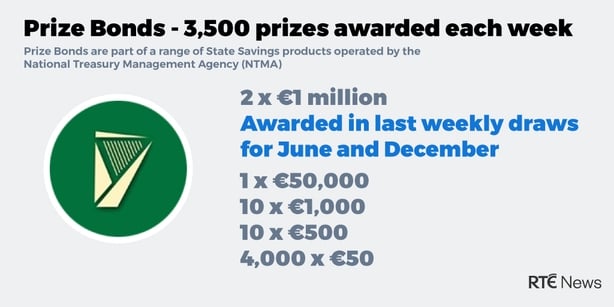 There are some obvious potential benefits to putting your money into prize bonds as opposed to a savings account.
Firstly, it's a real challenge to find a savings account with an interest rate rivalling pretty much anything beyond 0.5% that is easy to sign up to without having to change current account, or sign up for a mortgage or the like with a particular lender.
This means the interest you earn relative to the amount you save is going to be very low.
However, although there is no interest offered with prize bonds, there is potential to earn more money through the weekly prize draws.
If you strike it big one week, or even manage to accumulate a few €50 or €500 prizes, the returns would far exceed what a bank would offer you on the same investment.
Also, prize bond awards are not subject to DIRT and other taxes.
Dwindling prize fund
It must be said though, prize bonds are nowhere near as lucrative as they have been in recent years and a bondholder's chances of winning have dwindled significantly.
Irish people are spending more on prize bonds than ever before, but despite this, the prize fund is becoming smaller and smaller.
€567m worth of prize bonds were sold last year, bringing the total fund (i.e., the total amount of money people currently have invested) to more than €3 billion for the first time ever.
Despite this, the number of prizes awarded saw a drop of almost 30% last year, with 302,000 handed out. The corresponding figure for 2016 was over 392,000.
The value of prizes is also much lower: In 2016 €28m was awarded, but last year the amount slumped by nearly €7m to €21.3m.
Why has this happened?
Prior to last August, the prize bond fund rate was lowered from 0.85% to 0.5%.
Essentially, the 'fund rate' is the percentage of the €3 billion+ in prize bonds that is awarded to holders in prizes, and while a 0.35% drop may not seem to much, when you're talking about billions, it quickly adds up!
This drop is disappointing when you consider 2016 and 2017 were the two busiest years ever for prize bond sales, and as recently as 2016 the prize bond fund rate had been as high as 1.25%.
The frequency of the €1m prize has also been cut dramatically. Up until June 2013 the €1m was paid out on a monthly basis, before being reduced to six payouts a year.
Then from August 2016 the frequency of the €1m prize award was reduced down to four times a year, and last year the National Treasury Management Agency announced the €1m prize would only be awarded twice a year, in June and December.
The result of the lower rate means that the number of weekly prizes has reduced from more than 7,000 in 2016 to the more than 4,000 at present.
In explaining the reduction in the prize fund, the NTMA said the interest rate on the prize fund was "reduced last year to reflect changes across the retail savings market and the fall in the State's cost of borrowing.
"This led to a reduction in the number of prizes but there continues to be a significant number of prizes, with over 4,000 being awarded each week and over 70,000 prizes awarded year to date."
The NTMA added that bonds "retain their value in that the initial investment can be cashed at any time and the money returned to the customer".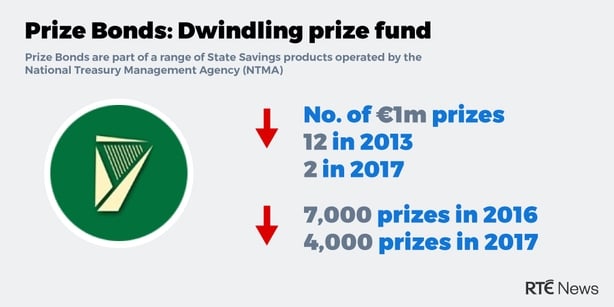 Should you buy prize bonds?
Based on this, are prize bonds an attractive investment when compared to a traditional savings account? There's definitely more potential upside with prize bonds.
If you manage to win at least one of the minimum value prizes a year, you'll likely be doing no worse than the interest rate on a savings account, and if you manage a bigger or multiple wins the return will be significantly higher.
The risk is minimal - you can't lose any money and all money invested in prize bonds is guaranteed by the State, with the maximum any one person can hold in bonds set at €250,000.
You'd just be forgoing the guaranteed c. 0.5% interest on deposits, but for most of us that's not a whole lot anyway.
---
Comment via Twitter: @AengusCox