UK inflation unexpectedly cooled to a one-year low in March, according to figures that may raise doubt over bets that the Bank of England will raise interest rates in May. 
Official data published today showed annual consumer price inflation fell to 2.5% from 2.7% in February. 
The figure was below economists' average expectation in a Reuters poll for it to hold at 2.7%. 
For the first quarter as a whole, annual inflation in the UK averaged 2.7% - somewhat below the forecast of 2.92% that the Bank of England made in February. 
A firm majority of economists polled by Reuters think the BoE will raise interest rates at its May policy meeting. 
Inflation jumped in Britain after June 2016's vote to leave the European Union hammered the value of the pound and pushed up the cost of imports. 
However, there are signs that Britain's inflation surge has peaked since the consumer price index hit 3.1% in November, the highest in more than five years. 
Sterling has recovered some of its value in recent months. That should help to ease some of the inflation pressure which has hurt the spending power of many households. 
The Office for National Statistics (ONS) said today that women's clothing prices rose at a slower than usual pace in March. 
"Alcohol and tobacco also helped ease inflation pressures, with tobacco duty rises linked to the Budget not appearing this March, thanks to its new autumn billing," ONS head of inflation Mike Hardie said. 
The fall in inflation means it is highly likely that wage growth in real terms has by now returned. 
Overall wage growth in the three months to February was steady at 2.8% - just behind the rate of inflation over the period. 
The Bank of England expects wages to grow more quickly than inflation later this year. 
Today's ONS figures pointed to less pressure in the pipeline for consumer prices. 
UK manufacturers increased the prices they charged by 2.4% compared with 2.6% in February, slightly stronger than the consensus forecast of 2.3% but still marking the weakest rate of increase since November 2016. 
Among manufacturers, the cost of raw materials - many of them imported - was 4.2% higher than in March 2017, up from an increase of 3.8% in February. The ONS said the increase reflected a rise in the price of crude oil.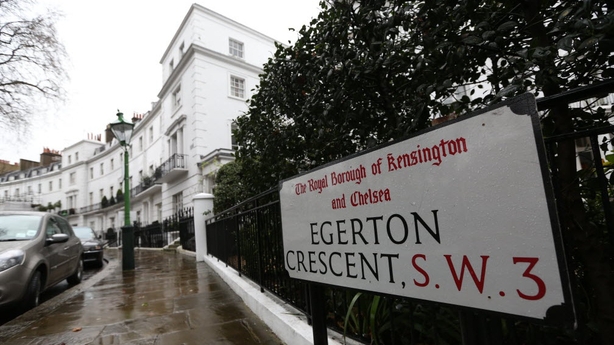 The ONS also said UK house prices in February rose by 4.4% compared with 4.7% in January, the weakest increase in seven months. 
Prices in London alone contracted by an annual 1% - the first drop in the official measure of house prices since September 2009. 
Garret Grogan, global head of trading at Bank of Ireland Global Markets, said a lack of inflation globally has been a central theme for market participants this year. 
While the UK has been an outlier, with inflation hitting 3% in recent months, Mr Grogan said today's figures surprised the market.
"While this print is unlikely to dissuade the Bank of England from hiking next month - a rate increase is still expected - it will likely force the market to reconsider whether the UK will remain an 'inflation outlier', and could lead to a repricing of when they hike next, weighing on the pound," he added.
Mr Grogan also said that political risk is starting to build again, as Theresa May's Brexit Bill faces a series of votes by lawmakers and local elections in England take place in just two weeks. 
He said the recent rally in the pound has been a relief for Irish exporters, but whether that relief will be short-lived remains to be seen.