Residential property prices grew by 12.5% in the year to January, the highest annual growth rate since early 2015, new figures from the Central Statistics Office show.
The new CSO figures show that residential property prices outside of Dublin rose by 13% in the year to January, with house prices up 13.5% and apartment prices rising by 9.9%.
The West region saw the biggest rate of price growth, with house prices racing ahead by 17.2%, while the South East saw the lowest rate of growth at 9.9%.
Meanwhile, Dublin residential property prices increased by 12.1% in the year to January. House prices in the city rose by 11.4%, while the price of apartments soared by 15%.
Among the Dublin regions, the biggest house price growth was seen in Fingal, with prices there up 14.2%. By comparison, the lowest price growth was reported in Dun Laoghaire-Rathdown with prices there up 9%. 
A sharp recovery in prices that began in Ireland five years ago showed some signs of stabilising in 2016 before accelerating again last year. 
But average prices are still below peak levels seen during the property bubble over a decade ago.
Dublin prices remain 23.6% lower than their February 2007 peak and prices in the rest of the country are 29% lower than their May 2007 peak.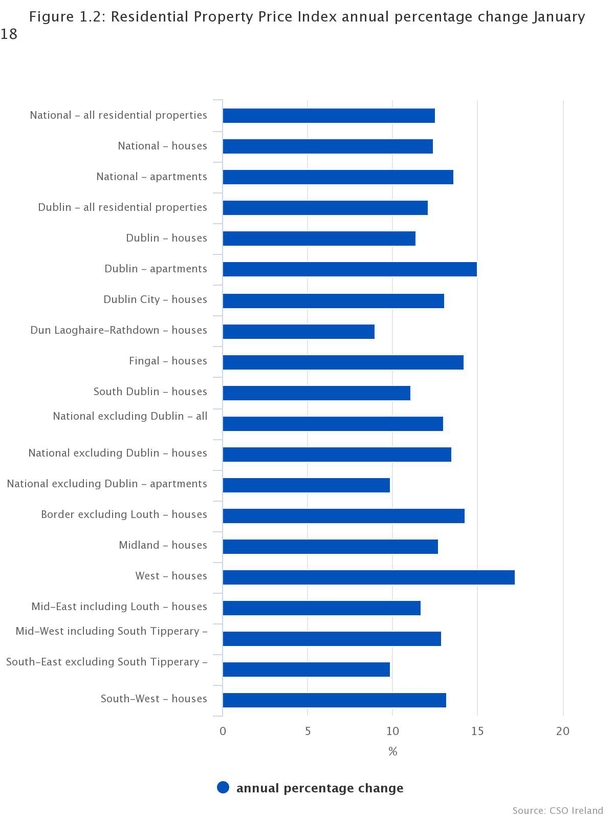 The CSO also said that in the 12 months to January, the median price paid for a home was €229,000. 
Dublin was the region with the highest median price of €350,000 in the year to January, while the lowest median prices for a home were in Longford at €86,250 and Leitrim at €90,000.
The CSO said that in the 12 months to January, a total of 43,508 household market dwelling purchases were filed with the Revenue Commissioners. 
Of these, 28.6% were purchases by first-time buyer owner-occupiers, while 51.5% were purchases by former owner-occupiers and almost 20% were purchases by non-occupiers.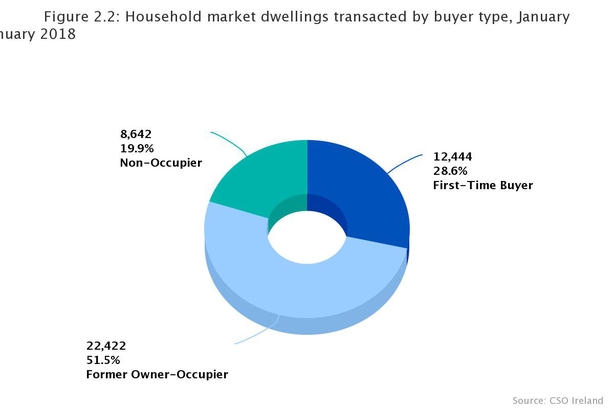 In January, 1,038 first-time buyer purchases were filed with Revenue. This marked an increase of 19% compared to January 2017 and a decrease of 17.6% compared to December 2017. 
Commenting on today's figures, Merrion economist Alan McQuaid said that he sees house price growth staying in positive territory on a year-on-year basis for the foreseeable future.
He said the annual rate of increase is now looking like it is set to remain in double-digits for well into 2018 at least. 
"The biggest increase this year is likely to come from outside the capital, with the asking price for houses in more expensive areas rising at a slower rate," the economist said.
He said that changes to Central Bank rules mean that in more expensive areas, the trend of increasing house prices will not be as pronounced. 
"Previously up to a fifth of mortgages were allowed to exceed a loan-to-income ratio of 3.5. But this is becoming even tighter in 2018 with only 10% of those trading up allowed to breach that rule," Mr McQuaid explained.
"The allocation remains unchanged for first-time buyers. Dublin prices will be out of reach for more borrowers as a result, while in other areas where buyers will not need to borrow as much, prices will see stronger growth," he added.