The number of people who are unemployed has decreased by 28,000 since last year, according to the latest figures from the Central Statistics Office.
That trend is continuing month on month, with the figures showing that 2,300 fewer people are unemployed this month compared to last month.
There are currently 141,600 people who are unemployed in Ireland.
The seasonally adjusted unemployment rate for February 2018 was 6%, down from 7.3% in February 2017. It is the lowest level since May 2008.
The youth unemployment rate - for people aged 15 to 24 years - remains high at 13.2% in February 2018.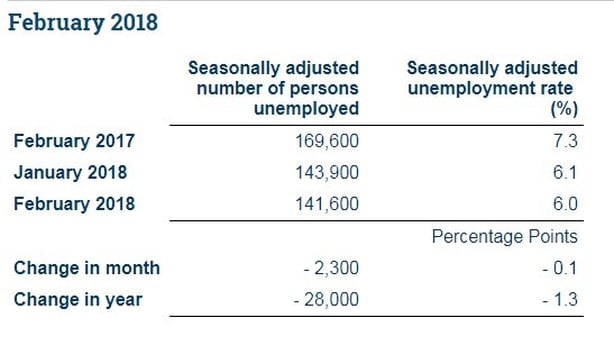 The CSO has also broken down the figures in terms of men and women. The seasonally adjusted number of men unemployed in February 2018 was 82,600, down from 83,600 in January 2018.
In February 2018 the seasonally adjusted number of women unemployed was 59,000, a decrease of 1,300 when compared to January 2018.
Unemployment had hit a peak of 15.9% in December 2011 during the financial crisis.
The country's jobless rate is also lower than the current euro zone average of 8.7%.