Sales of Marks & Spencer clothes and food fell in the last quarter of 2017, denting the retailer's latest attempt at a corporate turnaround and knocking its shares.
M&S is facing fierce competition online and on the high street, with efforts to revitalise its 134-year-old business hampered by a squeeze on consumer spending as inflation rises in the UK and wage growth falters.
By contrast, online fashion retailer Boohoo.com raised its full-year sales forecast after more than doubling its revenue over the same period to the end of December, with strong Black Friday sales.
M&S said sales of clothing, domestic products and food had all fallen, albeit not by as much as most analysts had forecast.
"We had a mixed quarter that started off with a challenging October but got better on both sides of the business in the run-up to Christmas," M&S chief executive Steve Rowe said, adding that it "had a lot to do" to get its food business on track.
Although Next, a rival in clothing, also reported better-than-expected Christmas sales last week, M&S is not the only UK retailer to have struggled in the crucial period.
Department store John Lewis said today that its own trading was likely to remain volatile in 2018 after higher costs and tough competition blunted the benefits of solid Christmas sales.
Tesco today said it had missed forecasts for Christmas trading.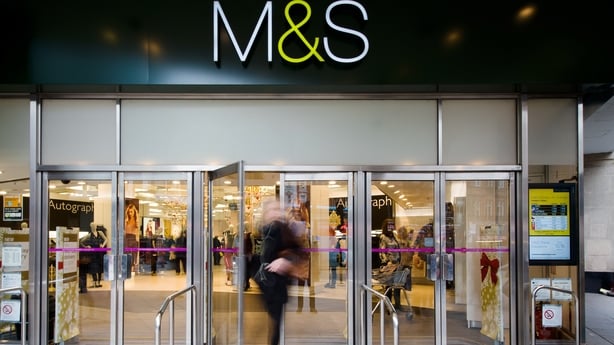 M&S re-set its strategy in November two months after retail veteran Archie Norman joined as chairman, saying it would speed up store closures and relocations and re-position its food offer, including slowing down openings of its 'Simply Food' convenience stores.
The company said today that same store food sales fell 0.4%. While this was better than analysts' average forecast of a 1.1% decline, it was worse than a 0.1% fall in the previous quarter.
M&S said like-for-like sales of clothing and homeware fell by 2.8% in its fiscal third quarter, which was ahead of analysts' average forecast of a 3.4% decline. The fall in the second quarter was 0.1%.
Rowe said M&S's clothing and homeware revenue grew both in-store and online over the weeks leading up to Christmas, and the retailer held its full prices when others were cutting theirs.
But an unseasonably mild October had resulted in an overall revenue decline for the quarter, while online sales also suffered, with growth slowing to 3% from 6% in the previous quarter.
Despite the sales disappointment, M&S said it would maintain its financial guidance for the full 2017-18 year.
Prior to before's update, analysts were on average forecasting a pretax profit before one-off items of £578m, down from £614m M&S made in 2016-17.
Such an outcome would be a second year of decline in a row.