Dunnes Stores was the grocery retailer with the largest market share leading into the festive period, new figures from Kantar Worldpanel in Ireland show.
Dunnes saw annual sales growth of 2.4% in the 12 weeks to 3 December, leaving it with an overall market share of 22.5%.
Director at Kantar David Berry said Dunnes "has always performed strongly in the countdown to Christmas and this year is no exception".
He said the retailer's 'Shop and Save' initiative has "proved the key to the retailers' success. Shoppers now spend €2.30 more per shop than last year as customers are encouraged to up the value of their baskets to get extra money off".
Tesco, which has seen sales growth above 4% for four consecutive months, is in second place with a market share of 22.3%.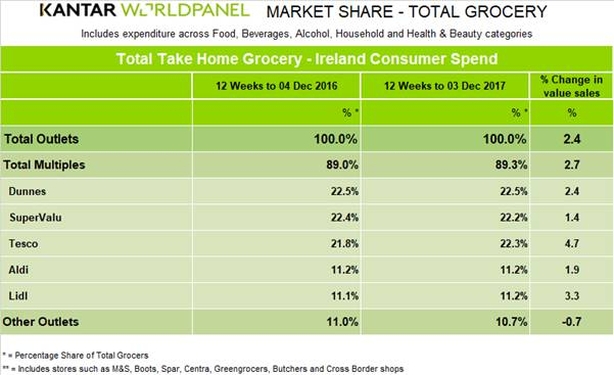 The British-owned supermarket's annual growth for the period of 4.7% was far ahead of any of the other grocery retailers.
Mr Berry said Tesco has "continued its strong run of form as we approach the peak Christmas shopping season, with consumers visiting the store more frequently and buying more items every time they shop.
"This strong growth has translated into increased market share - up 0.5 percentage points on this time last year, the supermarket now holds a 22.3% share of the market," he added.
SuperValu is in third place with a market share of 22.2%, after witnessing 1.4% annual sales growth.
Just 0.3% separates the top three grocery retailers in the Irish market.
Among the discount retailers, Lidl and Aldi each has a market share of 11.2%, however, Lidl's sales growth has been considerably higher than Aldi's in the past year (3.3% versus 1.9%).
According to Kantar, Christmas pudding and mince pie sales are soaring – up 12.6% and 2.5% respectively on this time last year.