Sterling has fallen back in afternoon trade after earlier gains following reports the UK may concede to EU negotiators that there will be no divergence of the rules covering the EU single market and customs union on the island of Ireland post Brexit.
By 3.51pm sterling was up 0.7% against the euro at £0.8763, the highest the pound has been against the single currency since the end of October.
However, following news there would be no deal announced today, the pound dropped to £0.8801 against the euro in evening trade, with the single currency a quarter of a percent lower on the day.
At the end of August the euro had been as high as 92.6 pence, well ahead of the pre-Brexit exchange rate of 76.5 pence.
Earlier today, the pound had slipped against a stronger dollar as well as the euro, as investors awaited the outcome of a summit in Brussels where British Prime Minister Theresa May hoped to break a deadlock in Brexit talks with a new divorce offer.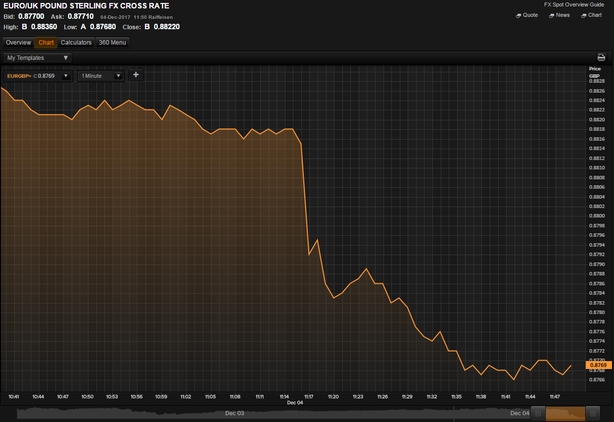 Better-than-expected economic data showing a modest rebound in British construction activity last month had little perceptible impact on the pound, with the Brussels talks stealing the limelight in London trading.
Over lunch later with European Commission President Jean-Claude Juncker and European Union Brexit negotiator Michel Barnier, Mrs May will try to persuade them to start discussions on a new trade pact and a two-year transitional deal.
London has broadly agreed to many of the EU's divorce terms, including paying out something like €50 billion.
But the issues of the rights of expatriate citizens and the UK-EU border on the island of Ireland remain fraught, diplomats said.
"If a green light is provided today for talks to move on to future relations, including a timely transition arrangement, it would open the door for further pound gains in the near-term," said MUFG currency economist Lee Hardman.
"In contrast, the pound could weaken sharply if the EU still refuses to judge that sufficient progress has been made on divorce talks. (That) would increase the risk that Brexit talks will break down, and make a more disorderly Brexit outcome more likely."
Optimism drove sterling to six-month highs on a trade-weighted basis last week, and it traded around 0.4% below those highs this morning.
Speculators bought back into the pound in the week up to last Tuesday, data showed on Friday, with positioning moving into positive territory - reflecting more bets that sterling will strengthen than that it will fall - for the first time since October.
"Strong signals could emerge later today as to whether EU negotiators are recommending to EU leaders that Brexit negotiations should move to Phase II," said ING currency strategist Chris Turner.