UK inflation unexpectedly held steady in October, wrong-footing the Bank of England and raising fresh questions about how fast the central bank will follow up on this month's interest rate hike. 
The annual rate of consumer price inflation was unchanged from September's five and a half-year high of 3%, official data showed.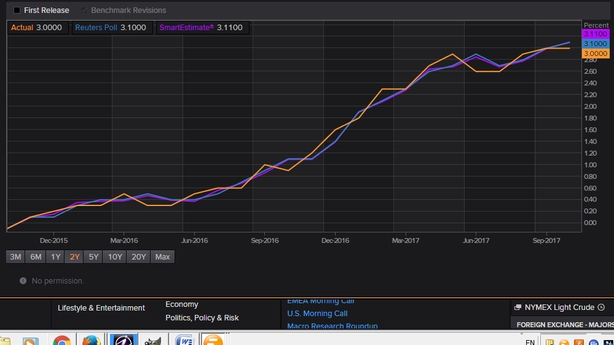 When the Bank of England raised rates for the first time in a decade in early November, it said it expected inflation would hit 3.2% in October before starting to fall slowly towards its 2% target.
Most economists polled by Reuters after the November 2 rate rise said they did not expect the Bank of England to raise rates again until 2019. 
Financial markets today - which tend to take a more hawkish view - priced in no increase until late 2018. 
While inflation in many developed countries remains weak, in Britain it has surged from just 0.5% at the time of the June 2016 vote to leave the European Union as the fall in the pound pushed up the cost of imported goods. 
October's data showed that lower fuel price inflation was offset by the biggest rise in food prices since September 2013. 
Many economists have said this month's rate rise was unnecessary because of the slowing domestic economy, weak productivity and wage growth, and uncertainty about Britain's future trade relationship with the EU. 
Economists polled by Reuters expect wage data due tomorroow to show pay growth stuck at just over 2%. 
The Bank of England argues that leaving the EU will damage Britain's ability to grow as fast as before without generating excess inflation, and that the lowest unemployment rate since 1975 makes labour shortages and a rebound in wage growth a risk. 
This month's rate rise was not aimed at directly curbing the recent surge in inflation but at ensuring above-target inflation does not become too entrenched in Britain, especially as the US and euro zone begin to tighten monetary policy which could further weaken the pound. 
The Bank of England has said it still expects inflation to be slightly above target in three years' time. 
Mark Carney reiterated today that he was allowing inflation longer than normal to return to target due to the Brexit uncertainties.
Retail price inflation, a measure used to calculate payments on government bonds and many commercial contracts, hit a near six-year high of 4%, bad news for the UK government which is due to announce a budget plan on November 22. 
But other data showed that underlying price pressures are easing. Costs of manufacturers' raw materials rose at their slowest pace since July 2016, a month after the Brexit vote.