The National Assets Management Agency is paying off all the debt, which had been guaranteed by the taxpayer, three years ahead of schedule.
NAMA has announced it will repay off the final €500 million later this month. 
The development means it will have paid off a total of €30 billion of Government-backed debt which was originally issued in 2010 and 2011. 
Minister for Finance, Public Expenditure & Reform Paschal Donohoe welcomed NAMA's announcement, calling it "a remarkable achievement and a landmark day in Ireland's recovery from the financial crisis".
NAMA was originally set up to buy the bad loans of the banks at a discount and sell the assets to investors.
The agency will still have €1.6 billion of unguaranteed debt which is owed to AIB, Bank of Ireland and other investors. 
We need your consent to load this rte-player contentWe use rte-player to manage extra content that can set cookies on your device and collect data about your activity. Please review their details and accept them to load the content.Manage Preferences

After that is repaid in 2020, it is expected to leave a surplus for the State which is currently projected to be €3 billion.
"We have delivered NAMA's core objective - an objective many people thought unachievable at the outset," NAMA's chairman Frank Daly stated.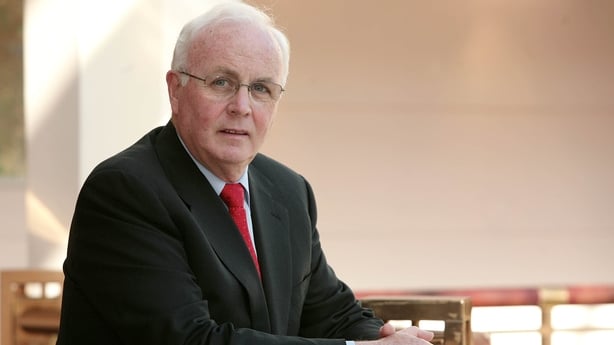 Mr Daly said the agency still needed to maximise the return on its remaining portfolio of close to €4 billion, progress on its project in the Dublin Docklands and its programme of delivering 20,000 residential homes.
Minister Donohoe said NAMA's performance has always, to some degree, been linked to Ireland's recovery. 
"The fact that NAMA is currently forecasting a surplus of €3 billion, which will accrue to the State over the coming years, is a testament to the strength of our economy and the journey we have made," Mr Donohoe added.
The Government this week said some NAMA staff, whose numbers have been declining in line with its portfolio, would assist in the operation of a new body that will offer debt finance to builders and help alleviate a chronic under-supply of housing.
"While one job is done, we will continue to progress (these) programmes," Mr Daly said.
The agency has not been without its critics.
One of its biggest sales, known as Project Eagle, was a €1.1 billion deal with US investment fund Cerberus for almost 1,000 properties in Northern Ireland.
The UK's National Crime Agency and US authorities launched investigations into allegations of corruption and financial irregularities behind the deal.
A disputed report by the Public Accounts Committee criticised then-finance minister Michael Noonan for meeting senior Cerberus representatives the day before the Project Eagle bid closing date and described the deal as "seriously deficient".