Credit unions have emerged again as the top brand in Ireland when it comes to customer experience.
The community based financial institution tops the list for the third year in a row.
The survey is carried out by Amárach Research on behalf of the Cx Company and it is published to coincide with international customer experience day.
Lush Cosmetics and An Post make up the top three with Amazon, Parcel Motel and Netflix making huge strides to reach the top 10, as does high street retailer Argos.
However, the biggest fallers include two prominent names in the travel industry. Mytaxi/Hailo - a top performer in 2015 - slumped 94 places to 137.
Ryanair is down 38 places to 115 and it is worth noting that the survey was carried out before the recent flight cancellations amid the pilot leave debacle but around the time of the seat allocation debate.
Michael Killeen, chairman of the CX Company, said the consistent success of the top three brands was remarkable.
"Customer Experience isn't something you can switch on and off like a special offer. It's a constant. If it's part of your culture, if genuine care for your customers is second nature to your staff you will earn their trust and loyalty," Mr Killeen said.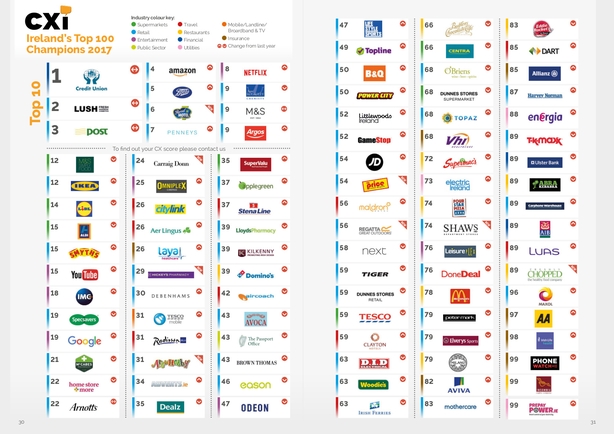 "If its not you have to learn it and earn it. It shouldn't come as a surprise that these three brands are also Ireland's most trusted brands. In that context, reports that An Post plans to close hundreds of branches will be of great concern to consumers," he added.
Today's report also found that telecoms had the lowest consumer tolerance over any other sector, partly due to the sector's complexity and its "dire" customer service.
"This sector is guilty of having a fixation with acquisition and ignoring the needs of current customers. The sector is a text book case of over promising - via expensive ad campaigns - and under delivering.
However the one exception was Tesco Mobile, the only brand from the sector in the Top 100, and it saw its ranking climb to 31.
The report also revealed that Irish supermarkets stood out for customer experience delivery, with three brands in the top 15. However, very few restaurants moved in the right direction this year due to a lack of investment and constant staff turnover.