A bump in fuel prices nudged the US Federal Reserve's preferred inflation measure a little higher in August, but price pressures remained tame, official figures published today show.
One key measure closely watched by the Fed also fell to its lowest level in nearly two years, according to the Commerce Department.
The weak reading was likely to sharpen disagreements among policymakers about whether to hike interest rates again this year.
Fed Chair Janet Yellen this week acknowledged that central bankers may have "misjudged" the strength of the forces driving inflation, which has remained persistently weak despite falling unemployment.
The Personal Consumption Expenditures price index rose 0.2% for August, driven largely by rising costs in energy, and up from July's 0.1% increase.
The result fell short of a consensus forecast among analysts, who were expecting a 0.3% gain for the month.
When excluding the volatile food and fuel categories, the measure rose only 0.1%, also a tenth of a point below analyst expectations - and the same level recorded over the prior three months.
Compared to August 2016, the price index held steady at 1.4%, the same level recorded in June and July - but down 0.8 points since February.
The 'core' 12-month measure, which strips out food and fuel prices, actually fell a tenth to 1.3%, its lowest reading since November 2015.
This measure has undershot the Fed's 2% target for more than five years.
After seven years of uninterrupted job creation and falling unemployment, economists have been befuddled by persistently weak inflation in the world's largest economy.
Some research suggests that wages, the key driver of inflation, have remained low as job growth has been driven by part-time and temporary employment.
Meanwhile, US consumer spending barely rose in August likely as Hurricane Harvey weighed on car sales and annual inflation increased at its slowest pace since late 2015.
The data pointed to a moderation in economic growth in the third quarter.
The weak report from the Commerce Department today did little to change expectations that the US Federal Reserve would raise interest rates in December.
Fed chief Janet Yellen said on Tuesday the Fed needed to continue gradual rate hikes despite uncertainty about the path of inflation.
Consumer spending, which accounts for more than two-thirds of US economic activity, edged up 0.1% last month also as unseasonably mild temperatures in some parts of the country reduced demand for utilities.
That followed an unrevised 0.3% increase in July.
August's gain in consumer spending was in line with economists' expectations. When adjusted for inflation, consumer spending slipped 0.1% in August, the first drop since January.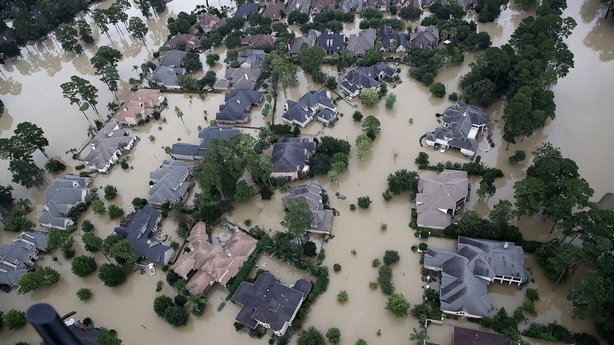 The US government said the data reflected the effects of Hurricane Harvey. However, it could not separately quantify the total impact of Harvey on the data.
It said it had made adjustments to estimates where source data were not yet available or did not fully reflect the effects of the storm.
Today's report was the latest suggestion that Harvey, together with Hurricane Irma, would dent US economic growth in the third quarter.
The economy grew at a brisk 3.1% annualised rate in the second quarter, with consumers doing the heavy lifting.