Efforts to get the Stormont Assembly re-established will grind on until Monday.
But the Democratic Unionist Party (DUP) has secured additional funding for the North, and this money is expected to be drawn down regardless of the political impasse.
No doubt, despite the deadlock on home ground, DUP Leader Arlene Foster is heartened by her success at holding the Tories' feet to the flames to secure more cash for the Six Counties.
British Prime Minister Theresa May acquiesced to extra funding in return for a commitment from the North's largest Westminster grouping to "support the government on legislation pertaining to the United Kingdom's exit from the European Union," according to the text of their deal.
The agreement includes financial commitments valued at £1 billion (€1.14 billion).
Useful though the cash will be, it is surprising to see how little consideration is given to addressing the impact of Brexit. The only exception is agriculture.
The deal says: "The parties agree to continue to commit the same cash total in funds for farm support until the end of the Parliament. Further discussions will take place on the future framework for farming support."
This is critical. At present a significant slice of farm incomes in the North comes from aid, direct payments, grants for improving the environment, training and technical assistance. All of this money originates with Europe.
The implication is that after the UK leaves the EU, Northern farmers can rely on those payments until the next election – with no guarantees beyond that date.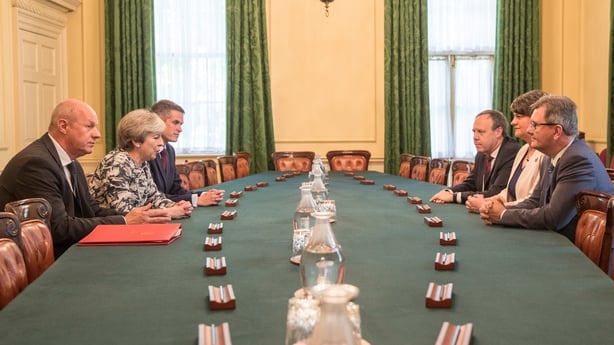 The DUP secured investment for roads, health and broadband. There is nothing wrong with that.
Indeed, it will be put to good use.
But the North could be facing an economic challenge from Brexit, which would dwarf the funding secured in the Supply and Confidence arrangement.
The DUP's manifesto for the Westminster election contained 30 objectives on Brexit to secure the future of the region.
Agriculture aside, there are no hard commitments in the deal struck with the Conservatives binding the UK Government to any Brexit arrangements, which could limit threatened damage to the North's economy.
Perhaps Mrs Foster believes Mrs May's stay in 10 Downing Street could end before Brexit negotiations reach a critical stage.
Whatever the reasons, Mrs Foster and her negotiating team opted for cash instead of attempting to impose damage limitation conditions on the UK's exit from the EU.
A bird in the hand is all very well, but that policy of money and not measures may turn out to be a short-sighted tactic.
---
Comment via twitter: @davidmurphyRTE