Inflation rose by 0.2% in the year to May, according to latest figures from the Central Statistics Office, down from a four year high of 0.9% in April.
Meanwhile, between April and May inflation fell by 0.2%, the first monthly drop in consumer prices since January.
The biggest annual price increases in the 12 months to May were seen in transport (+2.2%), alcoholic beverages & tobacco (+2.1%), restaurants & hotels (+1.8%), and education (+1.7%).
Petrol and diesel price rises have contributed to the increase in transport costs, as well as higher air fares.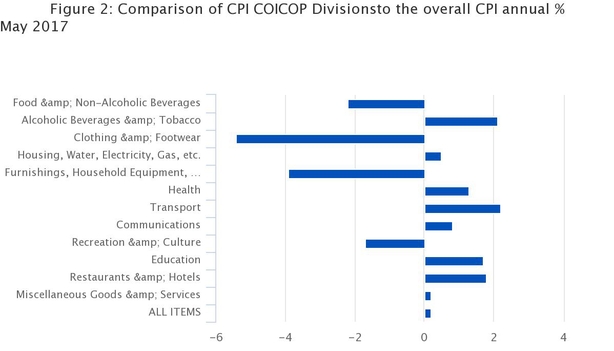 More expensive accommodation and higher food and drink prices saw restaurant and hotel prices increase.
According to the CSO figures, the most notable price drops were in the areas of clothing & footwear (-5.4%), furnishings & household maintenance (-3.9%), and food & non-alcoholic beverages (-2.2%).
The considerable drop in clothing & footwear costs is attributed to more sales.
On a monthly basis in May, transport costs fell by 3.5%, while communications (+1.5%) and alcoholic beverages & tobacco (+1.4%) both rose.
Across the European Union, for the year to May, consumer prices remained unchanged, while there was a monthly drop in inflation of 0.2%.
Commenting on the figures, Economist Alan McQuaid from Merrion Capital said: "Despite strong Irish economic growth, there is little sign of sustained pressure on the prices front, which appears to be the same story across the euro zone, suggesting that the European Central Bank will be in no hurry to tighten monetary policy.
"Inflationary pressures in Ireland as measured by the headline consumer price index should in our view remain fairly-well contained in the immediate future.
"That said, the cost of services like insurance and education are likely to remain elevated," he added.