Bank of Ireland Governor Archie Kane has told the bank's Annual Court Meeting, or AGM, that it expects to pay its first dividend to shareholders since the financial crisis in the first half of next year.
Mr Kane also paid tribute to outgoing CEO Richie Boucher.
He said that when Mr Boucher took over in February 2009, the CEO was faced with the formidable challenge of restructuring the bank and returning it to profit.
Mr Kane said Mr Boucher successfully overcame these challenges despite enduring serious health issues and that Bank of Ireland "owes a lot to Richie Boucher".
He said he would be sorry to see the outgoing chief executive depart, which led to group applause from shareholders.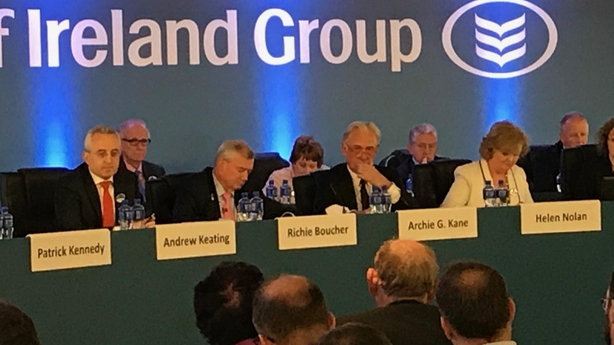 Earlier, Bank of Ireland said that its Irish mortgage volumes jumped by 30% in the first quarter of the year compared to the same time last year.
In a trading update ahead of today's AGM, Bank of Ireland also said that it continues to trade in line with expectations.
The bank said that economic developments in its core markets - Ireland and the UK - remained positive despite the ongoing uncertainties following the Brexit vote.
BOI Governor Archie Kane gets the bank's AGM under way by saying he expects it to pay its first dividend since crisis in first half of 2018 pic.twitter.com/bADbR2Vbit

— Aengus Cox (@AengusCox) April 28, 2017
Bank of Ireland said its Net Interest Income - which shows how profitable its lending is - rose to 2.3% for the first three months of the year, up from 2.27% in the second half of last year.
The bank said that asset quality across its loan portfolios continued to improve during the three months from January to March - in line with its expectations.
It also said that new lending in the first quarter of the year was in line with expectations - including that 0.30% increase in Irish mortgage volumes.
Today's AGM is Richie Boucher's last as chief executive as he is stepping down before the end of the year.