The Irish housing market is like a tortoise chasing a hare as the economy grows rapidly and demand for property escalates.
The daunting scale of the problems became much clearer this week.
More people are living in rental accommodation, rents are rising and there is a significant increase in the numbers living under one roof.
At the same time the increase in the number of new homes has been minuscule following the crash which saw many builders and some banks go bust.
Between 2006 and 2011 the number of net new properties increased by 225,000 but between 2011 and last year the rise was just 8,800.
Combined with a rising population, rapidly growing employment and an expanding economy the dearth of supply puts enormous pressure on housing.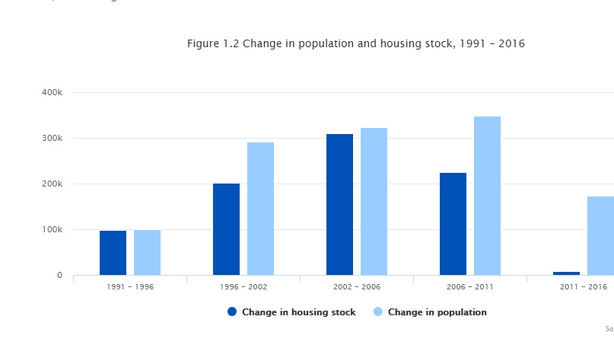 None of this is particularly new. But the Central Statistics Office's research illustrates shows the problem is worse than previously thought.
That is partly because the Government had relied on connections to the electricity network to calculate how many homes had been completed.
That had suggested a much larger increase in supply than was revealed in the Census.
The CSO also published data on house prices which showed the cost of buying a home rose by 10.7% in the year to February.
Perhaps most surprising was the picture painted for the West of Ireland where prices rose by 19.8%.
It will be interesting to see whether the Central Bank's mortgage rules restrain that level of price escalation.
The limits mean first-time-buyers need deposits of 10% and others purchasers are required to have 20%. Mortgages cannot exceed 3.5 times buyers' incomes.
Some may fear a property bubble but Central Bank boss Philip Lane will be more focused on preventing a rapid escalation in mortgage lending which would indicate unsustainable credit growth.
The Census also showed a significant 15% drop in the number of vacant properties between 2011 and 2016.
But it also highlighted some small villages such as Blacklion in Co Cavan and Keshcarrigan in Co Leitrim where, excluding holiday homes, almost half of the residential properies lie vacant.
This is a reminder of the folly of tax incentives for building homes in areas far from hubs of economic activity.
The tax breaks gave buyers relief on all their rental income in return for buying a property in an area such as Co Leitrim.
For example - a landlord with three rental properties in Dublin who faced a significant income tax bill could get a tax break of say €100,000 if they bought an tax incentive apartment.
The adage "build it and they will come" does not work when it comes to constructing houses in rural areas where there is little demand.
Despite a massive housing shortage, people don't want to live in areas where there are scant employment prospects.
@davidmurphyRTE