Canadian Prime Minister Justin Trudeau has said the whole world benefited from a strong European Union and that the bloc and his country needed to lead the international economy in challenging times.
Mr Trudeau told the European Parliament that the Union was an unprecedented model for peaceful co-operation.
The speech marked his distance from both the US under new President Donald Trump, who has questioned the value and future of the bloc, and from Britain, which has voted to leave it.
An effective European voice on the global stage was not just preferable, but essential, Mr Trudeau said.
"You are a vital player in addressing the challenges that we collectively face as an international community," he told MEPs a day after they backed an EU-Canada free trade deal.
"Indeed the whole world benefits from a strong EU," he added.
Mr Trudeau said that Canada and the European Union shared a belief in democracy, transparency and the rule of law, in human rights, inclusion and diversity.
"We know that, in these times, we must choose to lead the international economy, not simply be subject to its whims," he said.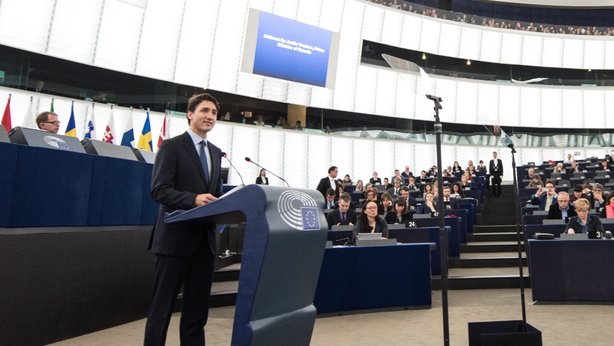 He added that both parties had shown they valued trade and a belief that it could bring prosperity to their citizens.
With the clearance of their trade deal, Canada and the European Union offer a counter to Mr Trump, who has withdrawn from the Trans-Pacific Partnership (TPP) and wants to rework the North American Free Trade Agreement.
For Canada, the Comprehensive Economic and Trade Agreement (CETA) is important to reduce its reliance on the neighbouring US as an export market.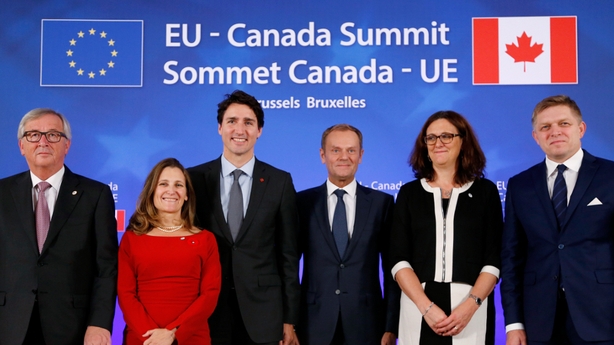 For the EU, it is a first trade pact with a G7 country and a success to hail after months of protests at a time when the bloc's credibility has taken a beating from Britain's vote last June to leave.
Mr Trudeau's speech, in English and French, got a warm welcome from MEPs in Strasbourg as he signalled Canada's distance from both its big neighbour to the south under Mr Trump and from London.
Brexit supporters there argue that ties to Britain's old empire can help expand trade once out of the European Union.
Both Canada and the EU, said Mr Trudeau, needed to ensure that their Comprehensive Economic and Trade Agreement (CETA), set to enter force in months, worked for people.
"If we are successful, CETA will become the blueprint for all ambitious, future trade deals. If we are not, this could very well be the last. So make no mistake, this is an important moment for us."
Mr Trudeau said many people were worried that the current system only benefited society's luckiest few and that this was a valid concern.
Trade, he said, must be inclusive, so that everyone benefited. "And this agreement delivers just that," he added.