Ireland's economy will continue to grow at a good pace over the next four years, despite the backdrop of economic and political uncertainty, according to the EY Economic Eye Winter Forecast.
The report predicts average GDP growth here of 2.7% between now and 2020.
Despite what EY describes as the seismic shift in the global economic and political movements, it said Ireland's economy will continue to prosper with 3.1% growth this year and 2.9% in 2017.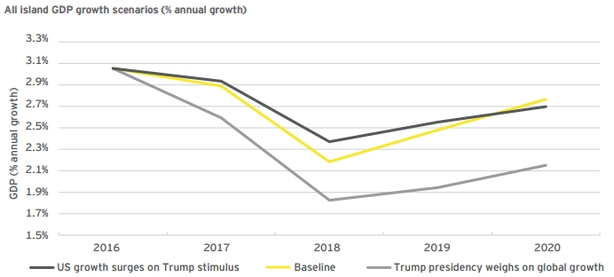 It also expects the jobs market to grow further – particularly in the retail and construction sectors – with the market set to come close to the peaks seen in 2007.
EY said an additional 24,000 jobs are likely in the retail sector by 2020, driven by a rise in consumer spending, while it forecasts more than 20,000 new construction jobs during the same period.
However, the EY report also warns of a contraction in employment in the agriculture sector, as well as sluggish growth and an overall decline in the jobs market in Northern Ireland.
It said some sectors are predicted to not perform as well post-Brexit, with the report finding the investment and export orientated sectors will face the largest downside risks to their prospects

Economic Advisor to EY Economic Eye Neil Gibson said: "With uncertainty ahead of us, any economic forecasts must be highly conditional at this point, and that is likely to be the case for at least the first half of 2017 as divorce negotiations between the UK and the EU continue."
EY sees rising costs and trade restrictions resulting in the number of agriculture jobs falling by more than 10,000 by 2020.
Mr Gibson said addressing the economic uncertainty "will require collaborative action from Government, EU, and public private partnerships".